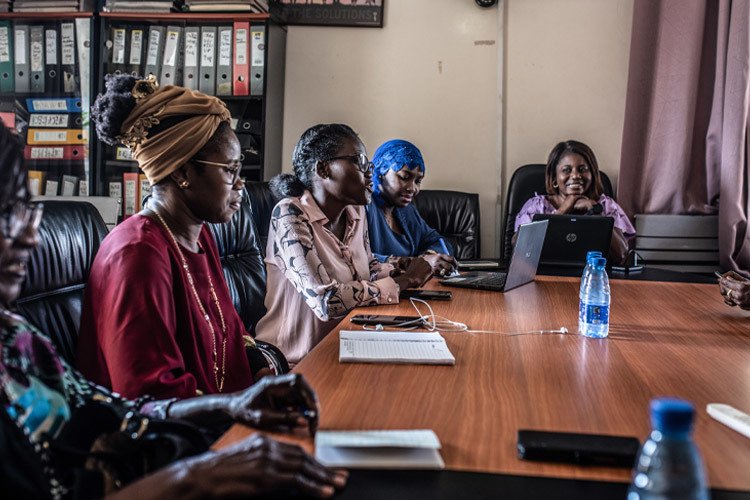 The road to justice in Senegal is rarely a straight path. Especially for women.
But since 1974, a group of trailblazing lawyers, advocates and activists have been working to create a more equitable society — where all people can march towards justice with equal footing. They're called the Association des Juristes Sénégalaises (AJS), an all women-led AJWS grantee organization that's been behind many of the advances in human rights in the Senegal's recent history.
Until 2020, for example, the crime of rape in Senegal was considered a misdemeanor and drew a maximum prison sentence of 10 years; convictions were exceedingly rare. AJS led a nationwide campaign to push for harsher sentences and a more accountable justice system — and even helped draft the law that President Macky Sall signed into law that January, setting 10 years as the minimum sentence. AJS were also a major force behind a 2010 law requiring political parties to run equal numbers of men and women on their ballots — a massive step towards gender equality in Senegalese politics.
For Dior Fall Sow, the fight for full women's rights in Senegal has been her life's work. Dior was the first female prosecutor in her country's history, and is a former AJS president. In 2022, sitting at the head of a long conference table in the organization's office in Dakar, her hands neatly folded and her focus unshakeable, she met with AJWS staff and the full AJS team. She'd come to praise AJS's younger leaders — a new generation of women ready to continue the fight.
"I have been doing this for 48 years; there's no way I'm going to stop now. When I see all these young women ready to take over, its additional motivation," she said, beaming. "We're all here in the same canoe, and I know we're taking this trip together. But at some point I will get off this boat, and other women will get on. And we will continue floating down the river."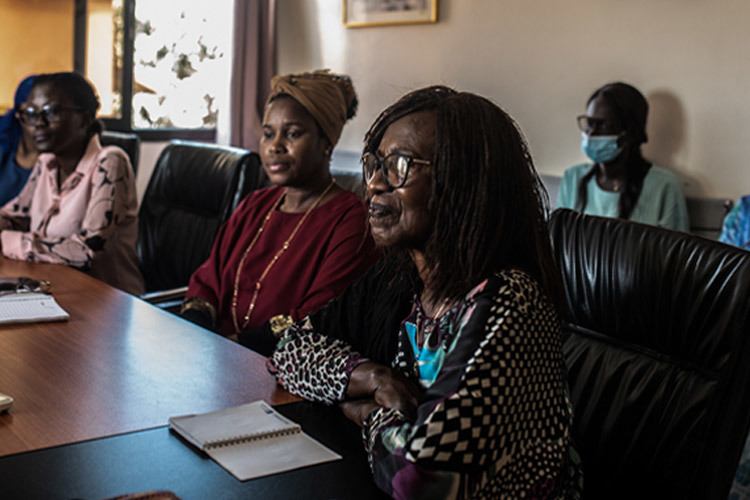 While AJS remains in Senegalese headlines for their part in influencing legislation and building equity at the national level, the organization also works in the streets — changing Senegalese society one neighborhood, and often one life, at a time. This work is done by a nationwide network of brave women, under the visionary leadership of women like AJS's current president Aby Diallo. From the national to the hyper-local level, AJS is expanding what's possible for women, and proving that justice isn't just a dream.
"We're creating an evolution of the Senegalese mindset," said Aby. "Before, women did not have a voice in Senegal. But women are claiming their voice. It's a new type of Senegalese woman — who can express her views and fight for her rights."
Read on to hit the streets of Senegal, and learn about how this organization is empowering local women leaders to take action as well.
The One-Stop-Shop for Women Fighting for Their Rights
Ndeye Madjiguéne Sarr Bakhoum sits at her desk in the corner of AJS's "Boutique de Droit", or Law Shop, in Pikine, one of the poorest and most dangerous neighborhoods in Dakar. Files are stacked impossibly high next to her computer, but she doesn't seem phased; this is simply part of the job.
"We've worked on more than 11,000 cases in the past 10 years. Sexual violence; economic violence; divorce. And more than half the cases we open do reach a verdict," she says proudly. "But it takes a lot of patience. This is a dysfunctional system — but we stick with the cases as long as it takes."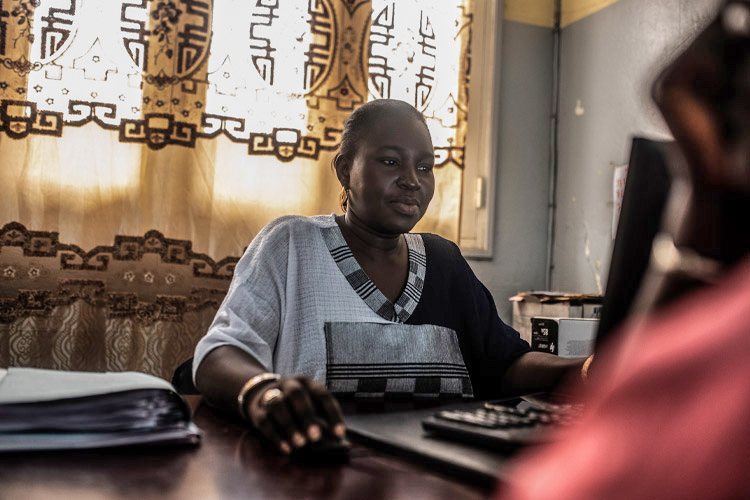 Across Senegal, AJS supports eight Law Shops — offices staffed by women lawyers and advocates that provide a safe, confidential space for women in need of free legal counseling on complex issues like divorce, domestic violence and adoption, and psychological support after experiencing trauma. When necessary, the Law Shops can offer women the full force of AJS's legal expertise in court.
In Senegal's deeply patriarchal society, where women are expected not to question injustice, merely seeking help can be seen as an act of rebellion.
"Seeing a woman claim her fundamental human rights, that's all the motivation I need," says Ndeye, eyeing up that stack of files. "We're changing lives, encouraging women to fight. To see that: yes, there is a day after. Showing women and girls that life goes on after violence."
52-year-old Amina is one of those women.
In 2019, Amina discovered that her next-door neighbor had horrifically raped her 7-year old daughter. The neighbor was far more powerful in their community — and he assured her that police would never dare arrest him. For so many families without means, justice is out of reach and unaffordable, as survivors must pay for their own legal fees.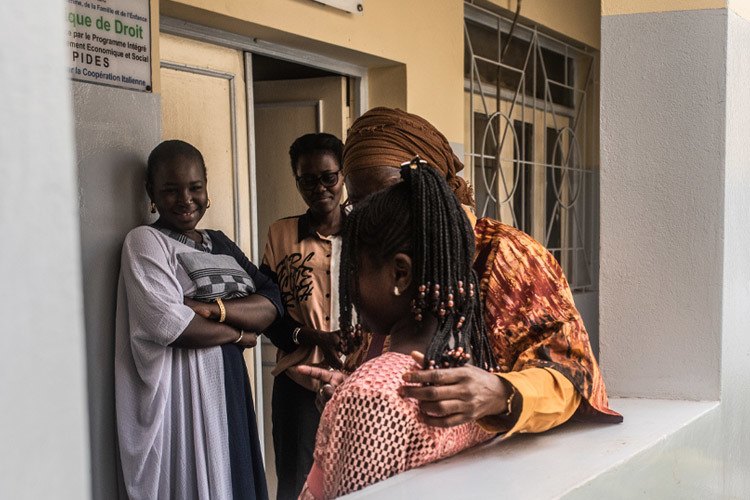 With nowhere else to turn, and fearing for her daughter's life, Amina walked into the Law Shop. As Amina could not afford a lawyer, AJS took the case — walking her through each step of the grueling legal process and representing her daughter in court. And they won — Amina's neighbor was sentenced to 10 years in prison and charged nearly $10,000 in damages. When he appealed, AJS ensured his appeal was denied.
Today, Amina and her daughter visit the Law Shop often for psychological support, and simply to show their appreciation.
"Without the Law Shop, we could have done nothing. We could not have found a lawyer. Without AJS, so many cases would amount to nothing. People show their power, their money, and their victims never find justice," Amina says. "Now, whenever we have a problem, we come to the Law Shop. This feels like my home. And AJS is my family."
Community Godmothers — Senegal's Neighborhood Path to Justice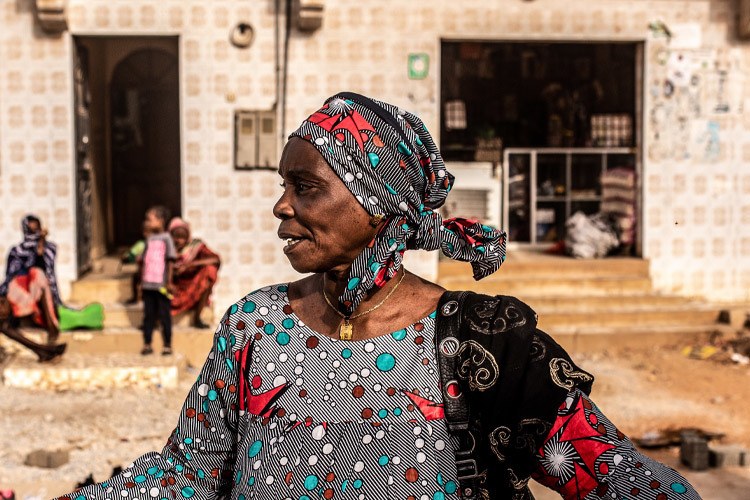 63-year-old Halimatou Sarr walks down an unpaved side street in Guédiawaye — the coastal community where she lives in the outskirts of Dakar — and everyone takes note. Children with backpacks wave to her as they come home from school. Women selling coffee and tea offer her a cup. She fist-bumps young men chatting on the hood of a car. An elderly man trailed by his herd of goats greets her smiling.
At first glance, you might think Halimatou is simply the neighborhood's most popular resident, and you wouldn't be wrong. But her popularity comes with responsibility.
Halimatou is a Badjen Gox, or "Community Godmother," a volunteer role created by the Senegalese government in 2009 to empower women to serve their neighborhoods as social workers, financial advisors, family planners and all-around community leaders. The concept was lifted from Senegalese village tradition, where a man's oldest sister would serve as the family's informal educator and problem-solver, and adapted for the country's increasingly urban society. Today there are thousands of government-appointed Badjenu Gox in nearly 600 communities across Senegal.
But even as experienced community elders, the Badjenu Gox were not trained to navigate the country's complex, and often corrupt, policing and legal systems. Women wishing to report violence are often intimidated by tales of police abuse or disregard. Women wanting to file for divorce often don't know where to start. And it's here that AJS saw a unique opportunity. Since 2013, AJS has trained nearly 150 Badjenu Gox as paralegals — so that they can provide guidance, knowledge and support to women survivors of violence who want to seek justice.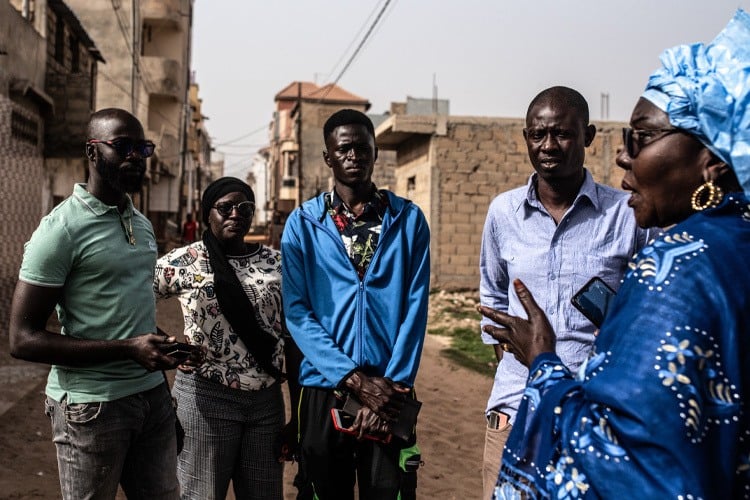 "The Badjenu Gox, we have big ears and small mouths. We are here to listen without judgement. We guard the secrets of the community, things people are ashamed of or too scared of to seek help," says Halimatou, sitting in her home in Guédiawaye. "When a woman or girl reports a rape to me, or any violence — and she would've been too intimidated to report it to her family or the police — I can guide her towards justice. I've developed a strong relationship with our Chief of Police, for example. As a Badjen, our word carries weight. That's probably my biggest source of pride these days. My voice can make a difference in my community."
Halimatou is a retired nurse after 20 years in a maternity ward. She has six children of her own.
"When you've helped women give birth for 20 years, you have the ability to see problems before they're even verbalized," she says.
Her dedication was tested last year, when a local woman abandoned her child and fled Dakar. In coordination with local authorities, Halimatou took in the girl, caring for her like her own child. And now, Halimatou's adult daughter is seeking to adopt her with the legal guidance of AJS's local Law Shop — a full circle of AJS's impact on this community.