In Thiaroye, Senegal—less than 10 miles from the country's bustling, metropolitan capital of Dakar—a rusty metal gate separates bumper-to-bumper traffic and densely-packed produce markets from a painful but forgotten piece of Senegalese history.
Inside the gate, the noise of the city disappears. Tall palms offer some shade, but the sun bears down on unmarked stone graves. Flowers poke out of the sand between bleached-white seashells.
In 1944, at a military camp a few minutes from this memorial, hundreds of West African soldiers who had served the French in World War II demanded payment for their service—and in return were murdered by French soldiers.
And it's from here, in 2022, that 25-year-old pro-democracy activist Mouhamed Goloko is educating young people about their rights, inspiring them to build a stronger Senegal.
"I'm going to put this place where it belongs, anchored to the story of my country," says Mouhamed, scanning the gravestones. He speaks with the patience and gravity of a man twice his age. "They were killed for standing up for their rights. To me, this place symbolizes independence and freedom."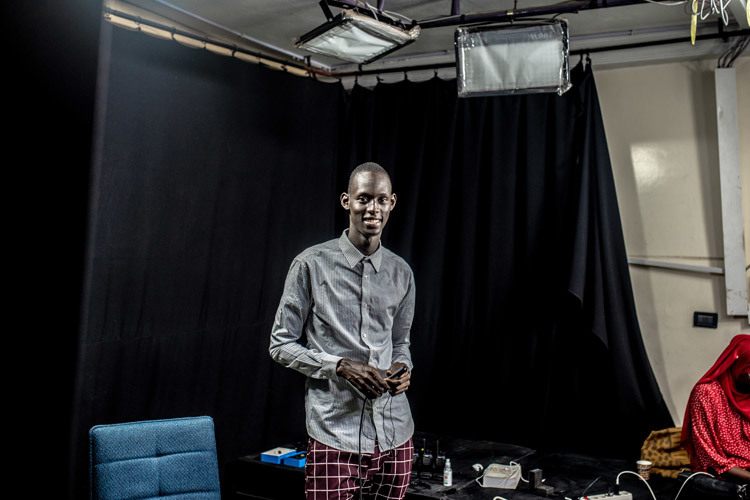 'Setting the public free' through independent media
To bring Thiaroye's history to life for his community, Mouhamed became a filmmaker—with the help of some of Senegal's most influential activists: the Y'en a Marre collective. Y'en a Marre is a social movement founded in 2011 by Senegalese journalists, artists and rappers to mobilize young people to vote. Over a decade later, and with support from AJWS, they've vastly expanded, engaging young people across Senegal. The problems they fought against a decade ago—widespread corruption, political misinformation, their country's very democracy under threat—have evolved, and Y'en a Marre has built new, innovative ways to face them.
Their latest initiative? Training activists like Mouhamed as citizen journalists and filmmakers for La Télé Citoyenne (LTC), an independent, pro-democracy web TV channel. According to Y'en a Marre's coordinator and co-founder, Aliou Sane, LTC was established to provide an alternative to largely-state controlled Senegalese media, and a platform for young activists to engage their communities. "Television has taken the public hostage in Senegal," says Aliou. "LTC is here to set them free."
LTC's videos—published on Facebook and other social networks—get hundreds of thousands of views, educating Senegalese people about complex political issues, Senegalese history, how to access government services and more. And it's through LTC that Mouhamed Goloko aims to educate people about their city's forgotten painful history, and spark his generation to use the lessons of the past to fight for Senegal's fragile democracy today.
Becoming an 'Intellectual Activist'
When I meet Mouhamed, his tall, thin frame is folded on a stool as LTC cameramen direct him to scoot an inch forward into focus. Lights, camera, action. He's filming the final segments of his first video on the Thiaroye massacre of 1944. Another LTC reporter, 22-year-old Nafy Dandio, is filming a piece about eco-feminism—the intersection between women's rights and environmentalism—and actionable steps people can take to clean up Dakar. Both were among the 16 activists trained at LTC—10 women and 6 men, selected from over 400 applicants—each with a distinct story to tell.
Mouhamed's explanation of his Thiaroye documentary is, at first, very simple: "I'm an intellectual activist. I want to change minds and educate the masses here in Senegal. Because you need to know your history to master your future," he says, seemingly as much to himself as to the community he wants to engage.
Mouhamed was born in Thiaroye, the oldest of five children. His father studied Islamic law in a religious school; his mother was never a student. Thiaroye "is a very hard place to grow up," says Mouhamed later, peering from the doorframe of his family home. "It's got a bad reputation: that we're all bandits in Thiaroye."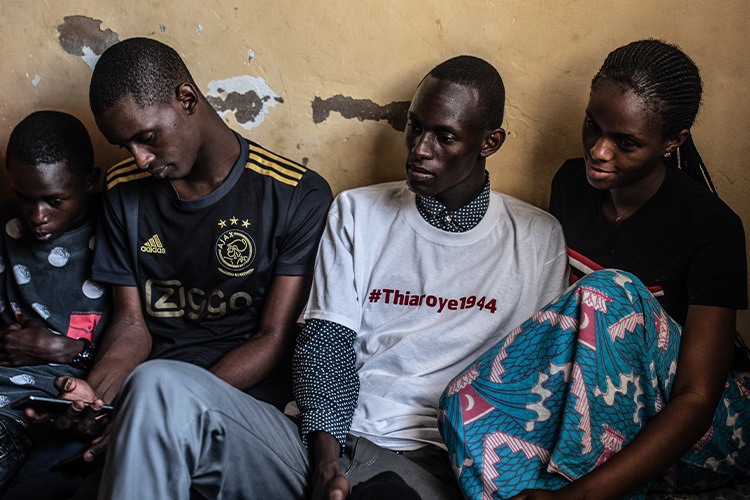 It was in 2011, when Mouhamed was just 14, that he realized he had the power to create change in his community, and his country. That year, then-president Abdoulaye Wade attempted to change Senegal's constitution and run for a third term, sparking widespread social protests that were brutally shut down by police. This violence catapulted Y'en a Marre into action—the collective led a massive campaign to mobilize young voters, and Wade was not re-elected.
"It was the first time that I saw the unity of my people. Authorities were using force, violent force, to stop the discussion. But it was our simple unity that won over. No one can stop people when they stand together. Here, the population must keep the state in check," says Mouhamed.
He began questioning Senegal's rampant political corruption, and why more people weren't taking to the streets. He dug into Senegalese history for answers.
"The legacy of French colonization still sits in our minds. It's a blockage for us, a barrier," he says. "It prevents Africans from seeing ourselves as worthy. It's as if Africa has been conditioned to accept our fate, and allow it to control our future. But I refused to accept that."
Mouhamed vowed to change the narrative. He became the first member of his family ever to attend university, graduating with a modern and contemporary history degree at Cheikh Anta Diop University in Dakar. He's now enrolled in a Master's program studying history of international and strategic relations, and dreams of becoming a history professor or diplomat. A scholarship of about $50 covers his tuition. But busing into Dakar for class is a financial strain.
"To be honest, most students from Thiaroye don't eat. We can either travel to school or eat, and we choose education," he says.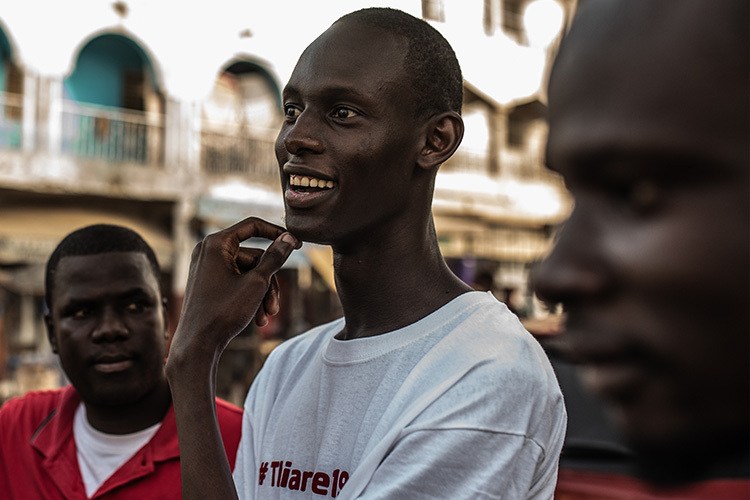 Relearning Thiaroye's history, right on time
Y'en a Marre's citizen television initiative was the opportunity Mouhamed was seeking to share Thiaroye's important story—especially as the same threats to democracy are once again surfacing in Senegal. Today, many activists fear that President Macky Sall, who is today deeply unpopular and considered corrupt, will run for a third term in upcoming 2024 elections by exploiting a 2016 constitutional referendum that could reset the clock on his time in office. Activists are preparing to protest, but fear a reprisal of 2011's brutal crackdowns. Still, Y'en a Marre and their growing community of young voters will not back down—they'll defend democracy at all costs.
Back in Thiaroye's military cemetery, we're alone but for the groundskeeper. It's a quiet, hallowed place—that most people here don't know exists. Mouhamed gazes out towards the busy street. Fruit-sellers push carts of mangoes. Men sell scrap metal, knock-off sunglasses, whatever they can find. I ask Mouhamed again: Why expose people to the bloody, tragic past of this place?
Ever the intellectual activist, Mouhamed answers that his work to illuminate Thiaroye's story—where men died standing up for their basic human rights—could empower young people to take control of their country's future. The public must recognize their own power.
"People don't understand the broader issues we face," he says after moments of silence. "People are concerned with putting food on the table, sending their kids to school. Tell a hungry person to go vote, or to think critically about our government, and they'll tell you they need to find their children's next meal. But if we could put our energy to social causes—protecting our democracy, standing up against corruption, fighting for our rights—then those everyday problems that consume us, they could all go away."