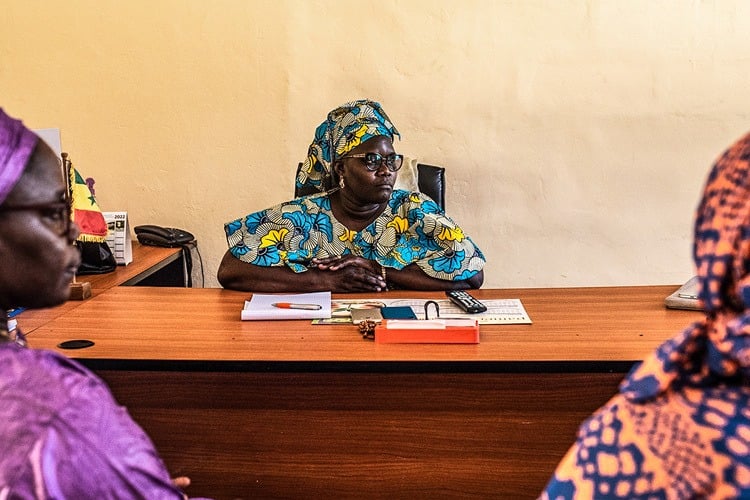 In the corner office of a municipal building in Dakar, Senegal, Adama Mbengue sits behind a huge, wooden desk. She interlocks her fingers and stretches her mouth into a wide grin.
It took a long time to get here — generations, even — but Adama has arrived: in January 2022, she was elected as the third deputy mayor of Gueule Tapée, a borough of Senegal's sprawling capital city. Adama has been politically active since she was a child listening to her grandfather's impassioned speeches about democracy, and has worked for the city for nearly a decade. But this is the first time she's held an elected position.
Senegalese society prizes women for their abilities to lead households and communities, but until recently they were largely excluded from the realm of politics. Adama represents a shift in Senegal's political landscape — a sea change that's been ushered in, in large part, by the work of AJWS grantee Association des Juristes Sénégalaises (AJS). Founded in 1974, AJS is a collective of women lawyers, legal advocates, magistrates and police who have sparked many of the country's advances in women's and children's rights.
In 2010, for example, Senegal passed a gender parity law, requiring political parties to ensure at least half of their candidates are women — guaranteeing equal access to decision-making bodies. This law — passed in part thanks to AJS's fierce advocacy — was a critical step forward, but enforcing it presented a new set of challenges: Many political parties and election officials have refused to comply, disregarding their list of candidates after elections and instead installing men to elected positions. When they've encountered this inequity, AJS has taken legal action to enforce the parity law. And while AJS has worked to promote the law's full implementation, they're also addressing the other end of the equation: training more women community leaders to step up and run for office.
AJS dubbed the initiative 'The Feminization of Politics,' and Adama — plus over 150 other women across Dakar — participated in leadership workshops and trainings about Senegalese government and elections during 2021 and 2022. The fruits of their labor are abundant: Today, many participants are involved in local politics, both in elected and appointed positions.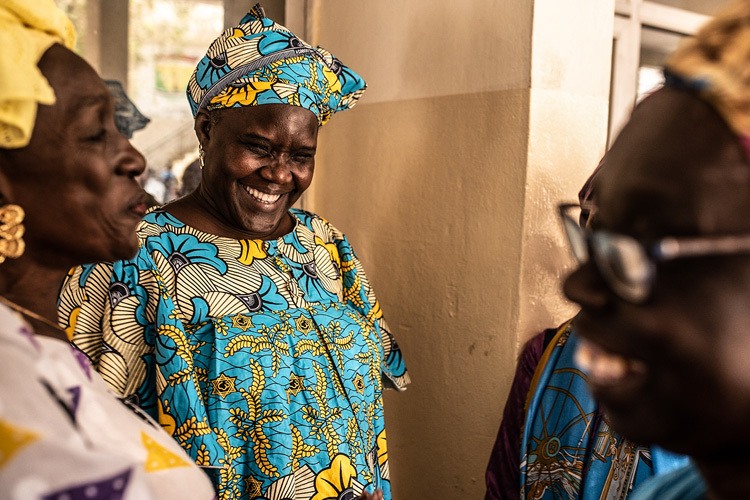 "In the past, women were involved in political campaigns — but we were seen as performers, wearing beautiful clothing and singing. We brought our communities together, and paved the way for men to be elected. We were involved, but not respected," says Mariama Cissé Mbacké, who works in the public relations department of the mayor's office. "But we are no longer followers. We're claiming our spot. This training reinforced my leadership."
In early summer 2022, the AJWS team met with several women who'd participated in the Feminization of Politics course earlier that year. The excitement in the room — Adama's new office — was palpable. Things are changing in Senegal, and these women are not going back.
A Seat at the Table
When Adama talks about her grandfather, the room falls silent. She finds an old picture of him and passes it around. He hit 100 years old before he finally stepped down from his unofficial role as a political consultant for one of Senegal's progressive political parties; in 2018, he passed away.
"I accompanied my grandfather everywhere he went; that was my first political training," says Adama. She remembers watching him lecture at party meetings and strategize about how to return power to the people — all the people. But he was a realist, she says, who recognized the challenges his young granddaughter would face if she chose to follow in his footsteps.
"He told me to safeguard my integrity. To stay honest. He said if I kept those words in my head, I couldn't go wrong," she says. "But he also told me that as a woman, it'd be hard for me in politics. So I'd need to fight, and to believe in myself. That advice is how I got here. I carry him everywhere I go."
Coming to terms with that reality — and acting to change it — is a constant in the story of every woman sitting around Adama's desk.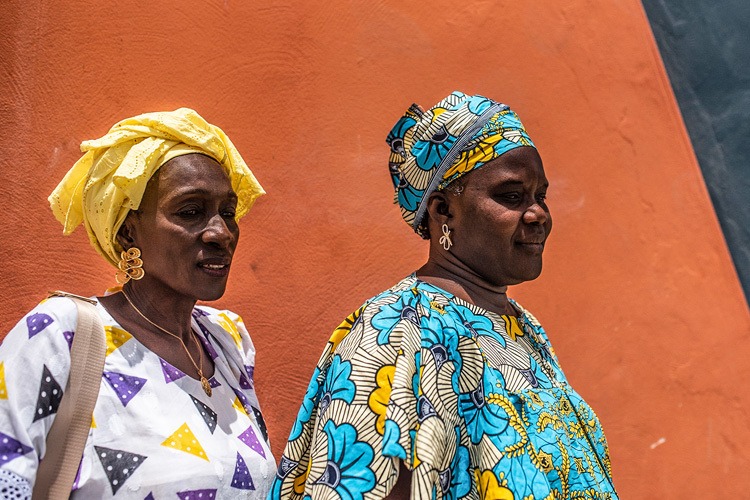 Ndeye Khady Diagne grew up in Gueule Tapée and studied law at the University of Dakar. For years, she has served as a Badjen Gox, or 'neighborhood godmother,' a role common in Senegalese villages that the government formalized into an appointed position in urban communities. In hundreds of communities around Senegal, these neighborhood godmothers solve disputes and counsel young people. She joined the Feminization of Politics initiative because, she says, she was tired of her skills being undervalued.
"The men we helped elect don't remember us and what we did for them. We needed to knock on their doors and remind them," she says. "Behind any man is a strong woman in the shadows. But we are stepping out of the shadows and into the light."
She says the initiative helped women "to know our rights, believe in ourselves — and make sure the Parity Law is respected in our community." In 2022, it certainly was: three of Gueule Tapée's five deputy mayors are women.
Ndeye taps her knuckles on Adama's desk and says: "We've got the training now. And we need to be at the table making decisions."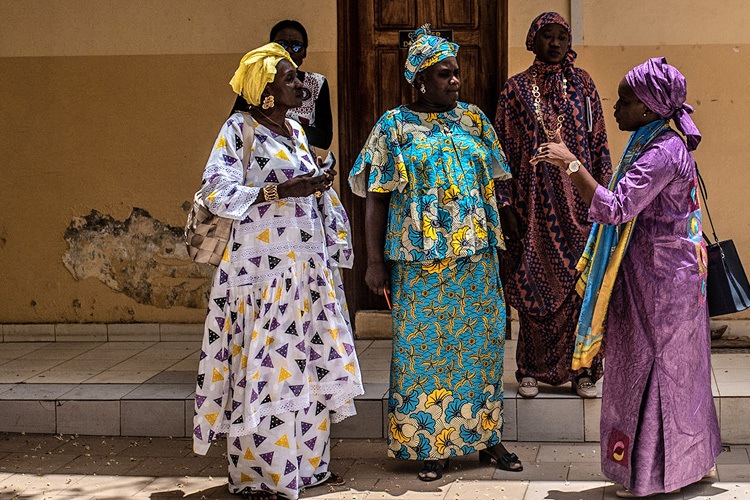 What's not given must be taken
Outside of Adama's office, the municipal building is buzzing with activity. People flow in and out of the building's open, sunny courtyard all day from this bustling borough near the center of Dakar. Inside, though, Adama, Ndeye, Mariama and their fellow Feminization peers are laser focused on the future.
When it comes to increasing women's political participation, Ndeye says, "the law is behind us. The government voted for gender parity, and it's up to women like us to hold parties accountable. But now, we need to sensitize other women in our community — convince them that they can lead, and support them to go for it."
Her fire generates vigorous nods around the room — she's on a roll now.
"Men will never, never, never just hand over their power. It will not be given. It must be taken. There will be obstacles, we know this. But we will be the ones to let other women know: You have the ability. You have the strength. Now come and take your power."