Just after sunset on a Friday night in Pikine, Senegal — one of the poorest neighborhoods in the capital, Dakar — the energy at a local community center is electric. Spotlights make the courtyard glow as a headphone-clad DJ plays music from two massive speakers. Kids and teenagers — hundreds of them — sprint through Pikine's labyrinth of unpaved streets and alleyways to find a seat on the ground or perch themselves on a balcony, making sure they can see what's about to unfold. Tonight is the final round of a local rap battle competition. For weeks, dozens of Pikine's young, talented poets, musicians and rappers have performed head-to-head; tonight, it's time to crown a champion. 
At the center of all this energy is the calmest man in the crowd — a softspoken, grey-bearded, 41-year-old artist and activist named Arona "Aroo" Faye. Giving young people a safe place to be on a Friday night in Pikine is no small feat; but giving them a platform to express themselves has changed this community entirely.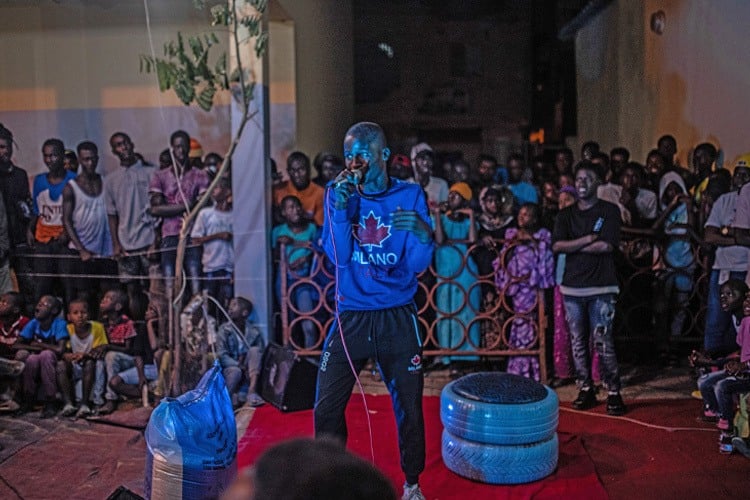 In 2018, Aroo founded Hip-Hop ADNE (short for Art Développement National Éducatif and a play on 'DNA') The group is a safe space for youth from Pikine to come together to channel their challenges and their hopes into music, becoming more politically engaged citizens (and voters) as they do.   
"We're not interested in rapping about money or fame," he says. "We rap about politics. Like voting — it's not just a right, but an obligation that must be fulfilled. We are changing mindsets to help young people become a new type of Senegalese." 
Building a movement through hip-hop
Hip-Hop ADNE is an initiative of longtime AJWS grantee organization Y'en a Marre, which Aroo co-founded in 2011. Established by some of Senegal's most influential rappers and journalists, Y'en a Marre catalyzed a major shift in the mindset of young voters by speaking to them in their own language: the language of hip-hop. Their songs were passionate indictments of Senegal's corrupt government. In 2012, these outspoken activists led a massive mobilization of young voters, which helped to oust then-president Abdoulaye Wade. When COVID-19 hit Senegal,  Aroo and his colleagues recorded a viral hit educating people how to stay safe.  
For a decade, Y'en a Marre has been the country's most popular political watchdog, pointing out problems using rhyme, organizing protests and educating voters.
With Hip-Hop ADNE, Aroo is now passing the torch to a new generation of young activists. 
Pierre Basse Niang, the organization's Secretary General and the wildly energetic host of Hip-Hop ADNE's rap battles, emphasizes Aroo's point.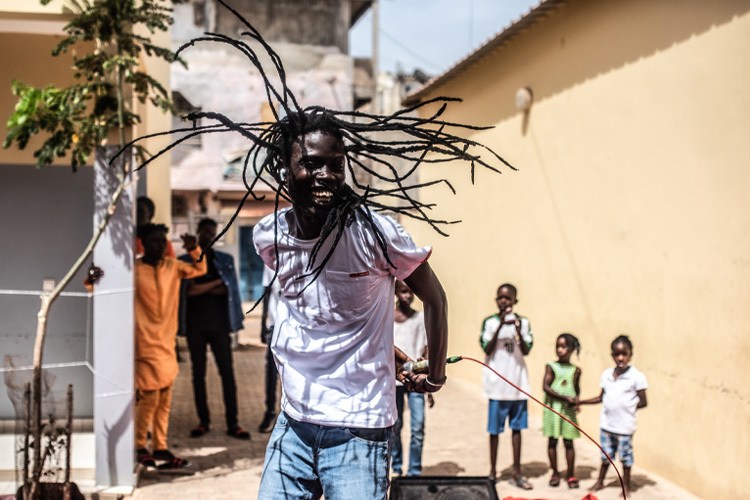 "Look, Y'en a Marre was a starting point. We're like the big brothers now. But it's up to the youth to shape Senegal. They're forming their own opinions. They must constantly question and challenge," he says. "The work of this movement is continuous — these young people are building a movement of engaged citizens through rap." 
Aroo and his team know how important it is to bring the masses into this movement to build its power—and they use some strategic incentives to get people in the door.  
Often, he finds, youth first come to Hip-Hop ADNE for the comforts it provides: free wi-fi, a safe place to hang out or a hot meal. But they stay for the hands-on mentorship from his team, and the self-discovery that comes with it. And during Friday night's rap competition, they welcomed in the families of the young artists by sharing these gifts more widely.
"After the competition, we don't reward the winners with money; they'll get a bag of rice, which could feed their extended family for two weeks. And their family will understand that this rice was brought by their son or daughter's talents, their words. You see, when you develop your intellect, you have more to give to your community. And when you give back to your community, you can develop your country."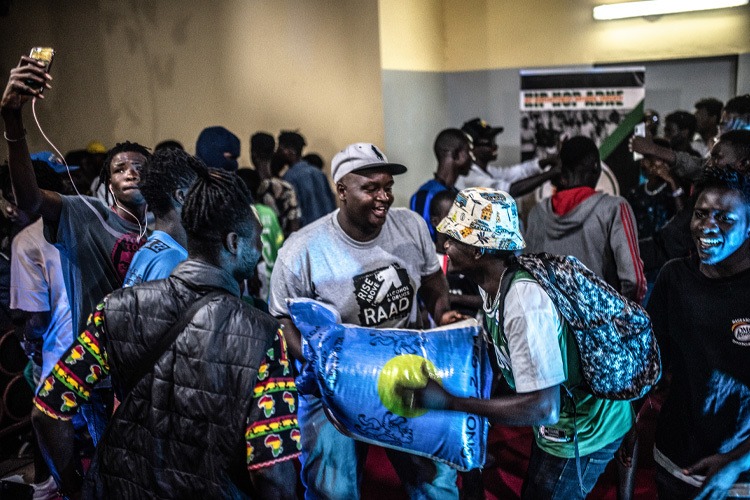 Learning from a Legend
Today, over 100 local young people regularly visit the Hip-Hop ADNE headquarters, inside Pikine's community center. There, Aroo and his staff of seasoned rappers and activists are on hand to help them craft compelling poetry and raps that give voice to their frustrations — frustrations about inherited poverty, ongoing political corruption, and other hardships.
When Aroo speaks, the reverence young artists feel towards him is impossible to miss. And his passion to create change is catching on.
25-year-old  Ousmone "Big Ooz" Thiom works as a car mechanic, and comes to ADNE to create music that engages his community. "I write about problems we face, about politicians forgetting all their promises to us," he says. "I wasn't made for school. But I've been empowered by hip-hop. I would've been a pickpocket out in the street without this place. Hip-hop changed my life."  
"I believe I can be the best rapper in the world," he continues, then pauses, seeming genuinely in thought. "But, well, Aroo is a legend. Maybe he's the best."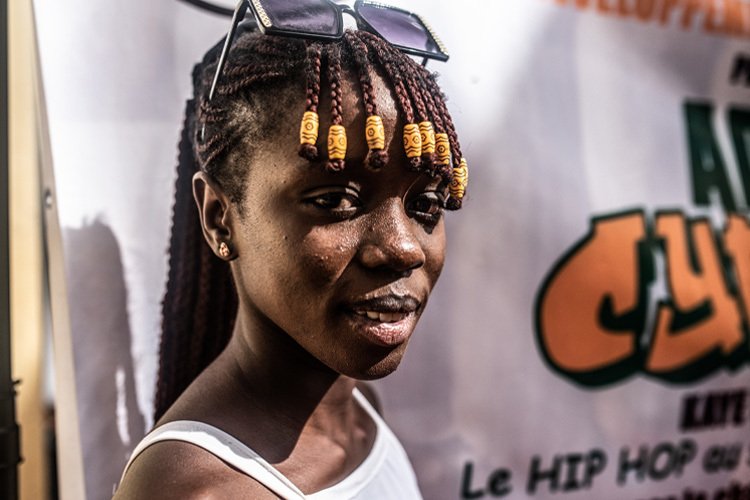 18-year-old Ricky "Mira" Sow is one of this crew's only women rappers — a fact that makes her proud as much as she hopes more women will be inspired to join her. She dropped out of school and began working in a potato chip factory so she could support her family, but she had no way to express herself. Her father, a former soldier, didn't want her to follow her hip-hop dreams, until he saw how respected she was at ADNE. 
"This is my space to be a full part of the team – not as a woman, just as a team member. Everyone here sees me as an equal, a member of their family. Why should women have to work twice as hard as men to succeed?" she says.   
Moving forward with words
With Senegal's political landscape ever-embroiled in corruption, and pathways out of poverty difficult to find, the influence of Pikine's growing crew of socially conscious rappers is set to keep expanding. The country's current president, Macky Sall, is rumored to be planning a third run for office in 2024 — a move that activists and rappers alike believe is unconstitutional and would cause massive protests. Y'en a Marre's new generation of activists may soon become its most important agents of change.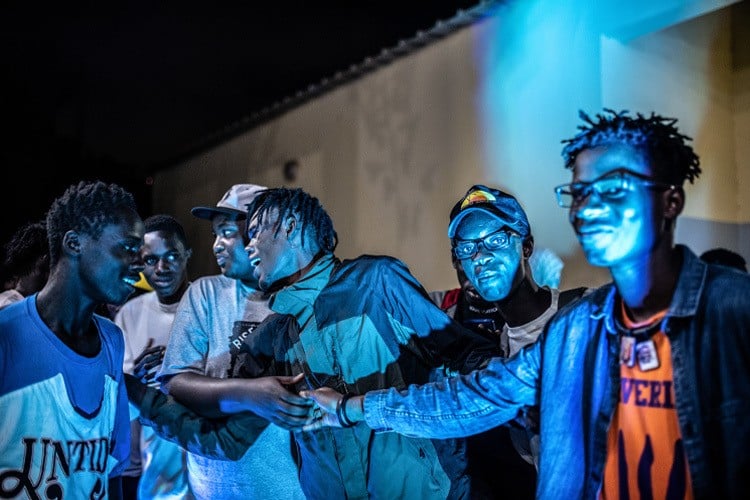 But at Friday night's rap battle finals, those future hurdles aren't the focus. 25-year-old Killeuh Roythia is crowned Pikine's finest rapper. The stage is filled with hugs and high-fives, a scene of love and support. They see their futures within a better Senegal, one that they're intent to build together. And Aroo stands off to the side, smiling as he witnesses this next generation of activism and art he set into motion. 
Earlier that day, sitting with his hands clasped under his chin, he says, "Everyone gets where they need to go in life. If you have a plane, you fly. If you have a car, you drive. If you have nothing, you walk. All we have to get us where we want to go is our words. Our words will move us forward."