The Challenges
Around the world, gender inequality continues to hold millions of women and girls back from the autonomy and freedom they deserve. Many live in communities that don't respect their rights to make decisions about their own lives and bodies.
Restrictive gender norms, including around adolescent girls' sexuality, severely limit girls' ability to make their own choices about whether, when and whom to marry. And while child, early and forced marriage and unions (CEFMU) remains one of the most concerning symptoms of gender inequality, it's not the only practice that takes away women's and girls' autonomy. They frequently experience pressure to leave school; violence such as sexual assault and rape; lack of control over their finances; the inability to access comprehensive sexuality education or reproductive health care; harmful practices including female genital mutilation; and the expectation to bear and raise children—often without access to contraception or abortion. These things all severely limit women and girls' agency to create the lives they want to live.  
The statistics resulting from global gender inequality are staggering:  
1 out of every 5 girls in the world marries before age 18, often without their consent.

 

Globally, 1 in 3 women have experienced physical and/or sexual violence from an intimate partner.

 

Women make up nearly 60% of the world's labor force, but they earn just 36% of all income — pointing to a significant wage gap globally. 

 

Only 1 out of every 4 nationally elected representatives around the world is a woman.

 
"With the birth of a girl, she starts facing discrimination and control over her education, freedom, dreams, nutrition and sports. We are not even allowed to make the decision about where we see ourselves in the future. How long will this struggle continue?"
—Sanju, community member of AJWS grantee Mahila Jan Ashikar Samiti (MJAS)]

How We Make Change
Laws against child, early and forced marriage and unions haven't fixed the problem. Simply put, laws don't address the factors that contribute to this global issue—rather, they either drive the practice underground or simply delay marriage until age 18 without increasing girls' autonomy over their lives and bodies. That's why AJWS developed a comprehensive approach to ending child, early and forced marriages and unions that tackles its root cause: gender inequality. 
Our unique strategy focuses on four key elements— or, the Four A's: 
Nurturing adolescent girls' to pursue

aspirations

that reflect their fullest, unconstrained potential

 

Increasing girls'

agency

over their bodies and life choices

 

Increasing their

access

to services and support

 

Expanding the

availability

of institutions and structures that empower adolescent girls to fight for their rights

 
Today, AJWS supports grassroots organizations striving to end child, early and forced marriages and unions in India, Kenya and the Dominican Republic. The bulk of this work has taken place in India, where AJWS launched a $30 million initiative in 2014 that currently supports more than 60 organizations that build supportive communities for girls and young women.  
Many of these groups lead "collectives"—groups of girls who come together to learn about their sexuality and human rights, develop their ability to negotiate, make decisions and work towards their dreams, and offer each other emotional support and solidarity. Girls gain the power to transform their lives and pursue paths that don't require them to marry early or against their will. Further, collectives embolden girls to take collective action to demand expanded rights, sometimes even fostering local policy change. As a result, these girls and young women can make informed choices about all aspects of their lives, increase their access to education and jobs, and develop the skills to advocate for their rights.  
Critically, our partners also engage men, boys and key community leaders to challenge the patriarchal norms that drive CEFMU and gender inequality. In doing so, they transform these men and boys into  allies and partners in creating communities where girls can access all of the agency and opportunities they need to achieve full equity in society.  
We work towards these ambitious outcomes in India, Kenya and the Dominican Republic by funding locally-led programs—as we believe that community-based activists know best how to address the challenges they and their peers face.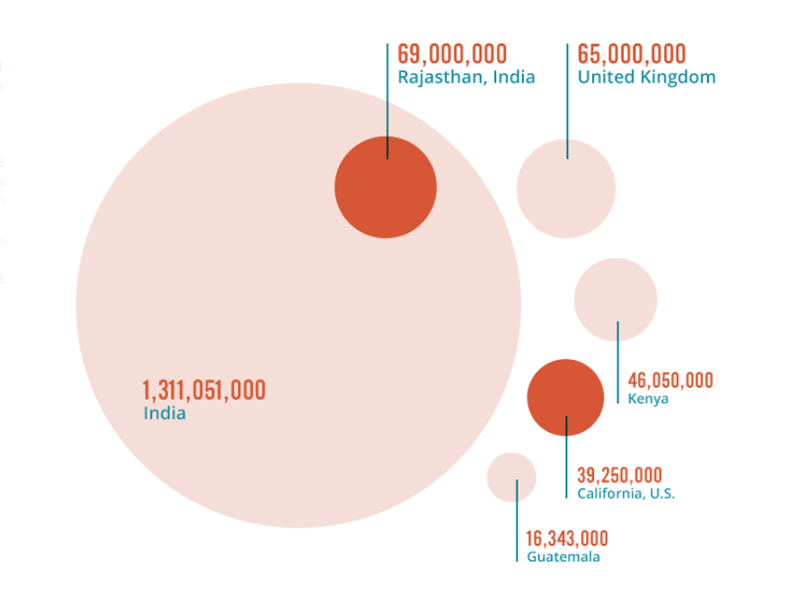 This interactive story uses data to explain why child marriage continues—and how our grantees in India are helping girls gain the power to choose other paths in life.
At the same time, AJWS brings our Indian, Kenyan and Dominican partners' voices, insights and research to global forums, funders and experts, so their powerful learnings can influence global funding and policy aimed at increasing the rights of adolescent girls around the world. AJWS policy experts advocate for changes in how programs for adolescent girls are created, implemented and evaluated everywhere that early and child marriage persists.  
All of this work adds up to a holistic, comprehensive and strategic approach to tackling global gender inequality so that adolescent girls and women around the world can live the lives they choose.  
"If a boy is born, then it's a celebration. And if a girl is born, it's a burden. So how do you address that?"