Mohamad Mohamud lives in Garissa County — a remote, arid region of Kenya that spans hundreds of miles with little vegetation. Many who live there are pastoralists: people who rely on goats, sheep and camels to provide them with meat, milk and a means to support themselves. Most years, two rainy seasons are a welcome reprieve from this hot and dry climate, allowing vegetation to grow and helping pastoralist communities maintain their way of life.
Life can be difficult here. Still, communities like Mohamad's find joy in their deep devotion to their traditions and their land.
But things are different now. This year marks Kenya's longest drought in the living memory of Mohamad's community. For the fifth season in a row, the rains have not come. Without water, rivers have run dry. Vegetation has withered. Camels that are critical to supporting this community — as they produce milk and carry goods to market — are dying, leaving many people near starvation. What's more, the drought has dramatically exacerbated challenges that women and girls in Garissa County already faced.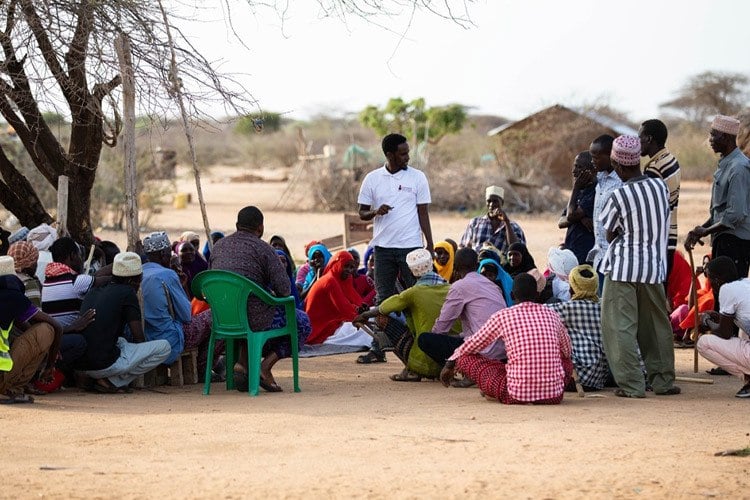 The global climate crisis is causing an unprecedented loss of food, land and life around the world. And in Garissa County, the symptoms of this crisis are inescapable.
Mohamad explained that the drought has created a situation so dire that this year, "three-quarters of the population of Garissa will need food [aid]."
But he finds hope in his work as a Humanitarian and Livelihood Officer with AJWS grantee organization Pastoralist Girls Initiative (PGI). Each day, Mohamad and the PGI team provide families with the resources they desperately need to weather this unrelenting drought.
A Deepening Drought Leads to Devastating Dropouts
Multiple emergency grants from AJWS have allowed PGI to continue to be nimble and address problems as they materialize.  The PGI team has carried all the lessons they learned during the pandemic to inform how they should serve their communities during this unprecedented drought — including how they can support girls and young women in times of crisis.
During the COVID-19 pandemic, the PGI team saw up close how such crises can disproportionately hurt girls and young women. With people out of work and locked at home, instances of early and forced child marriage spiked in Garissa County as families married off their daughters to bring in a dowry and support the family. The drought has brought similar devastation to girls in this community.

In Garissa, women and girls customarily undertake the crucial yet grueling task of finding and hauling water back to their families. Fatuma Kinsi Abass, PGI's Executive Director, revealed that the drought has made the water-gathering process even more difficult as "the distance to water sources has tripled."
"Water used to be two to five kilometers from villages," Fatuma detailed. "But now, women and girls are trekking more than 15 km (about 9.5 miles) for access to water."
Wells are the primary water source in Garissa County. As rain becomes increasingly scarce, the wells must be dug deeper to find any source of water, with some extending as far down as 60 feet. Women and girls climb dangerously into a well's depths, risking their personal safety with each step downward. Some wells require 10 people to pass a water jug to the surface.
As these trips to find water have grown longer, they've also become far more dangerous for women and girls. Men will sometimes sexually assault women who are traveling far and by themselves. Each extra mile a woman must travel to find water increases her likelihood of being assaulted.
PGI works in deep collaboration with the Ministry of Health to assist the growing numbers of women and girls who have been assaulted by men within their communities. The team provides referrals for government services and with the tragic uptick of "sexual and gender-based violence, we also provide legal assistance," Fatuma shared.
The drought has also put more pressure on families to keep their daughters out of school. Nearly 8% of students in Garissa County's secondary schools have dropped out, mostly young women, as parents continue to marry off their young daughters without their consent — a pattern that was exacerbated by the pandemic and continues to this day.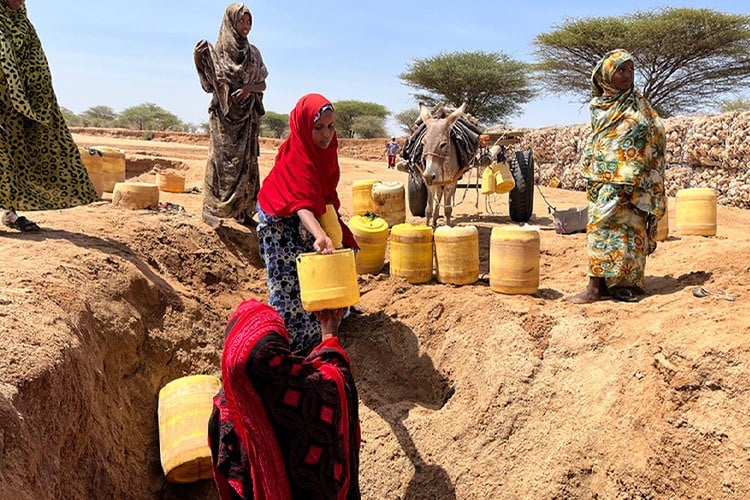 These factors create immense challenges for girls and young women across Garissa. The longer the drought continues, the longer the dangerous journey to find water and the greater the number of young women and girls who drop out of school.  And as economic conditions worsen for families, the number of girls and young women married off by their families continues to rise.
But PGI is tackling these issues head on. The organization was created two decades ago to fill in the gaps in humanitarian relief that pastoralist communities received. Few efforts centered pastoralist women and girls' needs, hopes and dreams.
Since its founding, PGI has championed a feminist approach to this work by elevating the educational, nutritional and other daily needs of women and girls. PGI has facilitated programs to encourage young women to remain in school longer than is typical in their communities, allowing them more opportunities to determine their own futures. In this very challenging moment, PGI is using the tools it has developed over decades to be a lifeline for women and girls across Garissa County.
Providing Assistance While Upholding Communal Dignity
Mohamad explained the careful feminist process PGI uses to determine who will receive aid. His team uses a strategic economic approach, including market analysis, costs of living and, crucially, the needs of women and girls within their households.
"We do an assessment of the household expenditures within a month, what a household in a crisis needs, and what amount of money would be enough for food, water and inflation," he shared.
With this model in hand, PGI confidently sends emergency cash transfers to families who demonstrate the most need.
Fatuma spoke with pride about the care and dignity that communities receive with every dollar:
"Instead of preparing food for these communities, let's give them the opportunity to buy food they want themselves," Fatuma explained. "Or they can choose if they want to use the money for school fees, to buy water, or to put food on the table."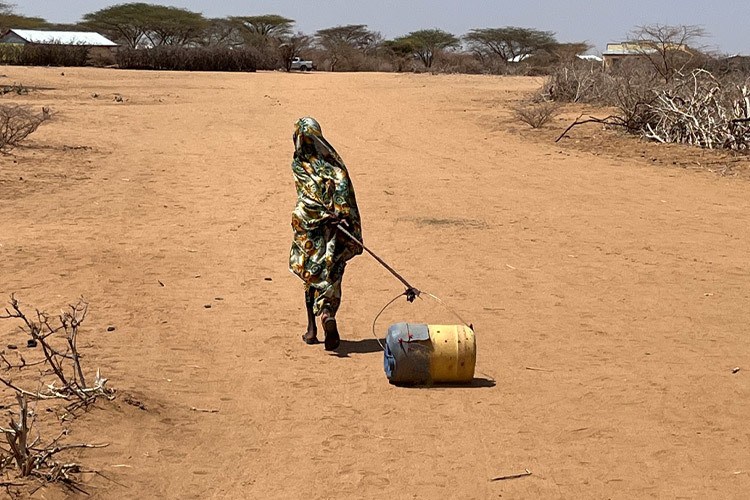 Currently, PGI gives emergency multipurpose cash transfers to 1,778 households. Responding to the drought's severity, AJWS has made three emergency grants between May of 2022 and March of 2023, each providing two months of cash transfers to send cash to 180 families in need.
This climate emergency, of course, reaches far beyond Garissa County. More than 5.4 million people across Kenya are suffering from chronic starvation because of the droughts. Fatuma and her team are devoted to helping improve the lives of women, girls and their families in their small corner of this immense crisis.
"When we sit down with these communities, they tell us that they have never seen a drought that is this severe," Fatuma said. "These communities need more help from us than ever before."