For years, I spent the High Holidays in Fire Island. Beginning in the mid-1920s, this barrier reef about 60 miles from Manhattan has served as a haven for gay New Yorkers. Although it's a raucous social scene from Memorial Day to Labor Day, the feverish party vibe dissipates by mid-September when Fire Island Jews—gay and straight—remain at the beach to observe Rosh Hashanah and Yom Kippur as a community.
Summers on Fire Island provided an essential refuge for me as a young gay man. For the first time in my life, I was in the majority and enjoyed a reprieve from the imperative to conform and the worry that I would be ostracized because of my sexuality. On this narrow stretch of sand, I had room to be myself.
I was reminded of this when I traveled to Kenya with AJWS in August and found myself back in a place where being gay is grounds for fear. LGBTQI+ Kenyans are under constant threat of surveillance. In their parents' homes, they may live in secret. On the job, they may face employment discrimination. Service providers—from police to physicians to cab drivers—routinely abuse gay people, blackmail them and subject them to countless violations of their dignity. That can mean around-the-clock uneasiness, a quickened pulse when unfamiliar voices are heard outside, or panic when a door opens unexpectedly.
Kenya's progressive constitution explicitly promises citizens equal protection, dignity, and even privacy, but the current climate is anything but supportive. Encouraged by Evangelical zealots in the United States, members of Kenya's parliament are threatening to introduce a nefarious anti-homosexuality bill that would dramatically limit human rights for LGBTQI+ people and jeopardize freedom for all Kenyans.
The whole time I was in Kenya, I saw AJWS's grantee-partners doing the hard work of holding their country accountable for the rights its Constitution promises. But I was also struck by something else: On my first trip since joining AJWS as Vice President for Marketing and Communications, every organization I met—whether offering legal support, advocacy, healthcare or training—makes it their business to have available a quiet room, a garden, or just a few chairs and a sofa where members of their community can gather. Even if digital platforms have eased the isolation many queer Kenyans face, people—like the social movements they build—draw strength from being together.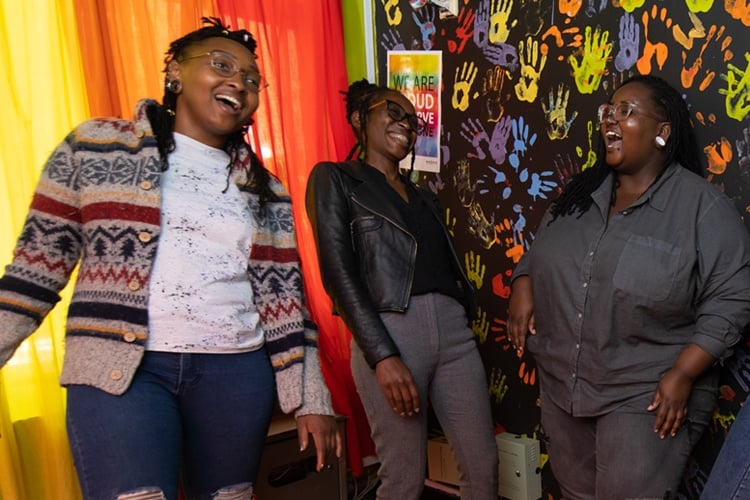 Kenya's National Gay & Lesbian Human Rights Commission is one of these organizations. After handling more than 7,000 legal cases, NGLHRC knows that LGBTQI+ Kenyans need both legal help and other support, including psycho-social counseling, opportunities to socialize, and simple places to meet, free of any agenda. So when Njeri Gateru, the group's Executive Director, calls the garden behind their office "the queerest space in Nairobi," she is describing a refuge like the one I had in Fire Island where LGBTQI+ Kenyans can be authentically themselves.
This need has never been more important. Across the border in Uganda, the world's most extreme anti-gay law is newly responsible for prosecutions that could lead to the death penalty. Uganda's law also criminalizes "promotion" of homosexuality, which could mean anything from openly congregating to providing HIV prevention information to simply making friends. It's why many queer Ugandans are seeking asylum in Kenya, and why the need for strong Kenyan LGBTQI+ organizations has grown so urgent.
On Fire Island, I cherished looking around to see allies at every turn and having a place where everyone was welcome and nothing interrupted our joy. As we pray for justice in 5784, we can feel enriched by the determination of Kenyan activists who are dreaming of these same rights—and creating space to sustain each other on the long road ahead.