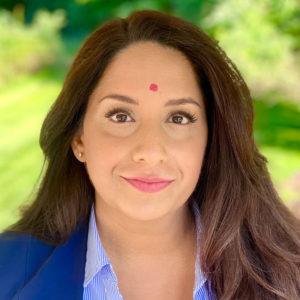 Venus Devnani McClelland
Executive Vice President
Please contact Venus Devnani McClelland through Kirstie Peña,
Administrative Coordinator for the Executive Office
212.792.2841
Venus Devnani McClelland is Executive Vice President of American Jewish World Service (AJWS), where she leads the Executive Leadership Team in advancing human rights throughout Africa, Asia, Latin America and the Caribbean.
Venus has spent her career working at the convergence of civil and social justice, supporting marginalized communities through policy reform, education, social programs, technology and systems-level change initiatives.
Prior to joining AJWS, Venus served as Chief Operating Officer and Chief Program Officer of Step Up Women's Network, the nonprofit organization working to close the opportunity gap, transcend gender and racial inequities, and advance families and communities through social emotional learning and mentorship. Venus recently led the development of Step Up's new program model, focused on ensuring girls and gender-expansive teens of color have the skills and beneficial networks to succeed in the 21st century.
Venus was also Senior Executive Director of Operations at the New York City Department of Education, where she made significant contributions to the city-wide special education reform, supporting more than 350,000 students with disabilities and a complex network of several thousand civil servants. At the NYC DOE, Venus was responsible for a budget of more than $4.5 billion and held a leadership portfolio for the division's finance, human capital, labor relations, federal grants, and policy and strategy. She was a Chancellor's Fellow and a founding member of an employee engagement initiative that created employee affinity groups and a rigorous offering of organizational development opportunities.
Before moving into the public sector, Venus also consulted on finance, product management, technology and global development. She is also the board chair of a nonprofit organization defending international freedom of assembly, and is certified in diversity, equity, and inclusion methodologies.
Venus is the proud daughter of immigrants, a first generation American, and a first generation college graduate. She holds a Bachelor of Science in international business with concentrations in finance, entrepreneurship and French from Northeastern University and studied international management at the Reims Management School in France.