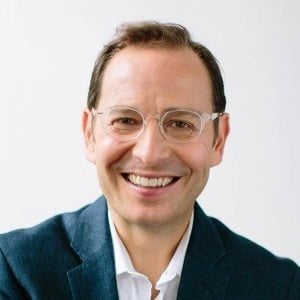 Robert Bank
President and CEO
Please contact Robert Bank through Joshua Fried,
Chief of Staff
212.792.2874
Robert Bank is President and CEO of American Jewish World Service (AJWS), the world's leading Jewish organization working to end poverty and promote human rights in Africa, Asia, Latin America and the Caribbean. Robert joined AJWS in 2009 as its Executive Vice President to both grow and deepen the organization's impact in championing the rights of the world's poorest and most oppressed people.
As a human rights attorney, activist and experienced organizational leader, Robert has dedicated his professional life to fighting for the rights of women, people of color, immigrants, LGBTQI+ people and people living with HIV/AIDS. Prior to joining AJWS, he served in New York's municipal government and in the leadership of GMHC—one of the leading organizations in the world engaged in combatting HIV/AIDS. In 2008, he played an instrumental role in the campaign to overturn the ban on HIV-positive people entering the United States and becoming U.S. citizens.
Robert has received the Wasserstein Public Interest Fellowship from Harvard Law School and his leadership has been recognized with the Lifetime Achievement Award from Gay Men's Health Crisis and the Partners in Justice Award from AVODAH: The Jewish Service Corps. He serves on the board of Leading Edge: Alliance for Excellence in Jewish Leadership and on the advisory board of the Safety Respect Equity Network, a Jewish coalition to address sexual harassment and gender discrimination. He has served as an advisor to The Conversation: Jewish in America.
Born in South Africa, Robert's commitment to social justice is rooted in his experience of growing up under apartheid, witnessing its daily cruelties and understanding its roots in racism and oppression. Robert was deeply influenced by members of his family and other indefatigable activists—many of them Jewish—who fought for justice in the anti-apartheid movement. His Jewish identity was also shaped by the Jewish day schools he attended in Cape Town and by the values and history of his grandparents, who had fled anti-Semitism in Europe.
Robert immigrated to the United States as a young man to avoid serving in the South African army in defense of the apartheid government and to follow one of his passions: music. He studied at The Juilliard School, earning bachelor's and master's degrees. While performing in New York City's most underserved schools as a teaching artist at Lincoln Center Institute, Robert came to understand more fully the economic and racial divides in American life. This inspired him to follow another lifelong passion: working for justice and dignity for all. Robert earned a law degree from the City University of New York Law School and then pursued a career in advocacy and organizational leadership, defending civil rights for vulnerable minorities—both in New York City and around the world.
Learn More About Robert Bank