Nikhil Aziz, Director of Natural Resource Rights at AJWS, visited AJWS's grantee organizations in Guatemala and has been sharing stories from his travels.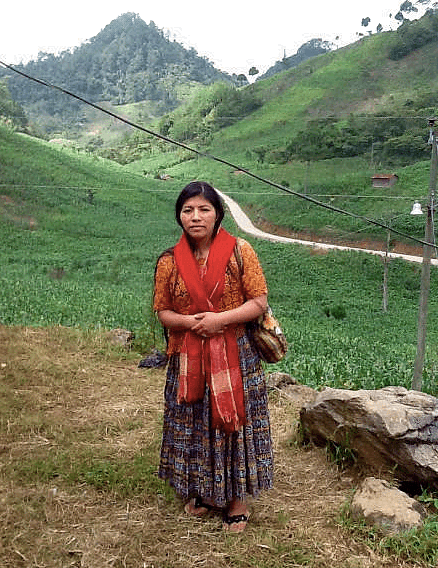 Sandra Caled was born on a day believed to be special on the Mayan calendar: a day when strong leaders are born.
That came as no surprise to me. Sandra, a Poqomchi' Mayan woman from Guatemala, is one of the first women to be on the governing body of AJWS grantee UVOC, the Union of Peasant Organizations of Vera Paz. UVOC works to defend and promote access to land for peasant populations, and fight for indigenous groups' natural resource rights in Guatemala.
Sandra's strength is not in fiery speeches but in her quiet yet forceful presence. Her strength is in her commitment to the human rights movement despite being a single mother of three, with one disabled child. She bravely confronts powerful forces—military, drug traffickers, large landowners—who don't hesitate to use violence against small farmers and indigenous people in an area that has known violence and human rights violations for decades. And her strength was displayed in her willingness to travel long distances to meet us even while sick.
We had traveled from Antigua to Cobán, in the department of Alta Vera Paz to meet with UVOC. On the road to Chamtaca, a village an hour outside Cobán, I asked Sandra to ride with my colleague Megan Thomas, who leads AJWS's work in Guatemala, and myself, so that I could hear her story.
Sandra comes from Purulhá in the Baja Vera Paz department of central Guatemala. Her community lost their land to military generals during and after the civil war, a 36-year-long war that ended in 1996, in which hundreds of thousands of Mayan indigenous people were murdered. Despite their great losses, Sandra's parents joined the struggle to regain their land through UVOC. When UVOC asked community members to send young women to be part of a capacity building training session they were organizing in Guatemala City, Sandra's parents nominated her to go. UVOC trains new generations of activists from the communities it works with, to return to their communities to organize for their rights.
"I was very shy," she said. "And only 15! I didn't really speak Spanish and wasn't sure if I wanted to do this." But her parents had faith in her leadership and convinced her it was important.
Once she completed the training, Sandra returned to Purulhá to work with her community, where she began organizing women. As she worked, she realized the need for creating spaces both within UVOC and outside of it for women. And so she and other women in UVOC formed Ixoq Mayaj, which is affiliated with the union. Impressed by her leadership skills, her community nominated her to be on UVOC's board. UVOC Is committed to gender equity and women's rights and leadership, but it is a work in progress, she told me.
"Our land rights work emphasizes women, especially single women and mothers. That has been the way we've gotten women involved. Whether it's labor rights (for landless women workers), evictions by landowners, or displacement from 'protected' areas, women are affected," she said.
"These struggles are for the future. I don't know that I'll see the results. I understand that. But a lot of women are very poor and thinking of today. Political parties mobilize women by paying them for the day to join rallies. Organizing for the future is harder."
I asked her if she'll involve her children. She smiled and said they already were. "How?" I asked.
"During the war we had a 'lost generation', where an entire generation came of age with no connection to their culture. "My children and others are working with the elders to revive the cultural traditions lost during the war."
"What do you hope for, and for your kids?" I asked her. Her dream is for her children to get their land back. Her brother is running for mayor in Purulhá and hopes to win and use that position to advance their land claims.
"I want my children to be educated more than I was. I want them to be professionals, but professionals who serve their community."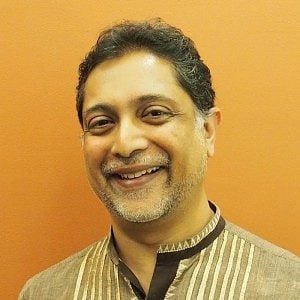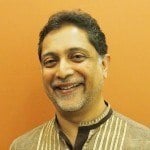 Nikhil Aziz is the director of Natural Resource Rights at AJWS. Before joining AJWS, he was executive director of Grassroots International, which funded social movements for resource rights in the Global South and did advocacy in the United States. Previously, Nikhil was associate director at Political Research Associates, which studied the right wing for the progressive movement. He continues to speak, teach and write on human rights, international development and social change. Nikhil has served on the boards of Africa Today Associates, Massachusetts Asians & Pacific Islanders for Health, MASALA (Massachusetts Area South Asian Lambda Association), Resist, and the International Human Rights Funders Group. He currently serves on the boards of Engaged Donors for Global Equity (EDGE Funders) and the Jessie Smith Noyes Foundation.