Nikhil Aziz, Director of Natural Resource Rights at AJWS, visited AJWS's grantee organizations in Guatemala and has been sharing stories from his travels.
Lesbia Morales is in her early 30s. She was the first woman president of AJWS grantee Comité Campesino del Altiplano (CCDA), a grassroots organization of small-scale farmers supported by AJWS. The group works in 11 regions throughout Guatemala to confront land rights challenges and meet the needs of rural, predominantly Mayan communities. Now, Lesbia coordinates CCDA's political education program, which is at the core of its organizing work. A "step down" from leading the entire organization? Not for Lesbia, who sees this as a natural trajectory in terms of her feminist values and commitment to internal democracy within CCDA.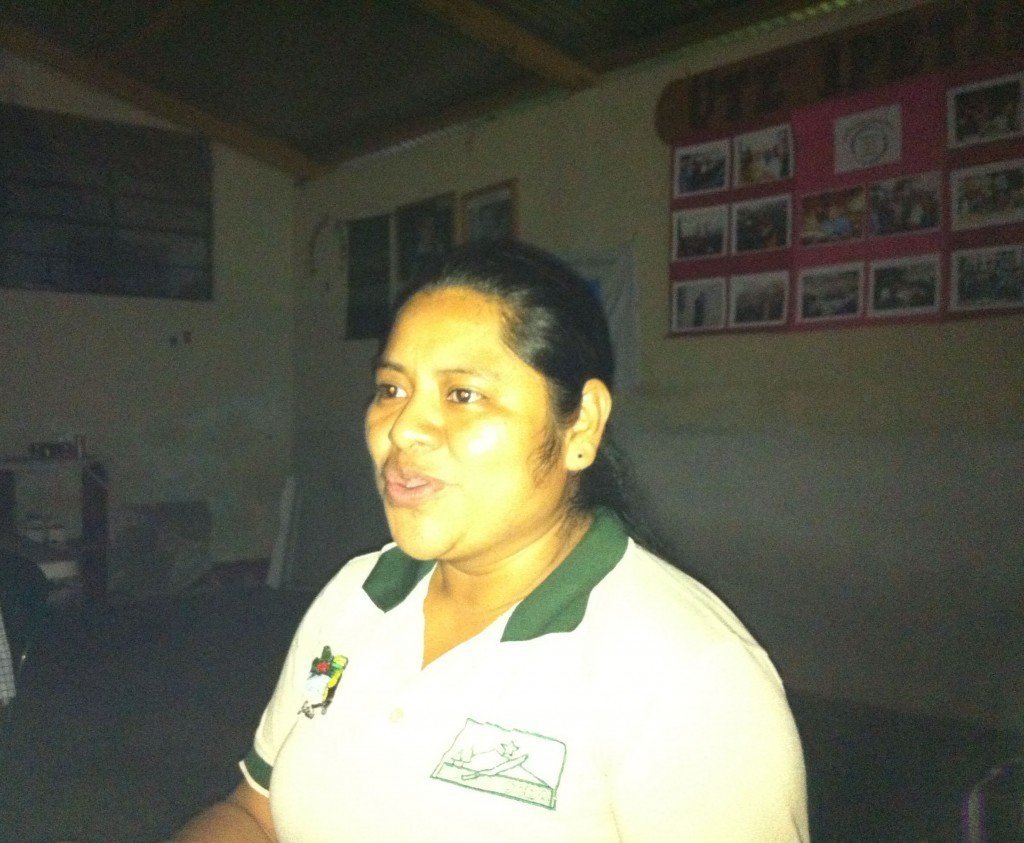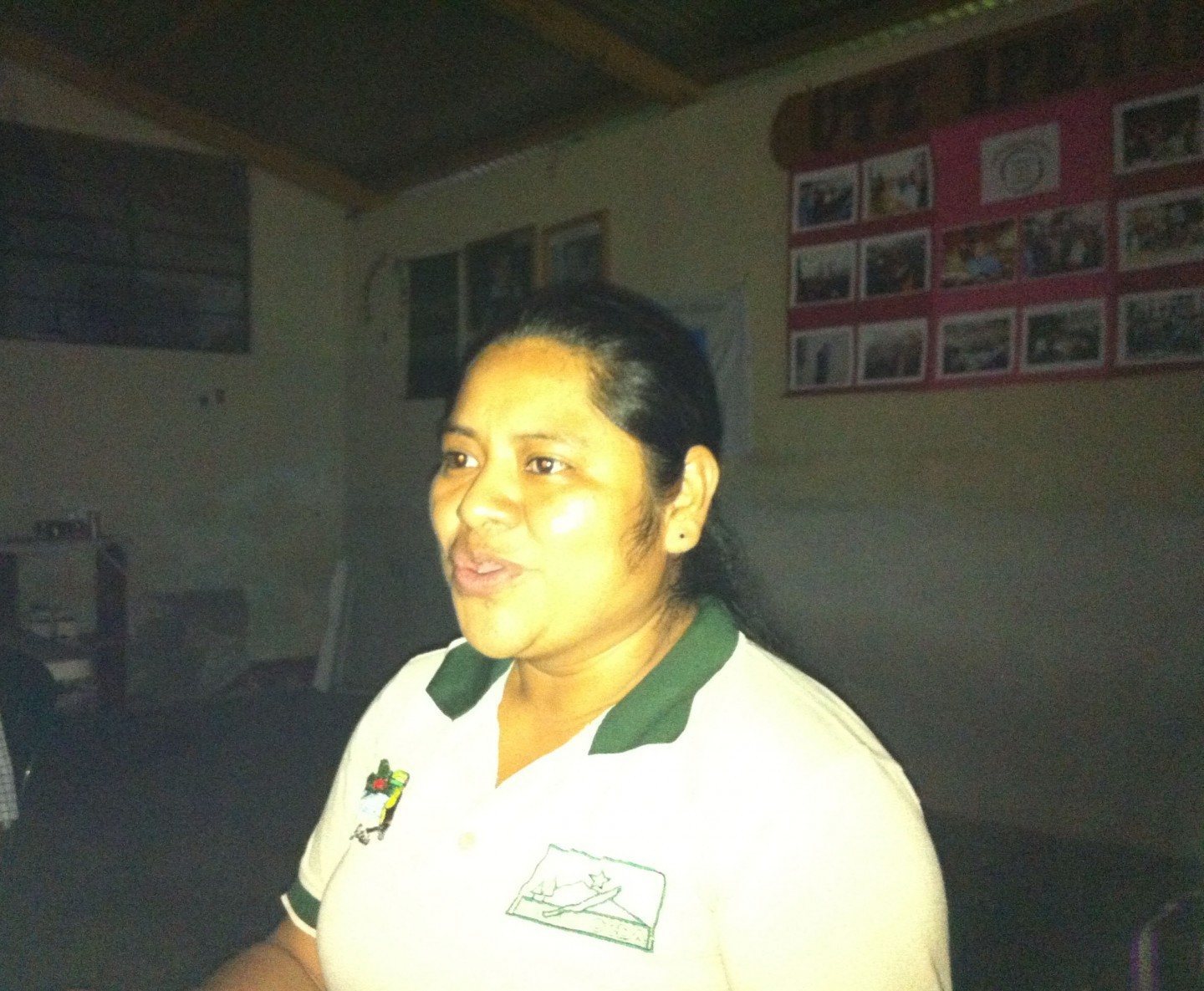 Lesbia grew up in the area of San Lucas Tolimán, on Lake Atitlán in the Guatemalan Highlands. She was just 11 years old when an indigenous peasant leader was murdered in the area. A protest erupted, but Lesbia's father did not join because the Guatemalan military base was located nearby, and it was dangerous.
Lesbia noted: "My mother was stronger. She decided it was important to go and show solidarity, and she took me. I've been protesting atrocities ever since."
Lesbia was invited to be part of other protests against human rights violations of indigenous small-scale farmers. She became part of community teams that provided food to CCDA activists. "I was working in a coffee finca (estate) with my brothers and father when CCDA gave me a scholarship and I studied for a teaching degree. I continued volunteering for CCDA during my vacations." After she had taught for two years, CCDA asked her to work with them as director of their gender program.
In 2003, she told CCDA that she wanted to go back to teaching. But the women she worked with in the communities asked her to stay. "I'm very proud that I did, as I've been able to move things forward." In 2009, the women encouraged her to run for president of CCDA. "Some men supported me, but it was harder for others to support me," Lesbia observed. "One man even said if I became president, men would stop coming." I asked her if that happened. "No!" she laughed. "In fact, two years later, that same man asked me to come do political education in his community. This may not be a big deal for men, but for me, it was."
As CCDA president, Lesbia represented the organization in the National Coordination of Peasant Organizations (CNOC).
"The real fights existed there. It was the height of machismo. I came to understand I couldn't just fight them head on. I had to identify skills and capacities that I could use to make headway. Being pragmatic was one of them. I learned to be more pragmatic."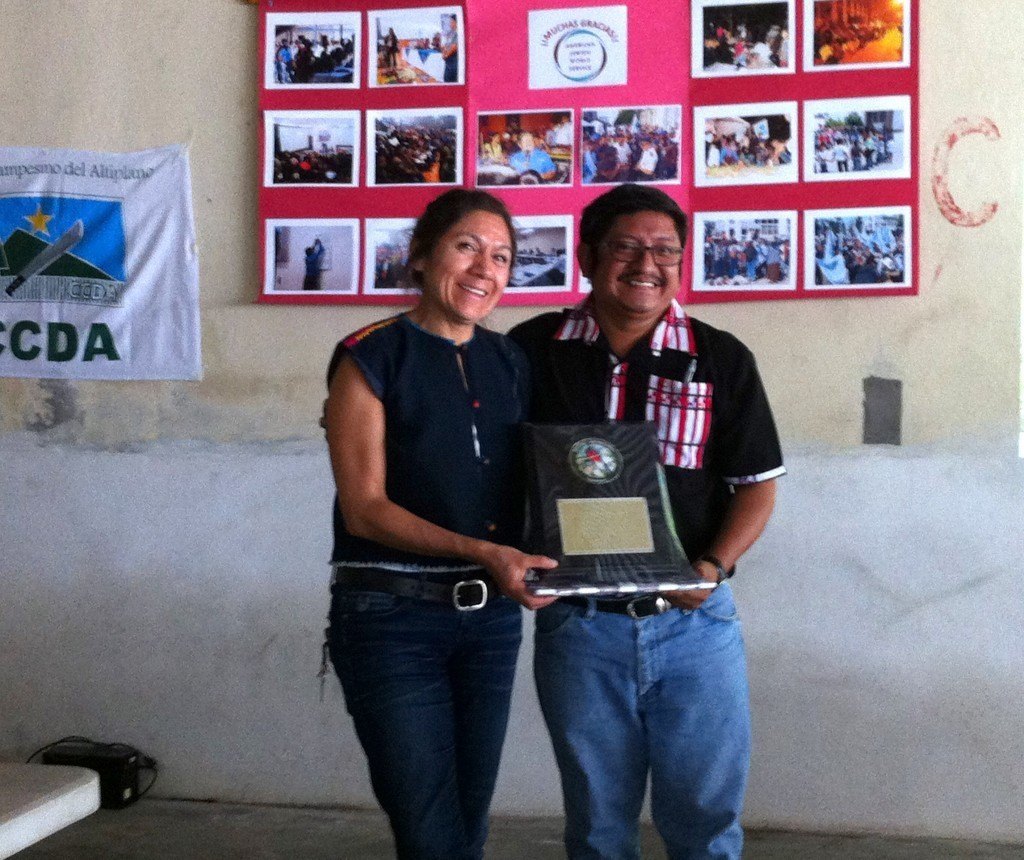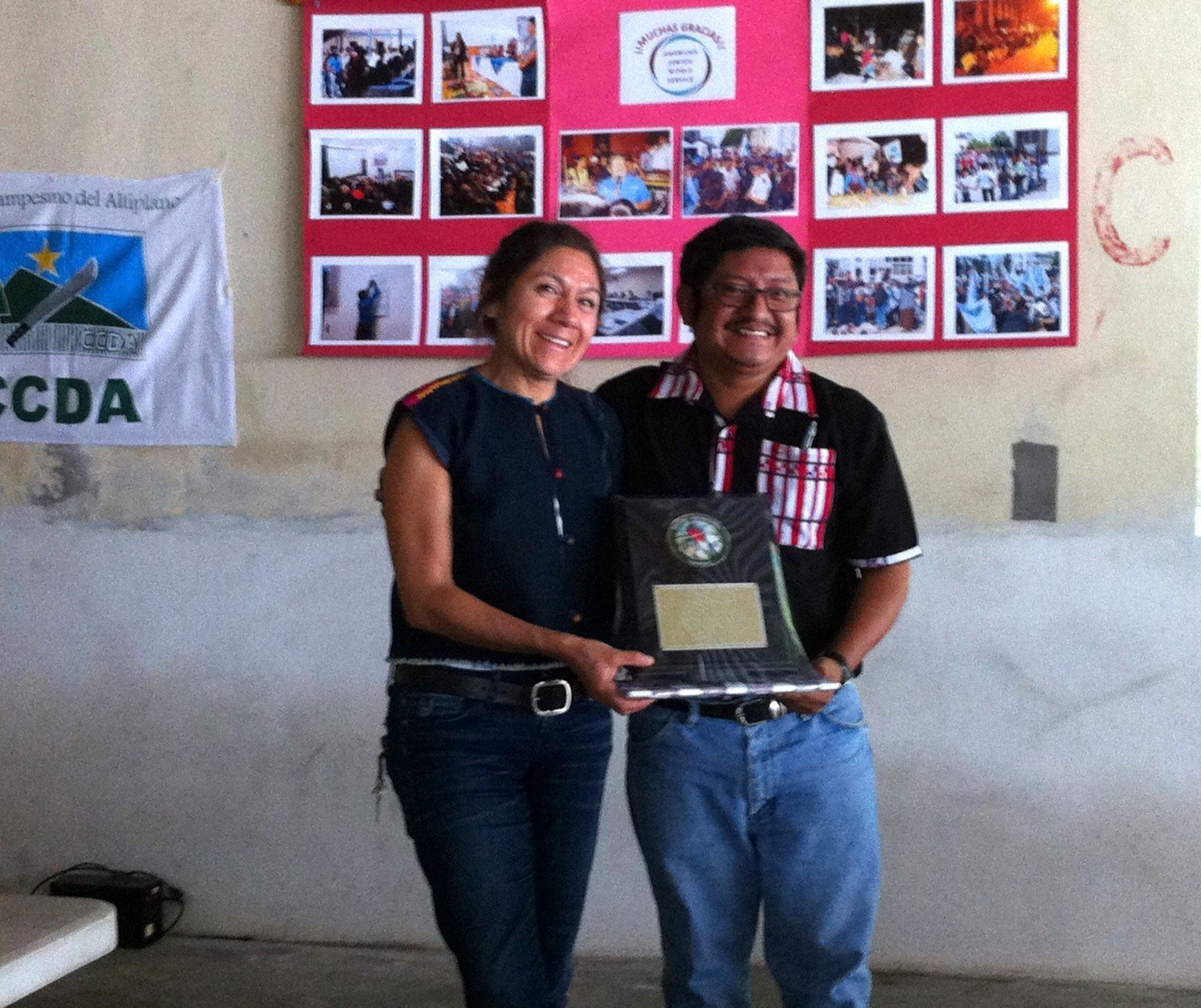 "Leocadio Juracán helped found CCDA in 1982 after Rios Montt's coup. We began in the altiplano (highlands), but now we're a national organization working in 13 departments."
CCDA has a three-pronged strategy: advocacy, including on land rights; production based on the principles of food sovereignty and agroecology; and political power. As part of the third strategy, CCDA fielded 35 candidates in the September 2015 elections in various parts of the country. Twelve of them were women. And five including Leocadio, ran for the national congress on the Convergencia party ticket; Leocadio won.
"We want to place a CCDA member on the board of the National Rural Bank. There is a seat for small-scale farmers but it's been empty for years," Leocadio said. He added proudly, "in the last 17 years, we've reclaimed 76 fincas for landless peasants to be able to exercise their rights to land."
Recently, CCDA organized a national march to the capital and encamped outside the presidential palace in Guatemala City to press their demands. "We spent many days there producing our own food, supplying our own medicines, even running our own school for the children. People in the city asked us, 'who is funding you?' We replied, 'we are!' We not only produce, we even export products like coffee to Mexico."
Of the 145 land conflicts they're providing support to small-scale farmers and landless peasants on, they've prioritized negotiating with the government on 40 of them. They did not vacate the protest site until they got a clear signal from the government on negotiations.
I asked what the reasons for these conflicts are. "In some cases people have been pushed out by land grabbers—especially finqueros (farmers) that are producing sugarcane or African Palm oil. In other cases, our research found that the land titles were held originally by indigenous peasants. Yet others are landless labor on the fincas and for them this is a struggle for land reform."
The struggles are hard. CCDA has had to take international peace brigade members with them as solidarity witnesses for protection in some of the areas. In Cobán, for example, the convergence of palm oil, sugarcane, cattle ranchers, drug traffickers, and industrialists involved in dam construction form a powerful nexus that has had an enormous influence on national politics.
But CCDA is in it for the long haul. The internal democracy building process within the organization has allowed for blossoming of many ideas from the grassroots, including voices such as Lesbia's.
"Our vision is for a new society that is more just and equitable," she said. "And that means new and more just forms of organizing. We ask ourselves what is preventing women's full participation in our communities. It includes lack of education, of economic resources, and of self-esteem. And, of course, a culture of patriarchy and machismo makes it so. So we are also working on developing a new masculinity. What's the point of building women's leadership if we don't also change men's mindsets?"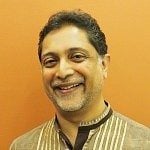 Nikhil Aziz is the director of Natural Resource Rights at AJWS. Before joining AJWS, he was executive director of Grassroots International, which funded social movements for resource rights in the Global South and did advocacy in the United States. Previously, Nikhil was associate director at Political Research Associates, which studied the right wing for the progressive movement. He continues to speak, teach and write on human rights, international development and social change. Nikhil has served on the boards of Africa Today Associates, Massachusetts Asians & Pacific Islanders for Health, MASALA (Massachusetts Area South Asian Lambda Association), Resist, and the International Human Rights Funders Group. He currently serves on the boards of Engaged Donors for Global Equity (EDGE Funders) and the Jessie Smith Noyes Foundation.