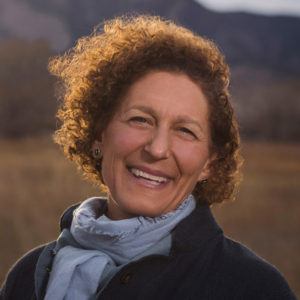 Julie Goldstein
Board Member
Sparked by pivotal educational experiences in the classroom, wilderness, and international settings, Julie Goldstein began her career as a Secondary and Elementary school teacher and Outward Bound Instructor. Over time, she transitioned into program work at various educational non-profit organizations, worked as a community organizer and volunteer, and taught yoga to children and adults.
A life-long learner, Julie has two MA degrees in Education—the most recent one being an MA in Contemplative Education from Naropa University in Boulder, CO.  Additionally, Julie is a certified Gyrotonicâ teacher and holds two certifications from her studies in Spiritual Psychology at the University of Santa Monica. Julie is committed to working towards necessary and possible systemic change through the lens of Spiritual Psychology.
She is currently the Board Chair at the Watershed School in Boulder, CO. Julie actively engages in multiple philanthropic efforts in education, the environment, and social justice and has served on the board of directors for several family foundations and nonprofit organizations. In recent years, Julie has bolstered her philanthropic endeavors with an in-depth emphasis on impact investing.
Julie has spent most of her life in Colorado and remains an avid outdoorswoman passionate about protecting and preserving natural habitats, open spaces, and public lands. Julie is an engaged supporter of several climate change and climate justice advocacy organizations and initiatives, and a select number of human rights and social justice projects addressing equity issues in education.
Julie is an adoptive parent who resides in Boulder, CO with her teenager, Ash.