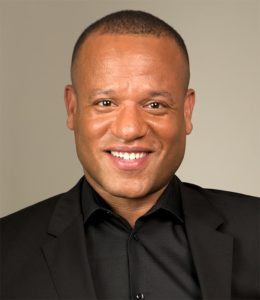 Gamal J. Palmer
Board Member
Gamal J. Palmer is Senior Vice President of the Jewish Federation of Greater Los Angeles, where he oversees a myriad of leadership programs for board and lay leaders, and professional development for a 170-person workforce.
Palmer is also the founder and CEO of Global Eye Entrepreneurs, an organization helping gay, non-binary entrepreneurs of color and their allies gain skills, build infrastructure and launch sustainable businesses. In addition, Palmer leads his signature workshop, The Diversity Gym, for the public and private sectors, colleges and universities around the country.
Palmer earned an MFA and a Post-Graduate Associate from the Yale Schools of Drama and Management (SOM) in Business Organization & Leadership Development. While at Yale, Palmer co-created and lectured for the study-abroad course, Arts in Action: Theater and Public Health in Swaziland and South Africa and the graduate school program, The Quest for Social Justice Through Music Theater and Religion in Tanzania. In 2014, Palmer served as an AJWS Global Justice Fellow and delivered the TEDx Talk "Your Impact Artist Equation." In addition, Palmer completed The d.school (the Institute of Design) at Stanford University, The Landmark Team Management and Leadership Program and the Jewish Federation Innovation Leadership Lab.
Palmer was a committee member for the Culver Studios City Expansion Commission and LAMBDA Legal Leadership and Culture Council, and is a previous board member for the Working Classroom. A 2018 International Career Advancement Fellow, he served on the 2019 faculty at the Aspen Institute and is currently a Schusterman Fellow and Springboard Fellow through the Durfee Foundation. A native of Philadelphia, Palmer is the youngest of nine children and was highly influenced by his activist parents.