"We are telling the truth. We want to be heard, and we want justice," said a petite, elderly woman to a room full of journalists and human rights activists in Guatemala City on February 13, 2016. A survivor of sexual slavery during Guatemala's decades-long civil war, the woman's face was obscured by a Mayan scarf to protect her identity. But her message was clear: She and 14 fellow survivors wanted justice for the years of abuses they endured at the hands of Guatemalan soldiers, and they wanted it now.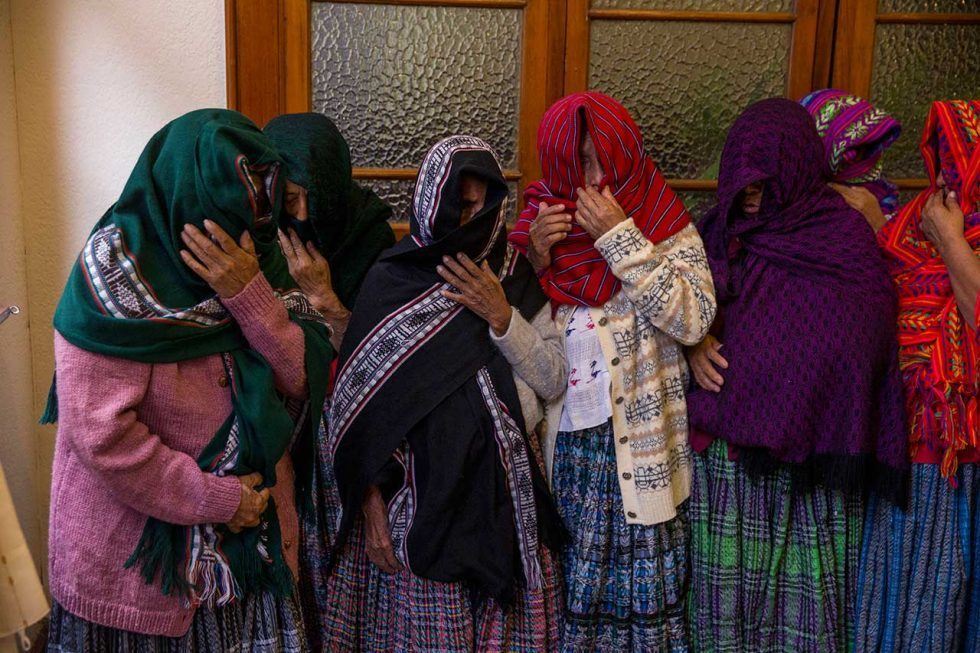 Two weeks later, the survivors got the justice they demanded. On February 29, Guatemala's High Risk Court convicted former military officer Esteelmer Reyes Girón and former paramilitary officer Heriberto Valdez Asij of war crimes committed in Sepur Zarco village, sentencing them to a total of 360 years in prison. In addition to being held responsible for enslaving the women, the men were found culpable for multiple murders and forced disappearances that occurred in Sepur Zarco during the early 1980s.
Reyes and Valdez were part of a counterinsurgency campaign under which the Guatemalan military systematically terrorized and attacked indigenous communities believed—usually erroneously—to be in league with guerilla fighters that sought to overthrow the government. Over 200,000 people died during Guatemala's 36-year civil war, which ended in 1996; 83 percent of them were Mayan.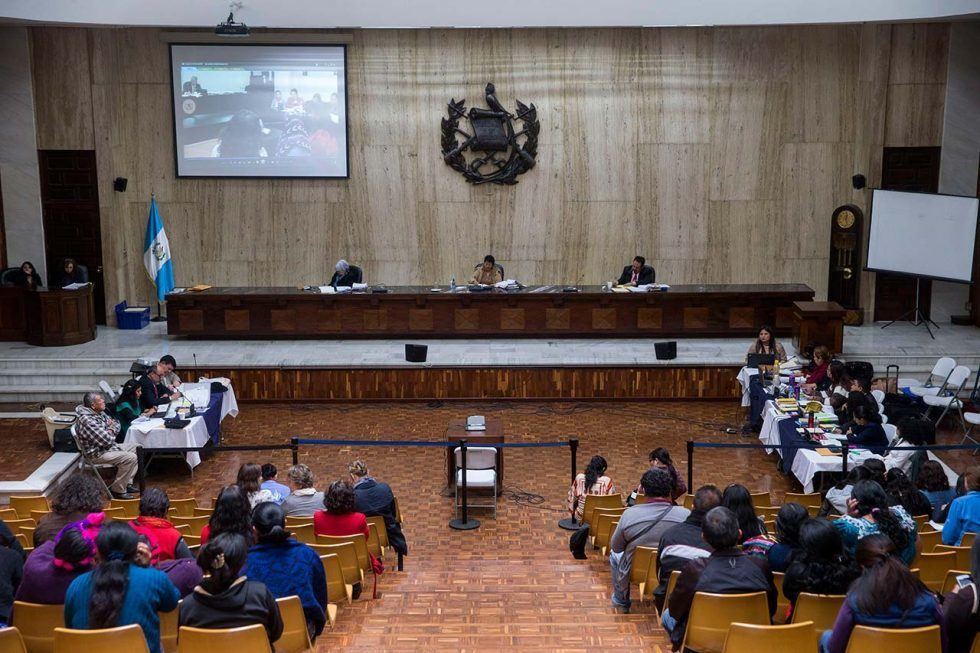 Protecting those who risk their lives for truth and justice
The Sepur Zarco verdict was a victory in Guatemalans' ongoing pursuit of justice for atrocities committed during the war. But it may not have been possible without the support of a number of brave Guatemalan human rights activists and groups—including Unidad de Defensores y Defensoras de Derechos Humanos en Guatemala (UDEFEGUA), a longtime AJWS grantee that helped ensure the safety and security of the women and their lawyers during the trial.
Established in 2000, UDEFEGUA works to protect human rights defenders—from citizens like the defendants in the Sepur Zarco case, to civil society activists, to journalists—who speak out or take risks in defense of justice. UDEFEGUA supports these defenders by monitoring and reporting on relevant security threats; providing counseling and legal aid; teaching strategies to improve security for both defenders and the sensitive information they possess; and advocating for laws and policies that protect individuals and organizations working to promote human rights.
During the Sepur Zarco trial, UDEFEGUA accompanied the 15 survivors to court each day, offering moral support to the women. Its staff also ensured their protection and intervened when the women were being harassed by onlookers.
"At the beginning of the trial, there was a man outside the court with a microphone calling the women prostitutes and saying really ugly things," UDEFEGUA's founder and director, Claudia Samayoa, told AJWS. "We documented it and asked the authorities to act because he was actually committing psychological violence, which is illegal according to our law."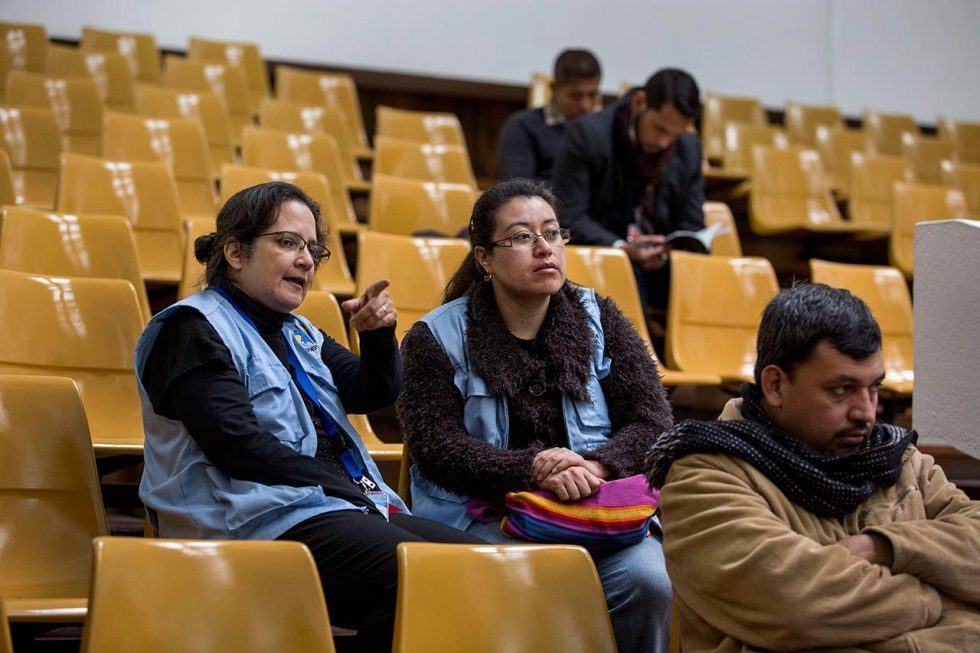 Unwavering courage in the face of unrelenting threats
By standing with the women during the trial, UDEFEGUA may have saved their lives: Dozens of human rights defenders are killed each year in Guatemala by those who wish to silence them.
UDEFEGUA and other advocates believe the assailants in many of these cases are hired by government officials or backers of development projects seeking to intimidate or remove those who stand in the way of their political or economic gain. AJWS's grantees are among those at risk of such attacks, because they are often protesting the actions of powerful public figures or seeking to stop economic projects that fail to benefit—and often harm—rural communities. These dynamics make UDEFEGUA's work not only difficult, but also dangerous.
"We are an institution that stands up to powerful, arrogant, corrupt and criminal actors who have verbally and physically attacked us … and even threatened our families," said Claudia, who has survived five attempts on her life and was put on a hit list by a convicted criminal in 2014.
A global reputation for advancing justice
Despite the dangers, Claudia and UDEFEGUA staff refuse to abandon their work. Their critical contributions have garnered international admiration. Amnesty International and the United Nations' refugee agency (UNHCR) have both praised the organization and, in 2013, the U.S.-based Guatemala Human Rights Commission honored UDEFEGUA with the Alice Zachmann Human Rights Defenders' Award.
In her acceptance speech, Claudia compared UDEFEGUA staff to emergency response workers. "We are firefighters, rushing to be present with human rights defenders in their moments of need."
Since 2000, UDEFEGUA has responded to hundreds of human rights "fires" across Guatemala. AJWS looks forward to helping them extinguish or, better yet, prevent thousands more fires in the years to come.
The below images were taken during the Sepur Zarco trial in February 2016. All photos are by Jonathan Torgovnik.