We celebrated our 30th anniversary 2015! In honor of this milestone, we profiled 30 remarkable leaders who have partnered with AJWS to build a better world. These are but a few of the thousands who have raised their voices worldwide with our support, changing the lives of millions for the better.
Gopal Kumar Nakarmi
Restoring hope after disaster shatters Nepal
Nepal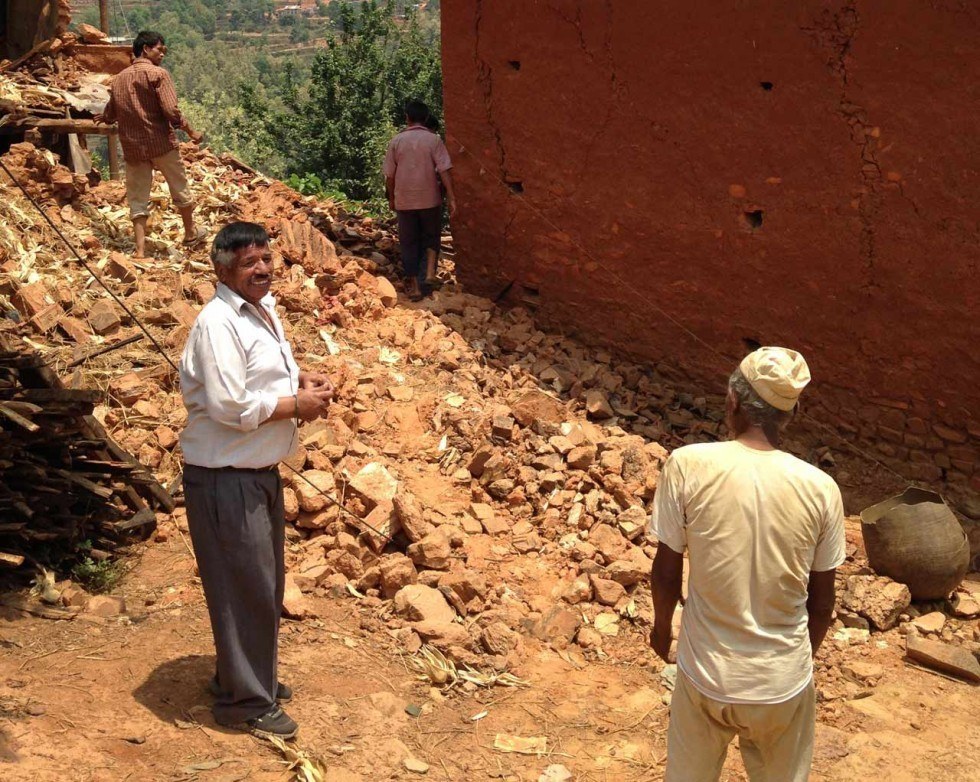 In April 2015, when the first of two powerful earthquakes struck Kathmandu, Gopal Kumar Nakarmi clung to his trembling wife and daughter. As soon as the tremors stopped, he checked on their home and then immediately thought of the villagers in 20 remote Nepal districts where he is deeply involved in community development work. These communities, which are home to some of the poorest people in all of Nepal, were devastated by the disaster but too far or inaccessible to be reached by mainstream international aid efforts.
Gopal's organization, BBP-Pariwar, reached these villages before anyone else. What they found there was tragic: 30 people and 643 animals had perished, 94 people sustained injuries, 395 houses and 258 barns collapsed, and 153,000 kilograms of crops were damaged. This story of death and destruction repeated in village after village across the countryside.
In keeping with our mission to aid the poorest and most vulnerable communities affected by disasters, AJWS began funding BBP-Pariwar almost immediately after the earthquake. With our support, the group quickly helped scores of families build shelters. It also provided food and other support in the days and months that followed.
While so much was lost and the people struggled to find refuge and sustenance in the initial days of trauma, Gopal was clear that "hope is not finished." "We know that if we work together, we can come out of this problem."
Gopal's optimism is all the more remarkable because the people BBP-Pariwar aids are part of Nepal's "untouchable," or Dalit, class, making them Nepal's poorest and most oppressed citizens. Gopal grew up one notch higher in the caste system than the Dalit, and sympathizes with the hardships untouchables face. His family of eight lived in a cramped house in Kathmandu. "Sometimes we had to go to bed without eating anything," he said. As a child, Gopal repaired bicycles to fund his education, and went on to earn a management degree in college. Today, through his role with BBP-Pariwar, he provides health services and teaches villagers how to make a living and grow food to feed their families.
From first-hand experience, Gopal understands the power of grassroots change: "If the planning comes from the bottom, the rate of success is higher."
"Without AJWS funding," he said, "we would not have been able to support these earthquake victims, and families would have to spend days in a small tent, even in the rainy season, without sound sleep at night. It would have reduced the number of [shelters we could build] or the number of families we could help. We are very thankful to AJWS because it has shown confidence in us, and we can help fulfill our promises to the community."
Pictured below: Gopal leads AJWS grantee BBP-Pariwar in Nepal, helping scores of families build shelters and provide food and other support in the days and months that followed the earthquake. BBP-Pariwar helps Nepal's poorest and most oppressed people.