After a five-year struggle, AJWS grantee Economic, Social and Cultural Rights Project (ProDESC) secured a major win in June when federal energy authorities in Mexico announced they had definitively cancelled a massive energy project slated to be built on the lands of an Indigenous community. The project — "Gunaa Sicarú" — was awarded to a French utility company, and would have been one of the biggest wind energy parks in Latin America, built to supply power to private companies. This could have been a positive evolution for clean energy in the region — if the corporation had not trampled on the rights of Indigenous communities that own the land on the proposed project site.  

Gunaa Sicarú would have eaten up nearly 200 acres of Unión Hidalgo's land — a devastating blow to this Indigenous, agricultural community. ProDESC, in partnership with the community, tirelessly petitioned the Mexican Energy Ministry to cancel contracts with Électricité de France (EDF) — and the case was taken to courts in Mexico and France. After ProDESC discovered that EDF had signed contracts with Mexican electricity authorities without proper consultation with local communities — and further that EDF had not identified security risks related to construction and development of the park — they vowed to fight for the land and resource rights of Unión Hidalgo.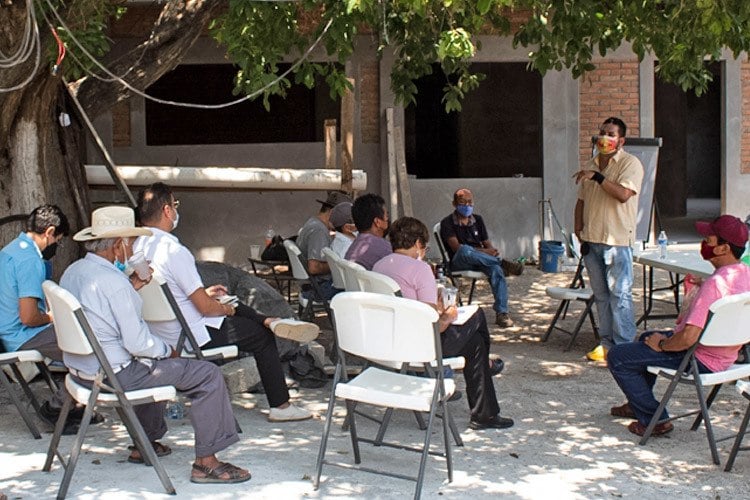 We spoke with Juan Antonio Lopez, the Coordinator of Transnational Justice for ProDESC, about this long battle, and what comes next.
Can you tell us a little bit about yourself and what led you to work with ProDESC?
I am a lawyer — and at the beginning of my professional career I worked in the private sector and in the federal government. But none of these jobs gave me the professional satisfaction I was looking for when I decided to study law. That's why I began to venture into the world of human rights, where I found out about ProDESC. Defending Indigenous and agrarian communities has given me that satisfaction I always sought.
Can you introduce us to the community of Unión Hidalgo?
The population of Unión Hidalgo is approximately 16,000 Zapotec people. Many continue to speak their language and observe their pre-colonial cultural practices. They are dedicated to agriculture and livestock. Some of the younger generations have left to study and start careers as professionals, both around Mexico and even abroad.
How would you describe the community's connection to the land? 
The community mostly still lives off the land — they are farmers, ranchers, fisherfolk and artisans who use palm tree leaves to create their crafts. They are also Indigenous doctors who use plants and animals from the region to prepare their medicines and cure their patients. The people of Unión Hidalgo protect the lands in various ways, from communal decision-making to prohibit land speculation, to using judicial means to defend their territories. The land is a means of survival for them, as well as its rivers and sea. Their legal territory is truly a core part of their worldview. 
"Triumphs are achievable. All you need is patience and perseverance — and you are not alone in this fight" 
—Juan Antonio Lopez
Why are you so passionate about defending Indigenous land?
Simply because the land belongs to them. These Indigenous communities have been in possession of the land since pre-colonial times, and many of the communities are not familiar with present day legal frameworks to defend their land against external threats. So they become targets of the government and companies who take advantage of them.
Why do you think so many companies feel free to impose projects on Indigenous lands? What causes this dangerous mentality?
I think they believe themselves superior to the Indigenous people because they have money, power and knowledge. Corporations think they should exploit the resources that Indigenous people have, just because they are prepared people.
How did you feel on June 2 when the Mexican Energy Ministry (SENER) announced that it had indeed canceled this project?
We felt happy, recognizing that an Indigenous community had managed to stop a transnational, multimillion-dollar company that sought to dispossess an Indigenous community of their territorial rights.
This was a long legal battle. What kept you inspired and feeling positive?
Knowing that we are defending the rights of a community that is exercising their rights as legal owners of the land.  We know the community has the right to be consulted in a free, prior and informed way for any proposed projects that have an impact on their way of life. This was clearly a case of a company thinking they could mistreat the community, not treating them as equals.
Corporations that disrespect Indigenous land is an international problem. What would you say to other land advocates to keep them engaged in the struggle?
That triumphs are achievable, that all you need is patience and perseverance, that the work you do is a job that deserves all the recognition. And that you are not alone in this fight.
What's the next big battle for you?
We don't know just yet — but we'll continue to defend the Indigenous communities that need our help.
Is there anything else you want to say to our community?
Only that the defense of human rights is a job that unfortunately does not end, because multimillion-dollar companies are not interested in people. Just in generating greater profits. Thank you for the support, and I assure you that the work we do at ProDESC is consistently creating precedents in the struggle for the human rights of all.