"The forest is our heart!" Those beautiful words gave me chills when a village elder spoke them on a recent trip I made to Kenya. There I was deeply moved and motivated by the members of a special community—the indigenous Ogiek people, who for generations have cared for and thrived in the ancient Mau forest.
That elder is on my mind, along with many other Ogiek people I met. The Ogiek, along with other indigenous people around the world, have been waging a heroic battle to preserve their forests against international timber companies, which are stripping the trees in their quest to produce and sell lumber.
Forests are one of the greatest bulwarks on the planet against climate change. For all who care about our Earth and who are horrified by the destruction being wrought by climate change, the partners of American Jewish World Service around the globe have a clear and urgent message. Again and again, they tell me that we must protect not only our forests but also the indigenous peoples who protect them.
The Ogiek people rely on centuries-old techniques of hunting and gathering, in a way that is harmonious with nature. And against the odds, they fought in court for decades to win a legal victory to gain back their rights to the forests that had been taken from them by the Kenyan government. Their case sets a precedent in Kenya and across Africa that will help millions of indigenous people in the struggle to protect natural resource rights.
With support from AJWS, the Ogiek people are now protecting this lifeline, this home, this heart. They are planting hundreds of thousands of trees that will "breathe," reducing carbon monoxide and slowing climate change. Their persistence inspires me and the entire AJWS community to continue our fight for the rights of others around the world who want to stop massive deforesting, mining and damming projects that offer short-term gain at the expense of our very existence.
As Jews, we cannot stand by silently. Jewish tradition tells us that we have a moral imperative to sustain the health of the earth and all living things. The Torah teaches us that we are to act as stewards of the planet, "to work it and to guard it."
We are taught that humans have higher values than consumption and production. That is why AJWS supports grassroots organizations that work together to build powerful social movements to make sure that land, water and natural resources are used sustainably and equitably.
I invite you to watch our short film about the Ogiek people, and to celebrate their culture, which exists in balance with the earth. I am forever grateful for our partners who are doing this vital work to save the planet, making sure that future generations will be able to live on, steward and guard this precious planet.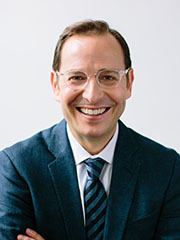 Robert Bank is President and CEO of American Jewish World Service, the leading Jewish organization working to promote human rights in the developing world. Robert has spent his career championing human rights as an attorney, activist and leader. He joined AJWS as Executive Vice President in 2009 and previously served in New York's municipal government and in the leadership of GMHC—one of the world's leading organizations combatting HIV/AIDS. Robert has been honored with GMHC's Lifetime Achievement Award and the Partners in Justice Award from AVODAH: The Jewish Service Corps.