In recent years, activists who defend human rights in Guatemala have faced a rising wave of targeted violence that aims to crush their growing movements for social change. From 2008 to 2011, there were 1,286 reports of attacks against human rights defenders, and 55 of them were killed, sometimes by hired assassins. Attacks range from harassment and public defamation campaigns to rape and murder. A mix of criminals, corporations and corrupt government officials are trying to use fear, trauma and bloodshed to muzzle grassroots activists and journalists.
Coming to the aid of at-risk human rights defenders
Unidad de Defensores y Defensoras de Derechos Humanos de Guatemala (UDEFEGUA) was established in 2000 to help human rights defenders in Guatemala and throughout Central America respond to threats. UDEFEGUA helps activists and organizations develop safety and security plans for their offices and staff, so they can significantly minimize the risk of attacks. The organization also provides mental health support to activists coping with anxiety and trauma related to these threats.
"We are an institution that stands up to powerful, arrogant, corrupt and criminal actors who have verbally and physically attacked us … and even threatened our families," says Claudia Samayoa, UDEFEGUA's director. "We act as a support team for at-risk human rights defenders."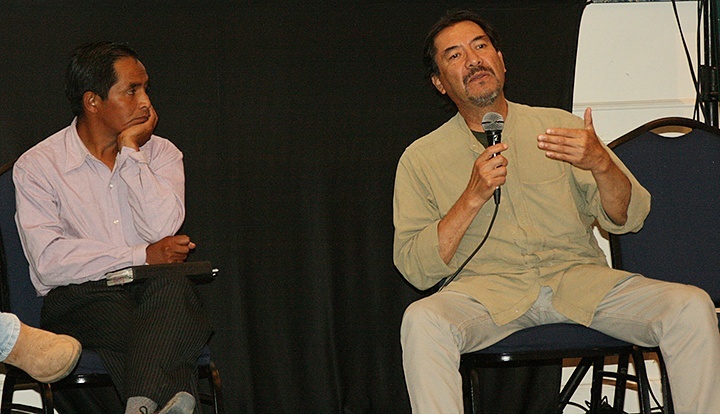 UDEFEGUA also offers legal aid and advocates for the government and the international aid community to provide better protection for human rights defenders. When the government brought former Guatemalan President Ríos Montt to court on charges of genocide, UDEFEGUA provided protection to key witnesses. The organization has investigated and publicized several high-profile cases of violence against activists. As a result of UDEFEGUA's efforts, the Inter-American Court is currently reviewing its first case regarding a human rights defender in Guatemala, Florentín Gudiel Ramos, who was murdered on the street after promoting human rights in his community.
Thanks to UDEFEGUA's advocacy, the Guatemalan government has established a new, publicly funded office to analyze attacks against human rights defenders. In addition to reviewing data on these crimes, the office makes recommendations about how to better prevent attacks and support victims seeking justice in the courts. Because of UDEFEGUA's unique expertise in this area, the government has asked the organization's leaders to work closely with the unit to help document human rights violations across the country.
A global reputation for advancing justice in Latin America
Global organizations ranging from Amnesty International to the United Nations Refugee Agency have noted UDEFEGUA's critical contributions to improving human rights in Guatemala and other Latin American countries. In 2013, the Guatemala Human Rights Commission recognized UDEFEGUA's work with the Alice Zachmann Human Rights Defender's Award, which recognizes people and organizations that have defended human rights through non-violent methods, weathering threats and attacks in the process.