We celebrated our 30th anniversary 2015! In honor of this milestone, we profiled 30 remarkable leaders who have partnered with AJWS to build a better world. These are but a few of the thousands who have raised their voices worldwide with our support, changing the lives of millions for the better.
Marisol Baez
Aiding Haitian earthquake survivors
Dominican Republic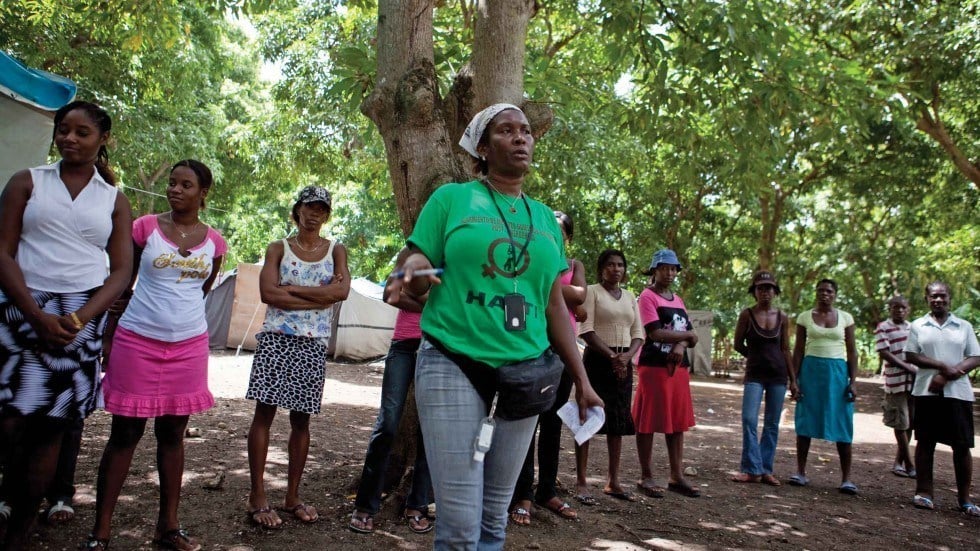 When a devastating earthquake struck Haiti in January of 2010, activist Marisol Baez left her family behind in the Dominican Republic and crossed the border into the beleaguered country. With AJWS's support, she helped her organization, Movement of Dominican-Haitian Women (MUDHA), organize an ambulance caravan of 120 doctors and volunteers who spent weeks traveling the Haitian countryside treating wounds and saving lives.
In the months after the disaster, Marisol remained in Haiti. In the camps for displaced earthquake survivors, she taught women skills in self-defense and in trades that would lead to jobs. In rural communities, she encouraged local peasant groups to launch their own earthquake recovery efforts.
Now, more than five years later, Marisol's commitment to strengthening the role of women in post-disaster Haiti has endured. She continues to travel monthly between the two countries to support the operations of MUDHA's center for women in Léogâne—a Haitian town hard-hit by the quake—and help survivors rebound. At home in the Dominican Republic, MUDHA is also working to stem the current citizenship crisis that erupted when the Dominican government revoked citizenship and threatened to deport all Dominicans of Haitian descent living within its borders.
As a member of the Dominican-Haitian community, Marisol feels the pain of this crisis acutely. She first encountered MUDHA more than two decades ago, when she was a beneficiary of its services. Today, she is one of the organization's most passionate leaders. To the women she supports now in Haiti, she is living proof that they have the power to change their lives.