For generations, Indigenous communities within Chiapas — the southernmost region of Mexico — have enjoyed a symbiotic relationship with the land they inhabit. The people nurture and support their ancestral lands, and in return, the land provides them food, shelter and clean water.
But in recent decades, mining companies have descended upon the region, poisoning water and ripping up forest land. This destruction occurs because the Mexican federal government permits large mining projects in Chiapas without ever consulting the people who depend on the land for survival. Unfortunately, this problem is common among Indigenous communities around the world: they are too often ignored or forgotten when governments or corporations plan development projects that will disrupt their lives and damage their homelands.
Communities in Chiapas have endured violent threats — to their land, water and lives — from mining companies, but they've always responded peacefully.  Often, they use traditional methods to rid water and land of toxins. Local activists will even go door to door to the houses of local government authorities, demanding that their lands are respected.
But these communities have a powerful force on their sides — an organization dedicated to protecting their rights, their lives and their lands.
Police Silence Activism
AJWS grantee organization Frayba (Centro de Derechos Humanos Fray Bartolomé de Las Casas, A. C.), is the leading human rights organization in the region and works with communities in Chiapas to respond to assaults on Indigenous people and the land they inhabit. The organization trains communities to become staunch defenders of their ancestral lands.
Frayba also provides legal representation for land defenders who want to seek justice when they are illegally detained, tortured or harassed by local government forces or gangs for standing up for their communities.
Dora Lilia Roblero Garcia — the executive director of Frayba — highlights a disturbing and common police tactic to quash activism.
 "Police and prosecutors create dossiers which accuse Indigenous activists of false crimes," Dora explains.
The message that the government sends protestors is both terrifying and quite clear: "If you continue demonstrating, you're going to spend years in jail," says Dora.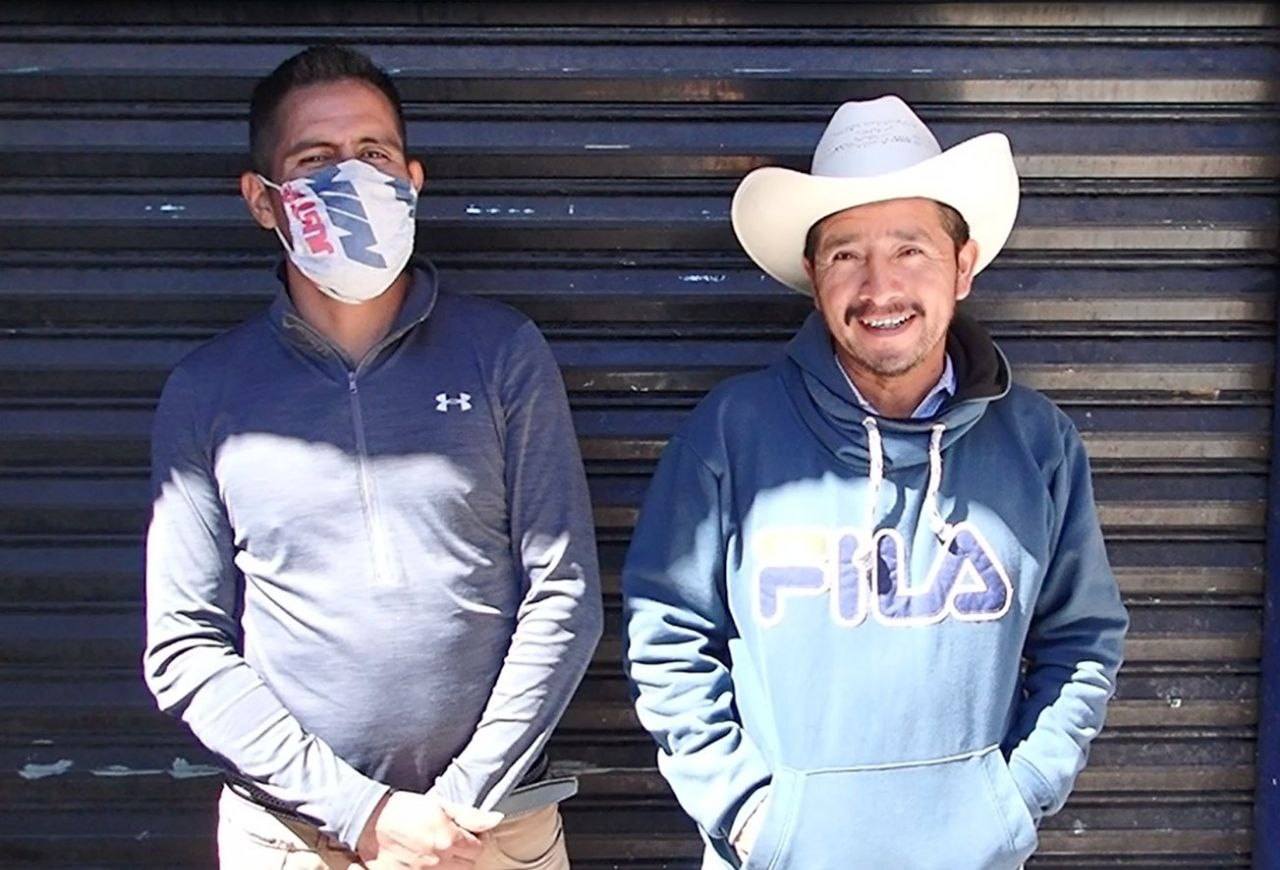 Gutiérrez and Hernández Unjustly Arrested 
Dora can name innumerable cases in which Frayba has intervened on behalf of Chiapas' community activists — but the case of José Luis Gutiérrez and César Hernández remains one of Frayba's most important. 
When the Mexican national guard built a military base on José Luis and César's ancestral land without consulting their communities, they began working with the Frayba team to protect their way of life. José Luis and César were part of a larger community response to the construction of military bases throughout the region, but were singled out as targets of violence and intimidation.
In October 2020, the men were peacefully demonstrating along with others on the side of the road. Suddenly, police violently forced the crowd to disperse and arrested José Luis and César along with three other land defenders. 
"Their arrest serves as a warning that huge active struggles' will be punished, and highlights strategies that the government uses in order to silence community leaders," Dora says.
Dora describes the scene in disturbing detail: "The state municipal police and the national guard (…) kicked them, tortured them, and abused their power against people that were just demonstrating peacefully."
Frayba Denied Access to Client Records
Once arrested, José Luis, César and the other activists were taken to jail and charged with mutiny. It was almost immediately clear that the charges brought against them bore no weight. "The state prosecutor arrested José Luis and César and the others, but nothing they did qualified as mutiny," Dora shares.
Frayba provided legal representation for José Luis and César. But the legal team was denied access to documents related to the investigation and no government agency was willing to accept any evidence the team tried to submit about rights violations related to the case.
Dora's colleague Shajaf Weisban, Frayba's Planning, Monitoring, Evaluation and Fundraising Team Coordinator, shared that the organization helped lead efforts to free the activists, including a public awareness campaign that resulted in significant outcry.
Despite Frayba's legal efforts, there has been no accountability for the illegal arrest, let alone the abuse and torture, of José Luis and César.
Gutiérrez and Hernández Sentenced, Frayba Fights on 
On May 5, a local judge found José Luis and César guilty of mutiny, despite no evidence of this grave charge. They remain out of jail at great expense to their community which gathered the $800 the state requested as bond. But the two men are effectively trapped in Chiapas, as they must present themselves at a local police station every two weeks.
Shajaf shared that that César and José Luis "deserve to be free from harassment and militarization, and to live free from the presence of the national guard on their lands." 
In a statement, the team at Frayba collectively added that they "condemn the decision made by the judge to convict and criminalize the defense of land and territory, and the rights of self-determination of indigenous peoples."
Despite the uphill battle ahead for José Luis and César and many other Indigenous activists, Dora remains hopeful. In solidarity with the people of Chiapas, she finds strength. 
"I like knowing that I'm a beacon of hope for all the Indigenous people in the region within their struggle, within their fight," she says. "I love the fact that we're able to walk together with all of them." 
José Luis and César's experience of being unjustly arrested and charged and then wrongfully sentenced despite Frayba's best efforts, points to a grave reality: that organizations offering aid to human rights defenders are critical, and without them many more activists would be silenced and jailed for trying to protect their communities. 
The story of José Luis and César is a sobering reminder that standing up for your rights, and the rights of your community, can be dangerous work. AJWS supports organizations like Frayba around the world to wage battles against corporations, governments and other forces that try to take advantage of marginalized communities, Indigenous or otherwise.