María Herrera did not expect to be quoted in international newspapers, meet with the Pope or see her name on TIME Magazine's list of the 2023 world's 100 Most Influential People. Fifteen years ago, she was busy caring for her family and running a jewelry and clothing business. Her life forever changed when two of her sons never returned from a work trip in 2008. Jesús Salvador and Raúl disappeared first, and Gustavo and Luís Armando disappeared two years later.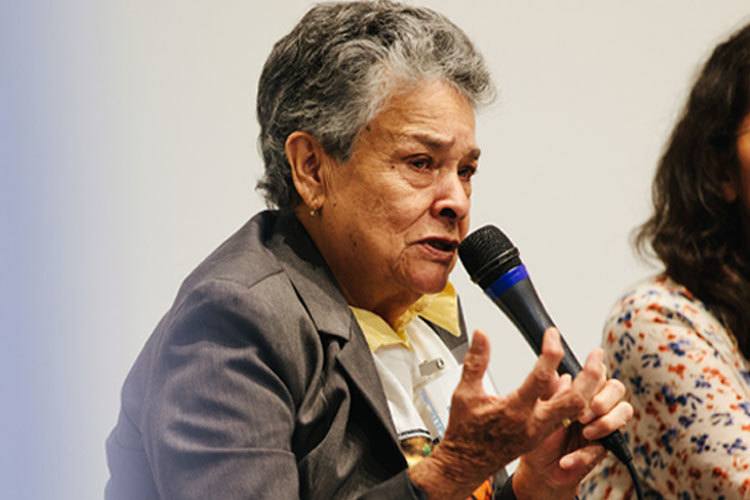 A petite woman in her mid-70s with short gray hair, María still cries when she speaks of her four missing sons. Her pain is written on her face. She describes it as "the worst and most painful thing you can imagine…losing a family member destroys the entire family."
An issue that touches everyone but has remained in the shadows
María didn't know about the issue of disappearances in Mexico until it happened to her. Her sons are four of an estimated 110,000 people who have been officially recognized as "disappeared" in Mexico. Since 2006, when the so-called "war on drugs" started, violence in Mexico has spiraled, affecting nearly every part of society. This violence is a product of a complex combination of expanding drug cartels, organized crime and corrupt officials. The result is a widespread human rights crisis with a staggering number of victims. In addition to the disappearances, at least 300,000 people have been killed. "It is not just organized crime," shared María. "It is institutionalized crime."
In this environment of violence and lawlessness, María faced retribution and threats for going to the police and speaking out publicly about her sons' disappearances. One of her children was mugged and threatened. A few years ago, she moved to a different area for her family's safety.
In María's town, she learned of at least 70 other people who had disappeared, but she was the only person who was public about her loss. Neighbors saw how challenging it was for her and others who reported disappearances and didn't want to risk going forward themselves.
Searching for families' missing "treasures" and building a more just future
Going to the police and local government for help was a dangerous dead end for María and her family, so she started searching for her sons herself.
"The first thing we do is take to the streets to look for our loved ones. We hope to find them around the corner. Perhaps there was an issue with their car, or they were mugged. This is the way we all think. We all hope to be able to find them," said María. But at a certain point, families also know that they should extend their searches to include clandestine graves and morgues.
The local district attorney discouraged María, saying that anthropological experts were needed to find forensic evidence without accidentally destroying it. So, she went to local universities and sought people with this expertise.
Though her first organized search was small, they successfully located human remains. The searchers refer to them as "treasures"—because locating a body enables families to have a burial and reach some closure. But locating "treasures" is also excruciating, confirming worst fears about the fate of a loved one.
At first, María had no resources or support for these searches. She needed transportation for volunteers to search in remote places—and funds for hours of training to teach volunteers what to look for and how to carefully handle human remains so that they can be tested for DNA matches. AJWS is proud to have been María's first funder and continues to be the main source of support for her ongoing quest for truth and justice. AJWS staff also help with networking and support with applying for funding from other grantmakers.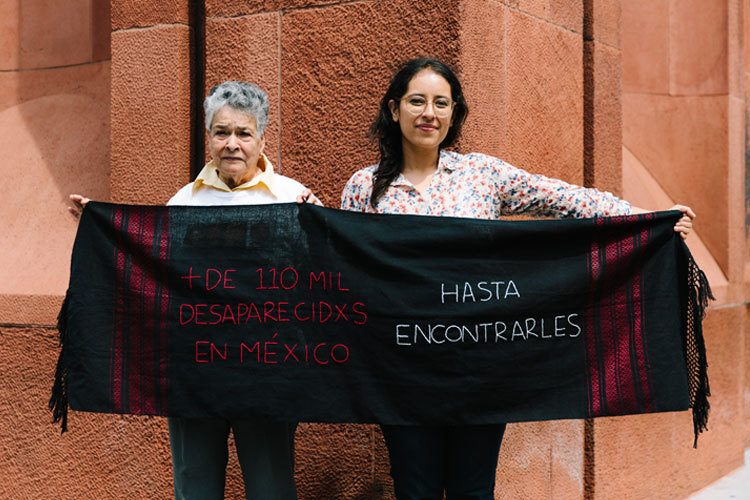 As her searches got bigger and she raised more resources, she founded the collective Familiares en Búsqueda ("Families in Search") and today she runs a network with nearly 200 collectives of bereaved relatives. Beyond organizing searches, she is working to create a future for Mexico where disappearances, violence and lawlessness are things of the past.
She recognizes that the children of the disappeared suffer terribly, and often in silence. María's organization puts on talks at churches, universities and even elementary schools to raise awareness and help children take care of themselves. She met with the Pope to elevate disappearances as a moral issue. She participated in the crafting of a more adequate legal framework to deal with disappearances. She filed a lawsuit against the Mexican government. She is fighting a battle for peace and security at all levels.
María describes her goal of finding her sons as "what is left for me to be able to die in peace." But María is exhausted. "I'm 74 now. My hands are no good to take a pitchfork or shovel to the ground. That work is for the young people now. I tell them 'we need you.'"