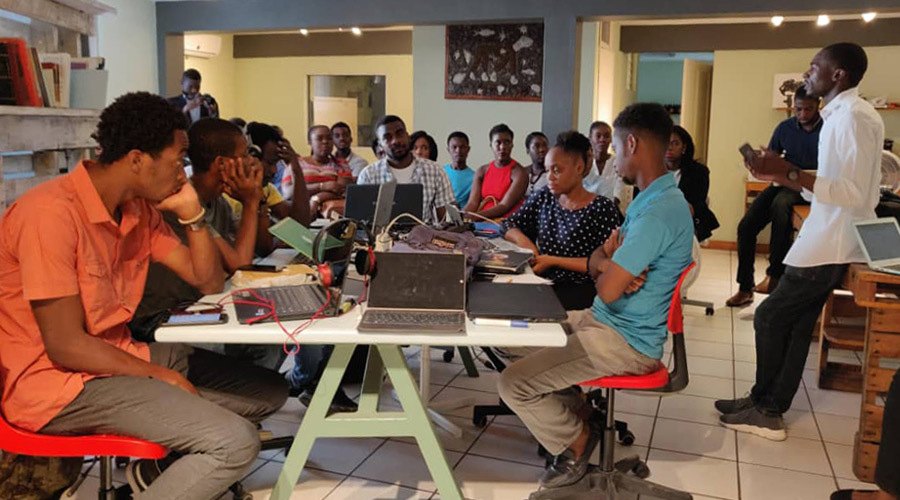 The headlines in Haiti are bleak. After years of increasing political corruption under former President Jovenel Moïse and skyrocketing gang violence, including kidnappings and outright massacres of civilians, the country faced a new onslaught of crises in the summer of 2021. In July, Moïse was assassinated in his home, disintegrating what was left of Haiti's democracy. And in August, a massive earthquake killed thousands along Haiti's southern coast. All the while, freedom of the press, among others, has been directly under attack.
Amid these everyday threats and mounting corruption, the truth is invaluable — and seeking it can be dangerous.
But AJWS grantee organization AyiboPost will not back down. A platform for independent journalism, AyiboPost provides critical information about national scandals, health crises and political corruption to the Haitian public. Their reporting has pushed Haiti's youth to protest for democracy in the streets, a social movement that's still gaining momentum today. And their audience, hungry for the truth behind the headlines, is steadily growing. In 2020 alone, the site drew about 500,000 page views a month. Their videos, including a critical piece dispelling COVID-19 misinformation, garnered over 12 million views last year.
The work comes with a cost.
"I sometimes have to pretend the situation is not as disastrous as it is," says Jetry Dumont, AyiboPost's co-founder. "I keep on going to work even if I know people who were kidnapped the day before. It's a really absurd way of coping with this reality."
But still they report, write and march on. At the center of AyiboPost is a small band of young journalists who are fighting to save Haiti's democracy, one story at a time.
From Facebook to the Frontlines of Haitian Corruption
When Jetry speaks about AyiboPost, he does so with a cautious, hard-earned smile. The thirty-two-year-old co-founded AyiboPost in 2014 upon returning home to Haiti after earning a finance degree in the United States. At that time, Facebook was Jetry's medium; his posts about Haiti's corrupt political landscape would spark conversations about building a better, more just country. He knew there were others out there also seeking the truth, and he wanted to connect. Jetry joined forces with his friend Naïké Michel, and AyiboPost was born.
"For the first two years, AyiboPost was an open platform, receiving and publishing articles from young Haitians around the world," says Jetry from his home in Port-au-Prince. "But we slowly, organically defined our mission: to explain complicated issues that other media was writing about without making sure the public really understood them. We call it explanative journalism — making these important issues as simple as possible."
AyiboPost's first major success came in 2015 with a series of videos investigating why and how the Dominican Republic, Haiti's neighboring nation, was deporting Dominicans of Haitian descent. The deportations were the result of a controversial Dominican law that stripped citizenship from thousands of Dominicans of Haitian descent, leaving them stateless and without basic civil rights. AyiboPost's videos, directed by journalist Ralph Thomassaint Joseph, spread rapidly through Haiti, as many Haitians feared for the futures of their family and friends across the border. From there, Jetry and his team started seeing AyiboPost as a multimedia operation.
Four years later, Haiti was wracked by scandal when high-level officials, including former President Moïse, were implicated in a massive $2 billion scandal involving the subsidized oil fund known as PetroCaribe. The scandal's specifics were complex, and AyiboPost rose once again to educate the public. Their video, "PetroCaribe expliqué aux nuls," or "PetroCaribe explained to dummies," and other explainer pieces went viral across the country.
"The month after our video, Haitian youth were standing up against corruption," says Jetry. "Our reporting was essential in making young people understand what was happening here in Haiti."
Jetry and his AyiboPost team had found their calling; Haitians were calling for the truth. There was no turning back.
After Moïse was assassinated, AyiboPost didn't investigate the entire story, but rather dug deeper and focused on elements left out of mainstream media's coverage, including the "President's security systems, its many flaws and the many inexplicable coincidences," says Jetry. "Our role is the same as it has always been—report and explain—we just have more on our plate now."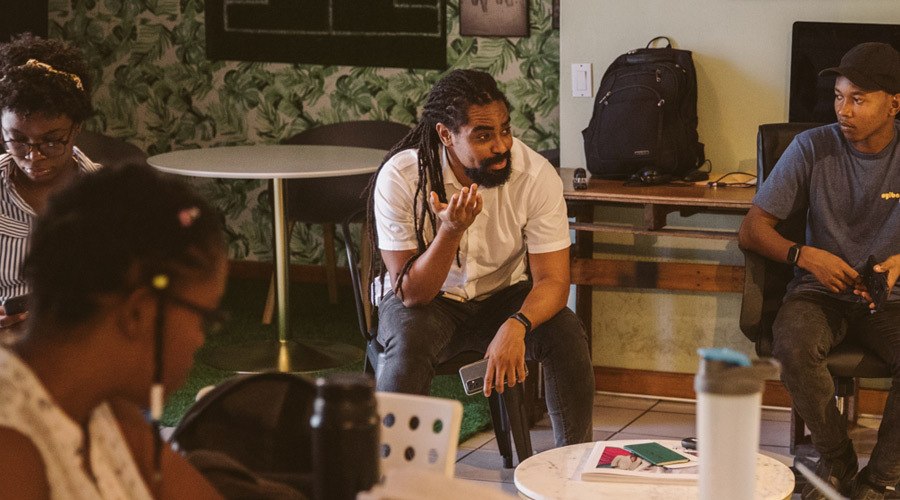 Fighting for Freedom of the Press
Investigating the truth behind Haiti's many political scandals is not easy nor safe work today.
In December 2020, former President Moïse issued a decree creating the National Intelligence Agency (or ANI, its French acronym), whose explicit purpose is to repress 'hostile acts' that could be perceived as a threat to national security. The decree also grants ANI's operations complete secrecy, and no oversight; ANI officers can now enter private homes and businesses and confiscate documents and information, and freely surveil any entity viewed as a threat.
Jetry and his colleagues fear that independent, anti-corruption media outlets like AyiboPost may be ANI's enemy number one. Under President Moïse, Haiti has seen an uptick in threats and violence against journalists; with the creation of ANI, these threats now have state-sponsored legitimacy.
"We've long been on a slippery slope of systematic attacks on the press," says Jetry. "But right now, we've been going down that slope very, very fast. When I first read the ANI decree, I was in shock. We don't know where it's going. We don't know if it'll get worse. But we are very worried. The government will use every tool they have to stop us from reporting the truth."
The impact of ANI on AyiboPost's reporting was immediate; Jetry reports that trusted sources and experts are afraid to speak on record, and his reporters have been forced to seek out Haitian sources outside the country. Following Moïse's assassination, AyiboPost received tips from trusted informants that, for their safety, they vacate their offices—for three weeks, the staff worked remotely. But they kept on working.
New Challenges and a Bold Hope for Change
Jetry and his AyiboPost team, now led by editor in chief Widlore Mérancourt, believe their work is critical to preserving Haiti's democracy—and amid mounting threats, they refuse to cower.
"In times of trouble, two things are very important," says Jetry. "The first is truth: you need to have access to the truth, and AyiboPost will continue to do our best to deliver it to uncover it and deliver it to our audience. The second understanding. Understanding what's happening helps the Haitian people make better decisions in their personal life, but also to for their communities."
Jetry pauses, reflecting on how AyiboPost—which began as a Facebook post seven years ago—has grown into a Haitian institution determined to expose the truth.
"We're hoping and trying to bring some clarity to our audience in such blurry times. And we have a lot of challenges ahead of us. Sometimes we wake up and the entire team is feeling desperate," he says. "But we have so much more to accomplish. Haitian people are tired, socially and economically. But there's a fraction of people here willing to speak truth to power. And that gives me hope."