*On July 7, 2021, President Jovenel Moïse was assassinated in his home in Port-au-Prince. The work of the activists featured in this piece is now more critical than ever as the Haitian people navigate through a new period of violence and uncertainty. We will continue to update you as the situation evolves on the ground, and the activists we support take action to create a just, stable and democratic Haiti. 
For most Haitians, everyday life has become dominated by chaos, terror and uncertainty.
Nixon Boumba, AJWS's Haiti Consultant, has worked with AJWS for nearly a decade and been a human rights activist in Haiti nearly all his adult life. Mr. Boumba used to start his day by taking a morning jog in the historic Pacot neighborhood of Port-au-Prince, where houses designed in Haiti's distinctive "gingerbread" style, often surrounded by beautiful flowers, make for pleasant start to the day. But a steep increase in murders and kidnappings has left him no choice but to remain inside for his own safety. The steep rise in kidnappings for ransom—combined with politically motivated gang violence—is linked to a situation in Haiti where well over half the population lives below the poverty line, the police force is either unable or unwilling to act to protect the citizenry and armed gangs operate with impunity and possibly even government support.
The National Network for the Defense of Human Rights (RNDDH)—an AJWS partner widely recognized as Haiti's leading human rights' monitoring institution—has tracked this terrifying upswing in kidnappings and gang-related violence. Over the last two years, they have documented 10 instances of gang massacres in poor communities that have resulted in hundreds of deaths, disappearances and rapes. In the U.S. State Department's just released 2020 Country Reports on Human Rights Practices, they state that the Haitian government has taken "insufficient steps" to prosecute those responsible for these killings, rapes and the destruction of property. In fact, human rights organizations in Haiti have documented the direct links between Haitian government and gangs. For years, the government has intentionally neglected official police departments, allowing gangs to act with impunity.
To live in Haiti right now is to be "living in a time of terror," says Mr. Boumba.
Leaders of RNDDH— Pierre Espérance, its executive director who has worked with the organization since its inception, and Rosy Auguste Ducena, its program manager who is also a member of the Port-au-Prince Bar—share that these gangs operate with de facto Haitian President Jovenel Moïse's "blessing, if not his full support."
"Crucially," these human rights activists say, "Moïse also has created a security crisis for the people of Haiti by failing to hold egregious human rights abusers accountable during his tenure. We see this all around us."
The situation is so dire and the gang violence so frequent, they say, that "without exaggeration, we have not been able to finish a report on one massacre before the next one is committed. And despite this series of abuses, no one has been brought to justice." Further, the government rarely takes steps to "prosecute government and law enforcement officials accused of committing abuses," according to the U.S. State Department.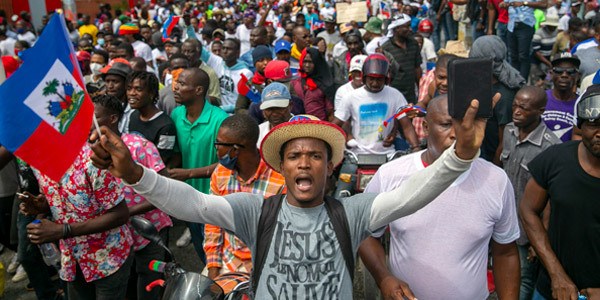 Jovenel Moïse's quest for one-man rule
For more than two years, Haitians have taken to the streets to protest the rule of Jovenel Moïse as President of Haiti and his Parti Haïtien Tèt Kale (PHTK, "Haitian Bald Head Party"). These uprisings—led by youth demanding accountability for government funds—were fueled by corruption scandals that implicated the president and his party. AJWS partners have been critical voices in the call for accountability.
As demands for Moïse to leave grew, a political crisis emerged. In January 2020, the Haitian parliament—where Moïse's party enjoyed a comfortable majority —disbanded after it failed to pass an electoral law, resulting in the expiration of the terms of nearly two-thirds of its members. These seats remain vacant.
With no parliament to limit the actions of the president, Moïse has ruled by decree, dismantling democratic institutions fundamental to ensuring checks on his power. He has weakened the powers of the institution leading investigations into corruption charges of money laundering and drug trafficking that implicated him. When nearly all sectors of Haitian society refused to participate in the creation of an Electoral Council that would enable elections to take place under Moïse, he defied the Constitution and unilaterally created his own Electoral Council to organize elections.
In February 2021, protests swelled in Haiti as Jovenel Moïse refused to acknowledge the end of his term, declaring that the Constitution entitled him to another year in power. He remained in office despite rulings from the country's highest court officials and legal and academic experts, who agreed that the Constitution required his term to end in February 2021.  When the U.S. backed his claim to another year in power, he arrested 23 people whom he accused of plotting a coup against him because they had been involved discussions of a transition government. He has also forced three Supreme Court judges into early retirement, replacing them with his own partisans, a blatant attack on an already deteriorating judicial branch that had served as a crucial check on his power.
Despite Moïse's deluge of democracy-threatening actions, Mr. Espérance and Ms. Ducena believe that the worst is still to come.
"Most worrisome of all, he is planning a constitutional referendum in June, during which he is expected to further consolidate and expand the powers of the executive, including potential changes to presidential term limits," they said. With Moïse poised to unilaterally oversee elections this year, this paves the way for his party to retain power through the election process and benefit from expanded executive powers gained through the illegitimate election and constitutional referendum.
What are Haitian activists fighting for?
While most Haitians agree that constitutional reforms are needed, there is also widespread agreement that the process for constitutional reform cannot be led by one person in the absence of a system of checks and balances. And while elections are a fundamental part of democracy, it is extremely unlikely that free and fair elections can take place under the rule of Moïse, who flagrantly disregards Haiti's Constitution and the Rule of Law, and who has permitted, if not empowered, gangs to terrorize Haitian society.
The organizations and activists AJWS support in Haiti know that the only way that Haitians can have confidence in the upcoming elections would be through the creation of an interim government, composed of a broad swath of respected civil society and political actors, and with a quota of at least 30% women participating. That interim government should be empowered to create a legitimate Electoral Council with public input, so Haitians can participate in truly free and fair elections. Further, the interim government should work to address the real and ongoing human rights violations that affect the daily lives of Haitians. The people of Haiti can't wait any longer.
While there have been some in the U.S. Congress that have taken their cues from civil society in Haiti and called for an interim government to be established now, unfortunately that is not the case where it matters most. Despite overwhelming evidence of the chaos and terror the Moïse regime has wrought, the Biden administration has stood by Moïse.
Ms. Ducena testified before the House Foreign Affairs Committee last month, to give U.S. elected officials background on the challenges to Haiti's democracy under Moïse and share what Haitian activists see as the best path forward. She urged Congress not to support Moïse's plan to hold the June referendum, followed by legislative and presidential elections in September and November. During the hearing, there was bipartisan consensus that the demands of civil society should be heard by the Biden administration. Unfortunately, to date, the Biden administration has maintained the stance that Moïse is entitled to another year and that he should move forward with elections as quickly as possible.
Ms. Ducena had a clear injunction for the U.S. government: "Stop supporting an electoral process that will lead to political instability."
Our partners in Haiti and their partners in civil society have clear and specific plans about how to repair Haiti's democracy. Our call is simple: the U.S. government must follow the lead and guidance of these activists on the ground. If democracy and stability in Haiti is the goal, there simply is no other option.