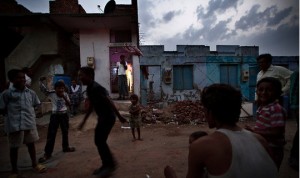 This week's New York Times article, "Justice and 'a Ray of Hope' After 2002 India Riots," examines the possibility of peace and coexistence a decade after religious violence plagued Gujarat, India. A few weeks ago, Gagan Sethi, the founder of Janvikas, the Dalit Foundation (an AJWS grantee) and the Center for Social Justice, visited AJWS's New York office and reflected on a similar theme in his work:
"When we entered the ghetto, there were these slum children playing a game," he said. "They were wearing saffron bands, they made swords out of paper, and the game was 'Let's go hunt down the Muslims and kill them.'"
It was easy to hear the stress and sadness in Gagan Sethi's voice as he shared some of his most challenging stories with AJWS staff and interns. His exhaustion and frustration are beyond warranted since Gagan has dedicated his life to helping some of the most marginalized populations in Gujarat, India.
With a deep sigh he reflected, "We can do nothing. I was in the deepest of the dump with that story. Because if that hate has gone into the body of a culture where children can make it into a cops and robbers game, what are we NGOs going to do about it? I am still trying to wonder."
This challenging question, which reflects the burn-out and sense of helplessness often experienced in human rights work, may have caused Gagan to "sink to the pits," but he did not stop his efforts. In fact, he found one possible answer to his question in another one of his stories from a similar time period.
Gagan recalled his work with Bilkis Bano, a young woman who was brutally raped by men who she witnessed kill her family during the 2002 religious violence in Gujrat. Thanks to the efforts of the Center for Social Justice, which provided her with legal counsel and support, Bilkis had her day in court in 2007 and her abusers were punished. Due to her courage and the help she received in ensuring a fair trial, the court sentenced 11 men to life imprisonment.
It is easy to listen to this story and find another reason to be depressed. However, Gagan clarified that this story, while blanketed in tragedy, is really a point of pride and victorious moment in his work. He explained, "It sent a message, which then set the agenda for justice in India post-communal violence. We were able to get a case which showed that if you need to get justice you need an investigation system par excellence… We proved that the trial needs a lawyer of choice of the victim. And in the end, you need, what we say, a witness protection program. Now this formed the largest advocacy for the new communal violence bill for the Government of India. In a sense, this one case has set standards."
The New York Times article captures this story on a macro level. Last week, a judge delayed a verdict on a trial for 61 defendants in a case that involves 94 deaths. In addition to testimonies from 327 people, cell phone records are key evidence.
The article quotes Shakeel Ahmad, chairman of the Islamic Relief Committee in Gujarat, expressing the same optimism Gagan experienced in the Bilkis case: "There is a ray of hope, for the first time in Gujarat, we have seen demands for justice."
Bilkis refused to be a victim; instead, she fought a long uphill battle for her rights, creating a groundbreaking precedent for the cases currently in court today. Her trial, which was back in 2007, was the first success story. Her story provides hope that perhaps the boys Gagan saw playing will inherit a more just India. Women like Bilkis are the reasons NGOs continue their incredible work, even when it seems hopeless.
Every day, AJWS grantees like the Dalit Foundation continue their efforts to empower others and realize human rights. Although it isn't easy, success stories like these exemplify why Gagan, Bilkis and their partners persist in their struggles for global justice.
Watch a video of Gagan reflecting on empowerment and identity in India: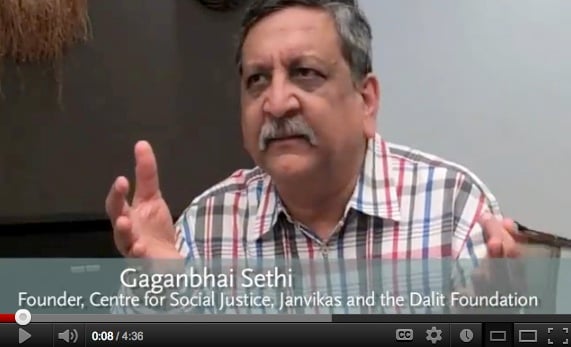 Erica Shaps is an AJWS intern in the communications department. A student at Brandeis University, she is pursuing a Bachelor of Arts in Islamic & Middle Eastern Studies and International & Global Studies with a minor in Peace, Conflict & Coexistence Studies.