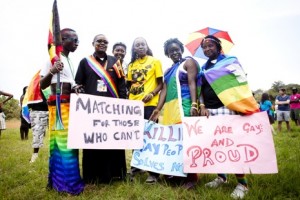 Even though I live in New York, Uganda is often on my mind; especially the LGBTI Ugandan activists who are working to advance their human rights in an environment of violence, hostility and homophobia. Why do I think of Uganda and my LGBTI friends there so often? Because I work for American Jewish World Service, which supports grassroots organizations in Uganda that are fighting for the human rights of LGBTI people.
So, last week, when photographic images of Uganda's first-ever LGBTI Pride event began to circulate through emails and online, including in The New Yorker, my first reaction—and the reaction of many other allied activists outside Uganda—was one of alarm. We worried about the risks of this kind of exposure in a country in which  tabloids are notorious for publishing photos, names and addresses of outed "homos." The aggressive outing of LGBTI people by the local media has helped fuel homophobia in the country. A photo of Ugandan gay activist David Kato appeared alongside the headline "Hang Them" just months before he was murdered in his home.
Given this legacy of violence, the ongoing drive to pass a strict Anti-Homosexuality Bill and threats by the government to shut down organizations promoting human rights for LGBTI people, the timing of the Pride event seemed challenging to say the least.
My distance from Uganda and palpable worries aside, last weekend's LGBTI festivities took place outside the capital city of Kampala, on the shores of Lake Victoria. The celebration boasted a modest parade, which was the fulfillment of the bold vision of Kasha Jacqueline Nabagesera, a leader in Uganda's LGBTI rights movement. Only eight months earlier, Nabagesera had posted a message on Facebook calling for Pride in Uganda: "We are not going to wait for the 'traditional' street pride march… I am bringing PRIDE closer to you. YES, in the 'world's worst place to be gay'… If you can be proud of who you are alone why not join others and celebrate your pride together?"
The location of the event, far from Kampala's busy streets, was a nod to the very real security threats the community faces both from the government and from the public. In fact, over the past year, two separate LGBTI rights meetings have been arbitrarily raided and shut down by police with the blessing, and indeed encouragement, of senior government officials. Safety concerns have driven some organizations to relocate their offices. Individual activists face harassment, assault and threats on a daily basis.
Sure enough, the police descended upon the Pride celebration as well and demanded a halt to the festivities. They arrested several of the participants, later releasing them without charges. Interestingly, I found no coverage of the event or the arrests in the online versions of Uganda's top three daily newspapers. In the past, other police raids have been accompanied by eager journalists. At least once, this resulted from a tip off by Uganda's Minster of Ethics and Integrity.
This change could be a sign of the times. As one of AJWS's Ugandan partners put it, "Two years back, the thinking was 'do these people really exist?'" Now, the existence of LGBTI people in Uganda is no longer subject to debate, and now that denial has been pierced, no one knows what the future will bring.
Our Ugandan partners are working for the day when they will be free from discrimination and violence. In that sense, Pride is an act of expression and resistance, a refusal to be intimidated or oppressed. I understand that these are the kinds of moments that can sustain a movement. At the same time, these moments also reveal the dangerous context in which activists are living. Yes, these people really exist. And yes, they may be arrested or attacked for asserting that.
Ugandans who support human rights for LGBTI people need our support, and that's why AJWS is involved. If you want to stand in solidarity with LGBTI people in Uganda, join us in supporting those who can make a difference for themselves.
Gitta Zomorodi is an AJWS program officer for Africa.