Robert Bank, Executive Vice President and Incoming President of AJWS, traveled to Cambodia in February 2016 to visit activists and organizations funded by AJWS. He was joined by American actor, singer and activist Mandy Patinkin and his wife, stage and film actress Kathryn Grody. This is Robert's first reflection from the trip.
*****
"Because I remember, I despair. Because I remember, I have the duty to reject despair."
This soaring call to action from Elie Wiesel, the writer, Holocaust survivor and Nobel laureate, keeps ringing in my ears this week. I am holding both despair and hope as we dive into the difficult history of Cambodia, the corruption of its current government and the resilience of its human rights activists.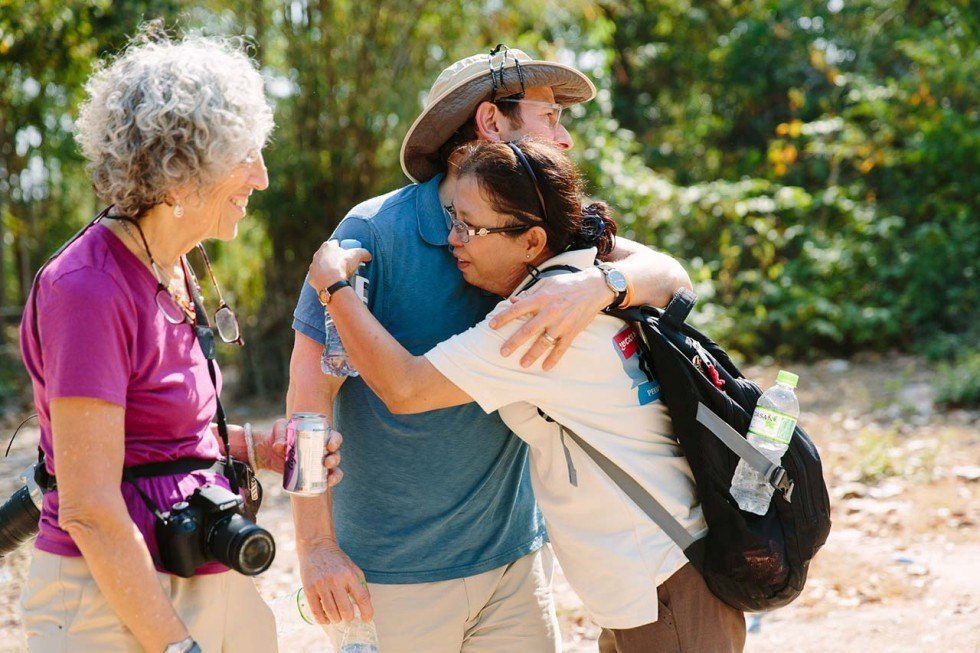 A dark history and a radiant future
Cambodia is a country that is drenched in the dark shadows of Pol Pot's genocidal Khmer Rouge regime, which brutally slaughtered nearly 2 million Cambodian citizens between 1975 and 1979. Every single person who survived this mass atrocity walks around Cambodia today with memories that are too painful to talk about. And those who wish to unburden themselves of their traumas find few safe spaces to tell their stories—because in 2016, the government of Cambodia is still run by some of those who were in power during those dark years.
This is unfathomable for us, as Jews who know how important it has been to listen to the stories of survivors of the Holocaust and to bring those who perpetrated its horrors to justice.
Here, in Cambodia, the emotional wounds fester. An official whom we met who works in health care told us the country's biggest health crisis is post-traumatic stress disorder caused by the genocide. Unfortunately, given the multitude of pressing problems in this country—poverty, corruption, extreme weather conditions, land grabbing, access to basic health care and lack of jobs—mental health treatment is barely on the radar.
But amid these dark shadows is a blazing, radiant light. Sixty-eight percent of Cambodia's more than 15 million citizens are under the age of 35. Meeting and listening to these inspiring young people has filled me and my fellow travelers with hope for the future.
During a single week, we met the leaders, staff, volunteers, participants and beneficiaries of four of AJWS's 16 Cambodian grantees: Youth Resource Development Program, Community Legal Education Center, Cambodia Indigenous Youth Association and Building Community Voices (BCV). These young people are fighting for a better future for Cambodia and speaking truth to power. They protest and speak out, undeterred by government crackdowns on peaceful demonstrations and free speech. They are enlisting thousands of their peers into education training programs that teach the skills they never learned in school—either because their education was interrupted due to poverty, their education system was insufficient, or because of their gender.
Many of the groups are focused on bringing true democracy to Cambodia, addressing threats to the environment and reversing the trend of youth unemployment—and they are tackling these problems with an enthusiasm and a fearlessness that is exhilarating.
One young woman, C., who asked us not to use her name, embodies the spirit of this generation. Wearing a shirt that says, "Be yourself: Everyone else is already taken," she introduced herself by saying: "What inspires me is that I can be a leader. At Youth Resource Development Program, I learned to be who I am."
Laying down their lives for the land
An activist who asked us to refer to her as P. describes how she was beaten and jailed—and is still followed by the police today—because she dared to defend her community's land when developers seized it. P.'s family, part of a poor village living around a massive lake, was forced off their land with no prior warning after the Cambodian government granted their property to a private company in a land concession. The company spent years pouring sand into the lake, destroying one of Phnom Penh's most vital natural resources. The villagers lost their homes and their livelihoods. Some were relocated to a slum on the outskirts of the city with no running water; others stayed behind and now fight to hold on to their claim to the land—and like P., they have faced violence for their audacity. With help from AJWS grantee Community Legal Education Center (CLEC), their struggle has finally yielded results.
As of this writing, more than 650 families, including P.'s, have succeeded in obtaining land titles. Yet she continues to fight and advocate for the others who are waiting. P. is indefatigable and says with humility, pride and conviction that the lawyers at Community Legal Education Center taught her everything she knows about how to organize, stand with others and fight together for change. She understands what it means to lose everything, and she also understands that justice takes time. She is in it for the long haul.
Broadcasting solutions and hope
We travel for four hours to Kampong Chhnang province, where a young man with the first initial R., one of the founders of AJWS grantee Building Community Voices, shows us the radio station he and other young people have created. They broadcast programs that teach the surrounding communities about their legal right to healthcare and education and to the land that sustains them. They also promote solutions to Cambodia's increasingly extreme weather conditions, as scorching drought followed by damaging flooding has unleashed epidemics of both hunger and disease. Through the radio waves, BCV organizes local people to speak out about these problems and insist that the rural poor should benefit from government interventions.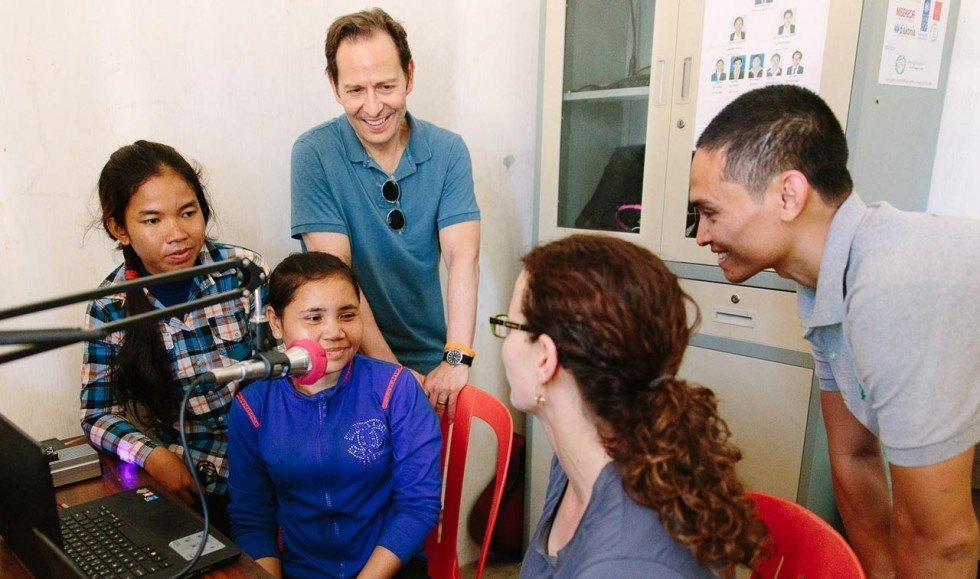 The radio station is ingenious and unexpected given its rural location. State-of-the-art equipment sits in a tiny room of a community center surrounded by crops, chickens and roosters. Because the clucking of the chickens interferes with their morning broadcasts, R. has created a noise-muffling, three-sided sound box just large enough for the speaker's face and a microphone.
BCV also provides the community with tangible support for the challenges they face. R. shows us a large well that the group built to store water during the now much longer dry season and a "rice bank" that provides seeds to the local community when the crops have been destroyed because of the heavy rains or the extreme drought.
I spend a lot of time walking outside in the intense sunlight with R., listening to him explain the community's struggle to retain the land and forests in Kampong Chhnang province. He tells me the government gave more than 300,000 hectares of land as a concession to a Chinese company. His goal: To help as many people in the community as possible jump the bureaucratic hurdles of registering their land with local authorities to ensure that not one more acre of land will be seized.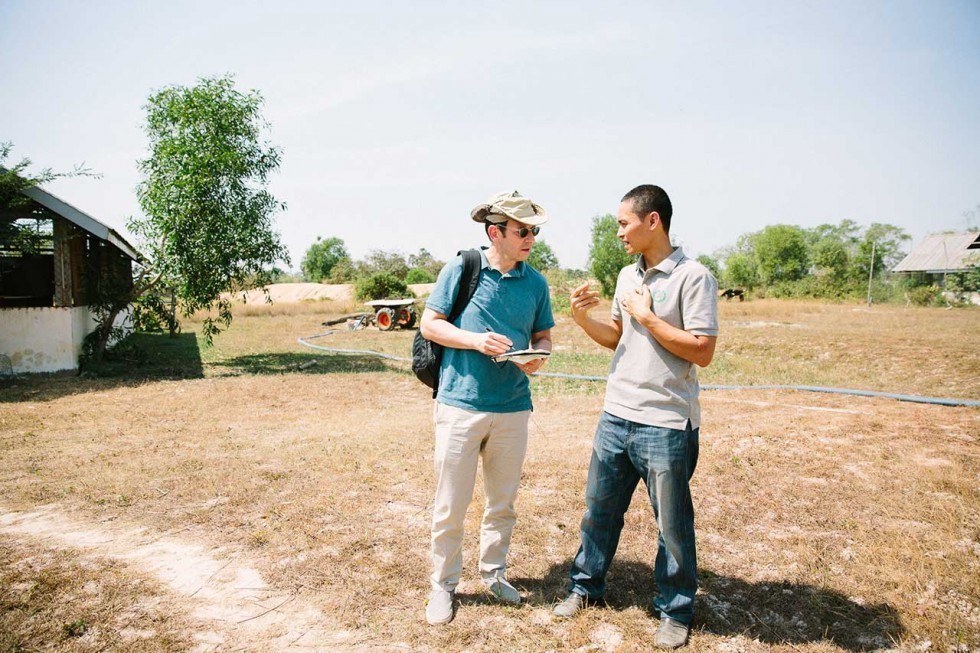 Staying the course for a bright future
We are awed by the strength and passion of our young grantees. They are operating in a constitutional monarchy that is a democracy in name only. Yes, there is a judicial and legislative branch, but it is beholden to a prime minister who has been in power for more than 30 years.
Where do they find this resilience, I wonder? Why does it seem to be easier for them to reject despair than for me and my fellow travelers? I ponder over this question as I listen to a young law student from Community Legal Education Center, whom I will refer to as A. Although he has completed his legal studies, A. cannot become a lawyer because he doesn't have the $20,000 to bribe the legal admissions committee to grant his degree. My heart breaks for him.
But he, too, is optimistic. He believes that the next election may bring more power to the opposition party that has slowly chipped away at the establishment's power. He believes that there is a deep bench of smart politicians who are ready to make change. In the meantime, he is learning a lot and helping his people get back the land that was illegally taken from them.
What C., P., R. and A. have taught me is that Cambodian youth have the will, the wisdom and the patience they need to achieve their dreams. They know that creating change takes time and that the incremental wins along the way will make it possible for them to achieve their vision of a free and just Cambodia in the years to come. And, most importantly, to refrain Elie Wiesel's words, these young leaders have rejected despair.