As 2017 draws to a close, I know how easy it is to feel the weight of despair. And yet, I'm taking time to celebrate global victories for human rights. Many of these victories haven't made headline news, but they are making a life-saving difference for millions of people worldwide.
I'm deeply proud that with support from the AJWS community, courageous social justice leaders in Africa, Asia, Latin American and the Caribbean transformed the lives of millions in 2017.
Check out AJWS's Year in Review to learn how we did this.
Every day, the advocates we support around the world remind me that if we persevere, we can improve lives in the here and now. Here are just two of many victories that motivate me:
This past August in India, the Supreme Court struck down "triple talaq," a practice that had allowed Muslim men to divorce their wives by saying the word "talaq" ("divorce") three times. We are overjoyed for the tens of millions of women in India whose lives will be enriched by the decision — and for AJWS's grantees who took this case to court and won!
In El Salvador, local people supported by AJWS won a landmark case making their country the first ever to ban metallic mining, which was poisoning El Salvador's land, water and people. The government banned the practice nationwide after AJWS grantees mobilized tens of thousands of people over more than a decade to protest the devastation wrought by metallic mining in their country.
As we get ready for 2018, I know we will make a difference in the coming year. At a time when compassion, creative thinking and generosity are needed now more than ever, I'm deeply grateful for AJWS's supporters who are continuing to build a better world on behalf of millions of people worldwide.
Together, I know we can shape 2018 to be a year filled with dignity and justice for all.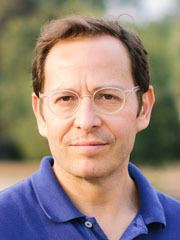 Robert Bank is President and CEO of American Jewish World Service, the leading Jewish organization working to promote human rights in the developing world. Robert has spent his career championing human rights as an attorney, activist and leader. He joined AJWS as Executive Vice President in 2009 and previously served in New York's municipal government and in the leadership of GMHC—one of the world's leading organizations combating HIV/AIDS. Robert has been honored with GMHC's Lifetime Achievement Award and the Partners in Justice Award from AVODAH: The Jewish Service Corps. He is also an adviser to The Conversation: Jewish in America and is a board member of Peripheral Vision International. Robert's passion for human rights was shaped growing up in a Jewish family in South Africa, which was engaged in the struggle to end apartheid.