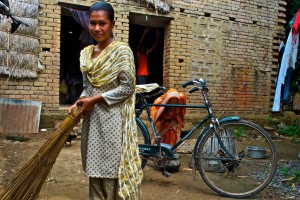 "My father says not to go to school, that I should be at home. 'You are marriageable,' he tells me," sighs Munija Khatun, 15, as she mashes onions with a pestle for their dinner of fish stew. "My father has two families and takes responsibility for the first family, but not my family. Father comes one or two times a month and dominates the family. He asks why this or why that, why go to school?"
While Munija's mother toils tirelessly to support her children's education, her monthly income of 500 rupees ($9) from selling pop rice scarcely covers basic necessities, making the monthly 100 rupees ($1.2) government school fee for each child formidable. Munija helps her mother as much as she can, rising at 5 a.m. to wash the dishes, clean their brick and straw home and take care of the cow. After school, Munija finishes the day's cleaning, helps her mother prepare dinner and studies for three hours by kerosene lamp. Even with all of her tenacity and hard work, Munija worries she will be married off to become another family's property, a common occurrence in this remote West Bengal village; by eighth grade 80 percent of girls are pulled out of school for marriage.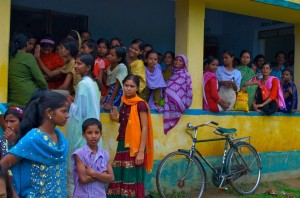 "Parents don't want to take responsibility for girls," comments Ayesha Khatun, founder of Mohammad Bazar Backward Class Development Society (MBBCDS), an AJWS-supported grassroots organization in India that, among other work, strives to empower girls to advocate for their right to education. "The girls are facing problems like doing all the housework, sexual violence and in-laws who do not accept that she is a family member—they see her as a maidservant. She has no opportunity or rights."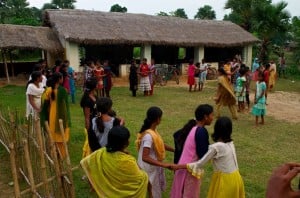 The MBBCDS center offers free weekend tutoring just for girls, while also teaching girls about their legal rights, how to make low cost sanitary napkins and when necessary MBBCDS provides books, pens and fees to keep girls in school. Key to MBBCDS' work is empowerment training. Through tutoring, counseling, song, dance, sports and conversation MBBCDS is instilling self-worth and confidence in girls so they can stand up for their education and against child marriage. Now if the girls in the village hear that a classmate is going to be married, they will go as a group to ask the family why they are doing this and protest.
Munija, who joined MBBCDS after a friend told her about an organization "that suffers for our education," says she has learned "about all the knowledge there is to gain, about my right to education and to go outside and how to be empowered. If this program were not here my education would stop." Munija, with MBBCDS' support, is determined to graduate and get a good job so she can take care of her mother. Then and only then will she consider marriage. "But," says Munija looking up from the pot of bubbling fish stew with a smile, "this boy must also be educated and of course give respect to me."
To learn more, visit our Ending Child Marriage section to see videos, photo slideshows, stories and original research related to AJWS's work on child marriage in India.
Lydia Holden is a Nike Foundation Fellow for the Grassroots Girls Initiative, leading a storytelling project on the powerful solutions grassroots organizations offer adolescent girls, like Manija, to become empowered agents of social change. AJWS has been a member of the Initiative since 2006.