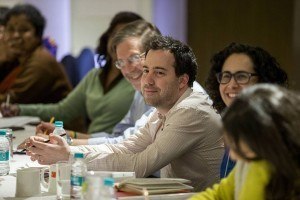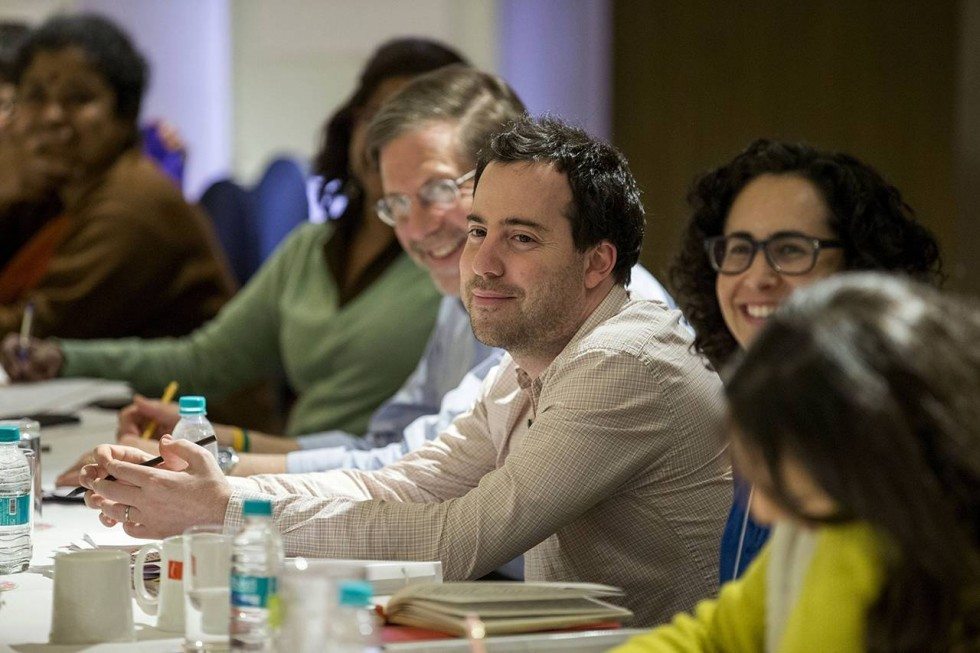 Rob Adler Peckerar traveled to India in February 2015 as a Global Justice Fellow of American Jewish World Service. Rob is the executive director of Yiddishkayt, an organization dedicated to connecting people with the cultural and social justice legacy of Eastern European Jews.
On a damp Monday morning this past March, we headed out of our Kolkata hotel to find the dark streets still wet with rain that fell throughout the night. The streets were just starting to pulse with life. As we drove through the city to Asia's busiest train station, the reminders of Kolkata's colonial past were on display, from the architecture to the traffic police in their white uniforms, waving on the traffic with their batons. Later, after we entered the train station, those uniforms and clubs reflected the brutality of the colonial era, as well. I watched as a station police officer used his club to beat an older woman begging for alms.
On the ride north to visit an AJWS grantee, West Bengal spread out in front of us in all of its diversity—both inside and outside the train. We crossed the Hooghly, the great local tributary of the Ganges, the river holy to Hindus. Groups of men stood at the open doorways of the train and prayed to the flowing river as we passed over it. The reverence paid to the river was inspiring even for the ardently godless, including me. Inside the train, an endless river of people boarded and exited, offering a seemingly endless stream of goods: chai wallahs with their kettles of milk, jhaal muri merchants with their newspaper cones full of puffed rice and chilies, cloth peddlers, purse pushers, toy dealers with their back scratchers and key chains.
Outside the window, the landscape shifted: mud- and dung-thatched houses, old colonial outposts, cows, birds, dogs, goats. The brilliant green rice fields reflected the sun, the women crouching to gather the rice and the men cutting blocks of clay into squares, lining them up before smoking, towering kilns. And suddenly our train was filled with music as Bauls, the mystic itinerant musicians local to Bengal, began playing, one after another.
Finally, we arrived in Sainthia Station, dispersed into jeep taxis and arrived at our destination, the Mohammad Bazar Backward Classes Development Society (MBBCDS). Tayib, who works there, explained that Mohammad Bazar is a district, divided into a dozen or so panchayats, each panchayat made up of clusters of 35 small villages. The children from MBBCDS's school handed us each a flower and threw petals on us as a group of performers from the tribal Santhal community danced: a row of women with their hands interlocked, balancing small flower pots on their heads.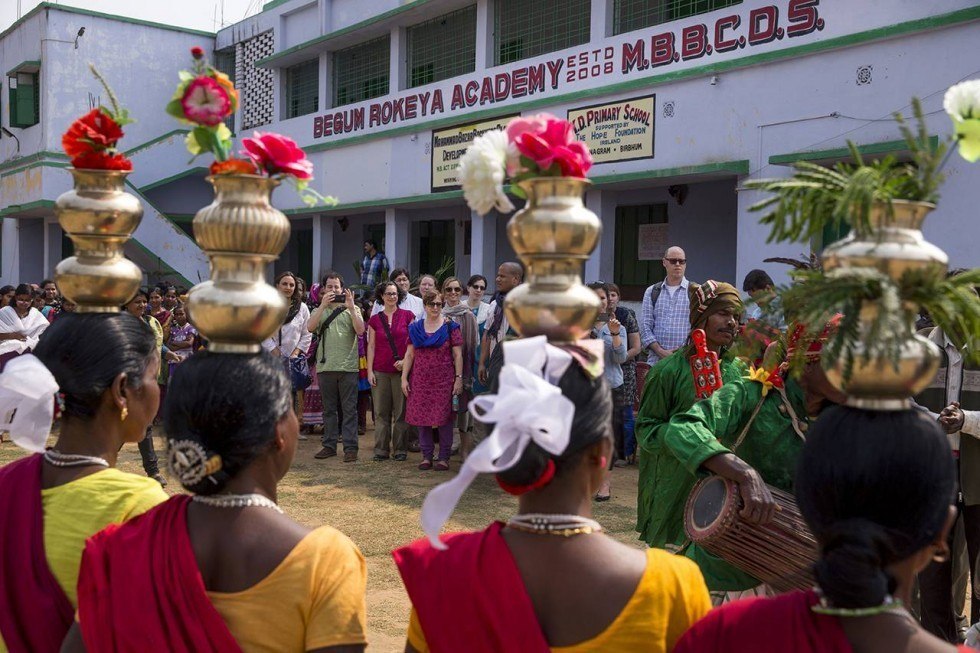 If bells in the temples serve to open our ears, music succeeds in opening our hearts. The girls of the school gathered together and sang to welcome us all. This was a welcome that few of us had ever received before. The gratitude for our visit, and undoubtedly for AJWS's support of MBBCDS, was overwhelming.
We were greeted by Ayesha Khatun, the founder and director MBBCDS, which is devoted to empowering women, making it possible for them to shape their lives. MBBCDS provides education (including boarding facilities) for girls, vocational training and a host of support services. We filed into a classroom of the school to meet the students and teachers. Devashri, who works with AJWS's grantees in India, explained that the school is named for the early feminist social worker Begum Rokeya, who worked for gender equity in Bengal at the start of the 20th century.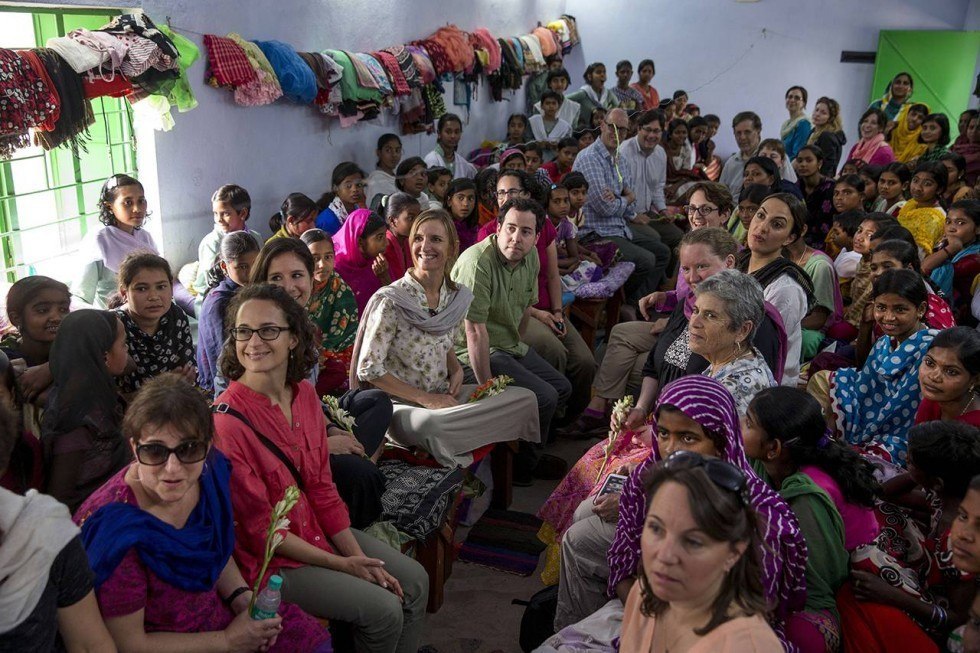 We asked the girls about their aspirations. They wanted to be teachers, doctors, the prime minister, social workers and—perhaps most movingly—to be just like Ayesha. We asked them what they knew about America, what they learned in school, how their lives were different from their mothers' lives. We heard about the toll that child marriage and lack of education take on the lives of all of the poor, but especially on young girls. "My mother is like a bird in a cage," one girl told us. Another said: "My mother is illiterate … She works so hard in the fields every day. But now she learns things from me. She doesn't know about bodies, about when it might be right to get married. I learn here and I teach her that." After an incredible conversation that included a surprising request for us (to sing the American national anthem), we went outside to see the girls play in this home devoted to making them free and brave.
We watched a series of games, including a local version of red rover, then sat with Ayesha and heard her moving story about growing up in the area. The fourth of eight children in a relatively progressive family, Ayesha was motivated to pursue an education by her father, a schoolteacher. But she was also routinely frustrated by the extra attention that he gave to his sons. She watched as her older brothers were taken on their father's shoulders while he pointed at the stars in the night sky. After scuttling her family's persistent attempts to marry her off, Ayesha went to college and pursued a nonprofit career before returning to found MBBCDS. Her goal: teach girls to resist exploitation, oppression and abuse, help them build confidence by playing sports, and provide training on leadership and public speaking skills.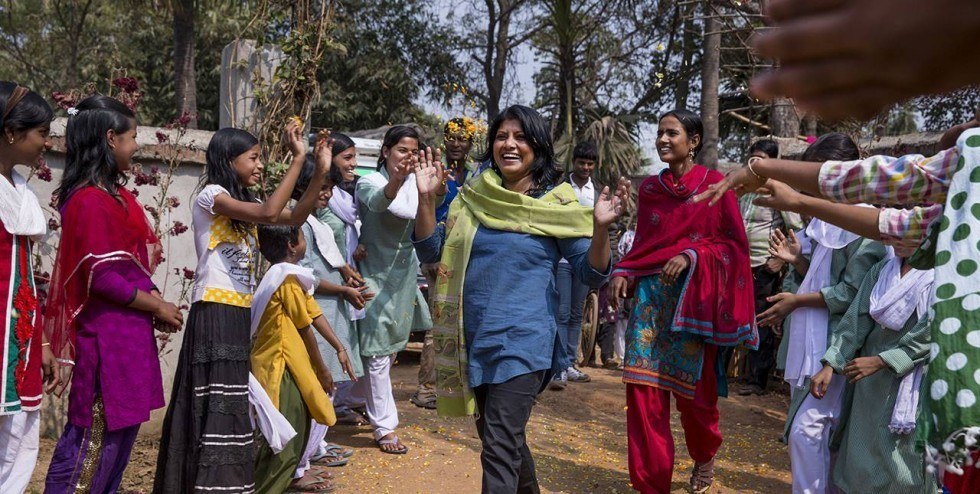 As we prepared to return to the train station, the sun began to turn into a bright orange ball in the dusty sky. I thought of Ayesha being denied the chance to reach the sky, not getting to stand on her father's shoulders as a little girl. She told us that, lately, it feels like she stands on his shoulders all the time. Ayesha struggles against continued setbacks, violent threats and disappointments so she can keep lifting the young girls at MBBCDS even higher, per aspera ad astra—in Yiddish, durkh derner biz di shtern—through struggle to the stars.
To learn more, visit our Ending Child Marriage section to see videos, photo slideshows, stories and original research related to AJWS's work on child marriage in India.