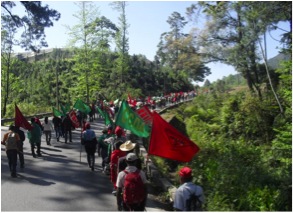 On March 19th, 1,500 rural and indigenous community members in Guatemala began marching for nine consecutive days to defend their natural resource rights. Tragically, state-sanctioned practices are destroying forests and mountains, contaminating rivers and water sources, and preventing rural Guatemalan communities from sustainably producing their own food.
Nearly one year ago, hundreds of rural Maya Q'eqchi' families were violently evicted from their homes in the Polochic Valley, Alta Verapaz. Under Guatemala's Colom administration, the Maya Q'eqchi families were evicted in favor of large landowner and business interests including the production of agribusiness exports such as sugar cane and African palm trees for biofuels.
In collaboration with six indigenous and rural organizations in Guatemala, AJWS's grantee Comite Campesino del Altiplano (CCDA) is working tirelessly to secure human rights for indigenous communities. With AJWS's support, CCDA is asking the government to do four things:
1. Address grassroots land rights priorities.  Guatemala's state must facilitate access to land for rural communities and approve the National Law for Holistic Rural Development.
2. Cancel rural communities' debt from the state's Land Fund loan program.
3. End evictions of indigenous and rural communities, as well as the persecution and criminalization of communities that are defending their natural resource rights.
4. Halt licenses for mining exploration and extraction; the construction of large hydroelectric dams; and mono-crop production.
So many Guatemalan families live on ancestral lands. Now, more than ever, they are seeking to strengthen social support for their demands and are building a stronger rural movement for natural resource rights.
Luis Diaz-Albertini is AJWS's program associate for grants in Latin America.