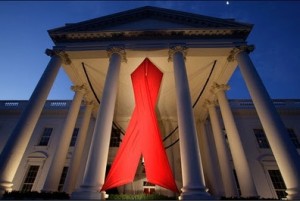 World AIDS Day comes at a critical moment in the history of the AIDS crisis. Reversing this epidemic depends on how our policymakers use three powerful forces: science, political will and money.
Why Science? The annual UNAIDS World AIDS day Report for 2011 shows that in 2010 alone, more than 700,000 AIDS deaths were averted and more than 2.5 million deaths have been averted since the introduction of anti-retrovirals (ARVs) in 1995.
Investments in fighting HIV/AIDS save lives. In the past year, new research revealed that treatment can also be prevention and that ARVs can also reduce the likelihood of one partner passing HIV to another by 96%.
Why Political Will? Just as innovations in science are heating up, so too are politics. Secretary of State Hillary Clinton made a significant speech on November 8th at the National Institutes of Health. She affirmed the United States' commitment to a combination of treatment and prevention strategies and expressed her hope that "instead of falling behind year after year, we will, for the first time, get ahead of the pandemic. We will be on the path to an AIDS-free generation."
Why Money? Unfortunately, Congress is threatening to slash the funds necessary to make an AIDS-free future possible. Funding from donor countries for HIV/AIDS has been reduced by 10% in 2010, as reported by UNAIDS. To make matters worse, on November 23rd, The Global Fund to Fight AIDS, Tuberculosis and Malaria announced that it will cancel proposals for new grants for the next two years because of the global economic downturn.
We can thank a history of bipartisan US Congressional support for much of our success in fighting the AIDS epidemic thus far. When the history books are written, will our country be remembered for following through on its commitments for an AIDS-free generation? Or will the books recount how successes were thwarted by shortsighted cuts to foreign aid funding that supports the fight against AIDS?
In addition to harnessing scientific advances, political power and financial resources, we also must advance human rights for vulnerable populations. AJWS works directly with many of these populations, including women and girls, LGBTI people, sex workers, injection drug users, refugees and displaced people, migrant workers, and other marginalized communities that are continuously overlooked by policy interventions. These populations are vulnerable to a cycle of human rights violations, poverty and HIV/AIDS. One organization that is breaking this cycle is Fortress of Hope Africa (FOHA) in Kenya. FOHA launched in 2005 specifically to empower adolescent girls living in a slum community in Nairobi. At FOHA, everything starts with a girl. Its HIV/AIDS work is integrated, girl-led and rights-based… and it's making a big impact in the community.
Next year will bring both the U.S. Presidential election and the 19th International AIDS Conference in D.C., an event that will draw 20,000 people including leading scientists, activists, people living with HIV and government leaders from around the world. The theme of the conference is "Turning the Tide Together." World AIDS Day 2011 and AIDS 2012 serve as critical opportunities to mobilize advocacy to ensure that science, politics and innovative prevention and treatment strategies are leveraged to make an AIDS-free generation a reality.