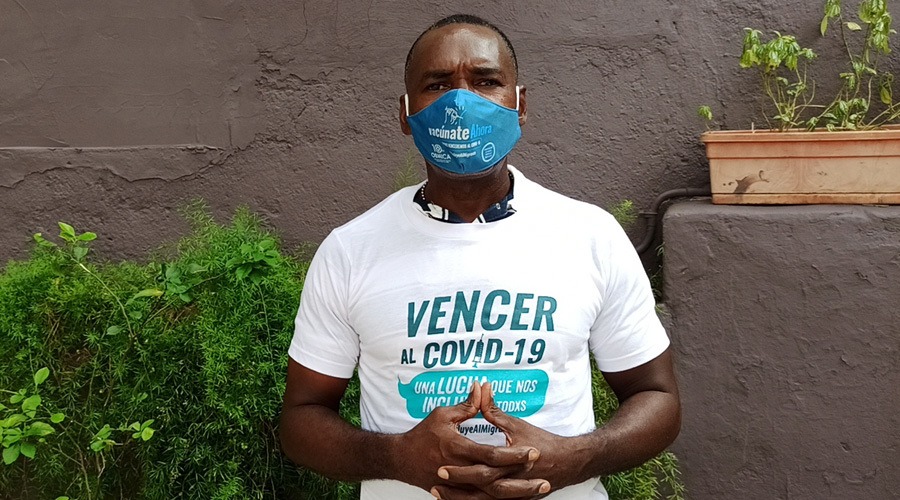 As talk of COVID-19 vaccines swept the world in early 2021, a new human rights crisis was already looming: profound disparities in who would receive a life-saving shot and who would face the pandemic unprotected. In the Dominican Republic, this inequity quickly became a reality: on February 16, Dominican President Luis Abinader announced a national vaccination campaign that barred vast swaths of the country's population from receiving a single dose.
Who would be left out? Hundreds of thousands of Dominicans of Haitian descent and Haitian migrants, as well as Venezuelans and other migrant communities—many of them already living in poverty on the margins of Dominican society. At the time, Abinader stated that vaccinating these communities was the responsibility of international bodies like the World Health Organization, not his. For black Dominicans with Haitian backgrounds—many of whom were born in this country that still considers them outsiders—this exclusion was just the latest assault in a long history of flagrant discrimination.
Equitably vaccinating the Dominican public rapidly became a battle on multiple fronts—and AJWS grantee Caribbean Migrants Observatory (OBMICA) stepped up to lead the charge. In just a few short months, OBMICA—a research center specializing in migration in the region and advocating for the human rights of these communities—launched an ambitious fight for equal access to vaccines for all and a successful campaign to promote and educate people about vaccines. And they're going to save lives.
OBMICA's founder Bridget Wooding anticipated the incoming emergency before President Abinader even vocalized it:
"We saw migrants and their family members excluded from COVID protection measures last year. They had second-class access to healthcare," she says. "So we knew that their access to vaccines was going to be, at best, problematic."
A History of Exclusion
These problems cut deep. The Dominican Republic is a culturally and ethnically divided country, where Dominicans with European ancestry often look down upon Dominicans of African descent. Dominicans descended from Haitian migrants, in particular, experience the worst of this prejudice. They often have limited access to public services like health care and schools, and thousands were stripped of their citizenship by a 2013 Dominican court ruling. The deep-rooted prejudices and the cultural elitism held by many Dominicans has resulted in widespread blame of Haitians for the country's economic struggles—which COVID-19 has only exacerbated.
These challenges came to a head as the DR began rolling out its ambitious vaccination campaign, with official communication from the federal government stating that only card-carrying Dominican citizens would have access to a vaccine.
But who truly controls which populations can and cannot get vaccinated has been unclear—while the central government has come out against vaccinating migrant populations, the actual vaccination campaigns are carried out by local municipalities with very little oversight.
Further complicating matters, Haitian Dominicans have reported discrimination from doctors and in health care facilities. While they are guaranteed health care in the DR, they are often ignored by healthcare staff or forced to wait longer than Dominicans for care. Naturally, then, Haitian Dominicans and other minority populations have long felt mistrust of any government initiative due to years of abuse and discrimination—which has already translated to fear and doubt regarding the COVID-19 vaccine.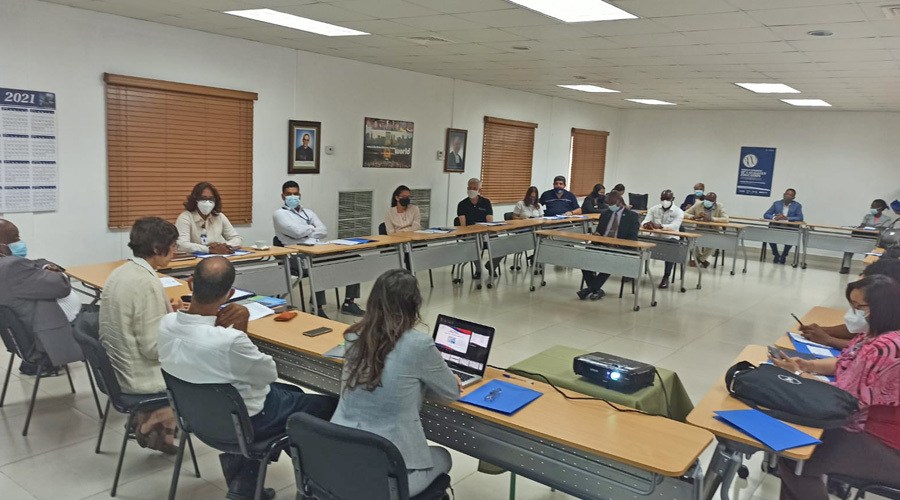 Vaccine equity from every angle
OBMICA isn't responding to one of these challenges; the group is tackling them all.
First, in early 2021, they signed a regional statement with hundreds of other civil society organizations demanding that the DR's government guarantee free and equal access to the vaccine, stating: "The right to health must be guaranteed on the basis of the principle of equality and not discrimination."
This advocacy work helped OBMICA and a coalition of 13 other civil society organizations to secure a meeting in June with officials from seven different government agencies, including the ministry of Public Health, the National Migration Institute and the Ministry of the Presidency. The stakes were high: OBMICA entered the meeting hoping to emerge with no less than a commitment from the officials that the Dominican Republic's vaccination campaign would indeed reach all people living in the country—no exceptions.
The meeting, by all metrics, was a success.
Clara Morel, OBMICA's Communications Officer, left the meeting beaming, exclaiming to her colleagues: "Never did I think we would have such positive reception."
Not only did public health officials recognize that the country had thus far failed to integrate migrants and minorities into the vaccination plan—they also took concrete steps to change the future.
Vice President Raquel Peña de Antuña's administration committed to supporting universal access to vaccines. Government officials committed to assembling mobile vaccination centers to reach remote communities across the island, as well as a task force of key personnel from the government and civil society to ensure these changes are enacted.
The June meeting also connected OBMICA and ally organizations with the United Nations Children's Emergency Fund (UNICEF)—which is launching a massive, global initiative called COVAX to vaccinate vulnerable and remote communities. As of mid-July, COVAX had already distributed over 100 million vaccines—with a projected 2 billion doses ready for delivery by the end of 2021.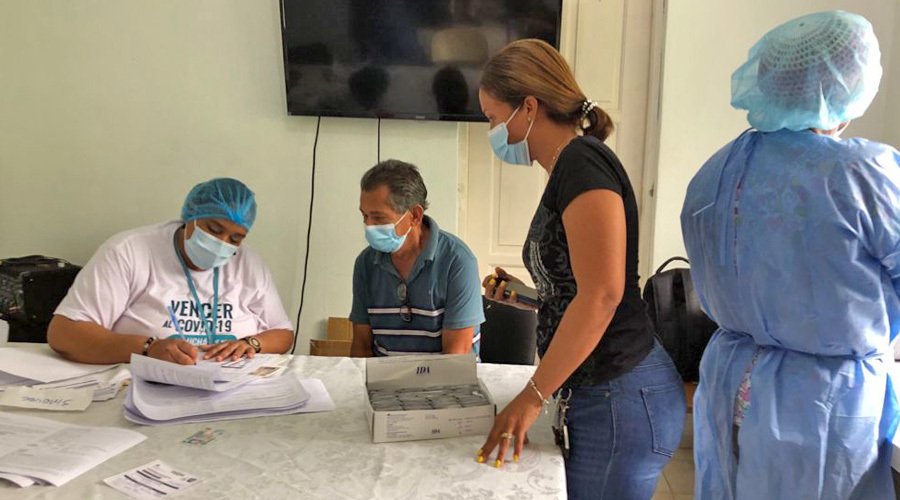 Creating a climate of confidence
As OBMICA worked to ensure vaccine access on a national level, they simultaneously hit the streets to educate people about the importance of getting vaccinated. In May, OBMICA began distributing materials to Dominicans of Haitian descent, migrants and others across the island, educating them about the vaccine to counteract their mistrust of the novel shot. OBMICA staff and volunteers posted infographics on social media, and even produced a "vaccine jingle." They created and handed out hundreds of shirts, masks and buttons with the message "Eradicate Covid-19: A Fight That Includes All of Us," to spread the concept of vaccine equity and encourage the inclusion of Haitians and their descendants.
In the halls of power with public officials and in the streets with disenfranchised communities, OBMICA is working tirelessly to create vaccine equity—because more vaccinated people mean a safer Dominican Republic for everyone. And with a developing partnership with UNICEF, OBMICA's vaccine equity campaign has already blossomed beyond what the team had ever imagined.
Because of OBMICA's unceasing work, the official stance of the Dominican Republic is now one of inclusion. But Bridget and her colleagues know their work is not over—now they must forge ahead reaching out to communities who've only experienced exclusion in the past, and educate them about where and why to get vaccinated.
As Bridget says, "Now, we're creating a climate of confidence, so they can come forward and get their jabs along with everyone else."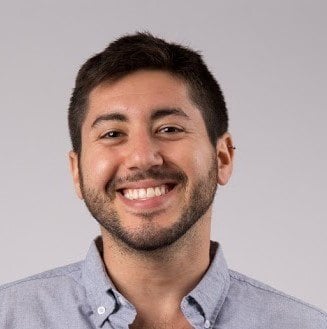 Justin Jacobs is a Senior Marketing and Storytelling Officer at AJWS.