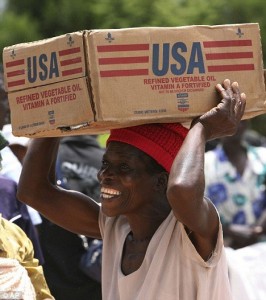 When we launched the Reverse Hunger campaign on World Food Day 2011, we set out to ensure that the U.S. Farm Bill reflected our Jewish values, ensuring that our international food aid programs feed more hungry people and support local farmers abroad. Never could we have imagined how incredible, sometimes dysfunctional, and downright comical this journey would be.
Today is the culmination of that journey. Later this afternoon, the President will sign the U.S. Farm Bill (officially known as the Agricultural Act of 2014) into law. While AJWS does not have a position on the entire bill, a massive piece of legislation that shapes the majority of U.S. food and agricultural policies, we welcome the modest, yet critical improvements to international food aid programs.
The changes in this bill are aimed at increasing flexibility: making it easier to utilize alternative food aid approaches and to move away from inefficient practices that slow down delivery and sometimes undermine our goals of helping people for the long-haul.
New Provisions- Buying Local:
Why? Buying food aid locally is a triple win: allowing food to arrive sooner, by-passing exorbitant shipping fees and investing in the local agriculture economy serves communities in times of crisis and for years to come.
What's Changed? The Farm Bill makes permanent a pilot from the previous Farm Bill, which allows for the U.S. to purchase aid closer to affected regions.
By the Numbers: Funds available for local purchase were increased from $60 million over five years to $80 million each year for five years. If you do the math, that's up to $400 million (a 600+% increase) that can go directly to local farmers.
Ending Inefficiencies- More Cash, Less Waste:
Why? Monetization, when U.S. development organizations sell donated U.S. commodities in local markets to fund their development programs, is an inefficient way to support critical health and nutrition programs that compliment food deliveries. Rather than making communities stronger, sometimes it has the adverse effect of undercutting local producers.
What's Changed? The Farm Bill provides additional cash so that food aid implementers can scale back their monetization activities. It also creates reporting requirements around particularly inefficient monetizing schemes, to help build the body of evidence, making the case for phasing out this practice entirely.
By the Numbers: The amount of cash available was almost doubled from 13% to 20%.
Real Results: USAID Administrator Rajiv Shah estimates these changes could allow for 600,000 more people to receive life-saving assistance each year.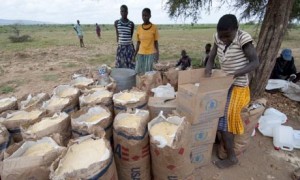 While these are significant steps forward, they are modest in comparison to the reform proposals offered by President Obama in his 2014 budget request, along with House Foreign Affairs Chairman Ed Royce (R-CA) and Ranking Member Eliot Engel (D-NY) as an amendment to the Farm Bill. Yet the President's endorsement and the broad bipartisan support for the Royce-Engel amendment, which fell short by fewer than 10 votes, shows us the tides are turning.
Let's look back and appreciate what we've accomplished, then look forward to what comes next.
Dahlia Rockowitz is a policy associate at AJWS.