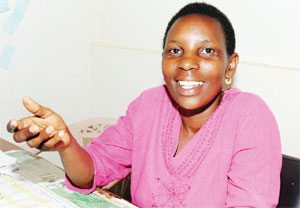 Amidst the uproar over Uganda's proposed anti-homosexuality bill (whose fate in parliament remains unclear), important signs of progress are being overlooked. This past Thursday, the Uganda AIDS Commission announced the appointment of Flavia Kyomukama to its main decision-making committee. Ms. Kyomukama is a well-known HIV-positive activist and vocal advocate for the human rights of LGBTI people. In the Ugandan capital on Thursday, she spoke of the need to "remind leaders that gays are human beings with a right to health."
Over the past several months, the government of Uganda has taken several unprecedented steps toward recognizing the health rights of gay Ugandans. This past July, in a surprising move, the Ugandan government decided to include homosexuals among the groups targeted for HIV/AIDS programming in the draft of a new five-year national HIV prevention strategy. The Uganda AIDS Commission, which sits directly under the president's office, had previously resisted including these marginalized groups.
In fact, only a few years ago, Ugandan activists were arrested for peacefully protesting the lack of government funding for HIV prevention among men who have sex with men. The HIV prevalence rate among this population in Uganda is estimated to be almost 14 percent—more than twice the national prevalence rate. The absence of inclusive policies, as well as widespread prejudice among doctors and healthcare workers, means that access to life-saving prevention and treatment has been out of reach for most LGBTI people.
It may not seem like much, but these steps are critical in a country where same-sex relations are criminalized and LGBTI people are routinely denied basic medical care. And hopefully, this progress signals greater victories to come.