In August 2013, conflict ramped up in the Democratic Republic of Congo, where the Congolese rebel group M23 and the Congolese Armed Forces escalated fighting. At least 800,000 people have fled their homes in the DRC since the M23 launched its rebellion in April 2012 and laid siege to the city of Goma last December. In response, the United Nations has launched an intervention brigade with the strongest mandate in UN peacekeeping history.
However, civilians in North Kivu have begun protesting the intervention brigade, arguing that the UN has not done enough to protect civilians. Forces from DRC dropped bombs in Rwanda, creating a complex and controversial political situation. Rwanda has allegedly supported the M23 rebels and is now threatening retaliation. According to an AJWS consultant, the current situation is very unpredictable.
This post comes to Global Voices from Nelly Godelive Mbangu, who lives in Goma.

________________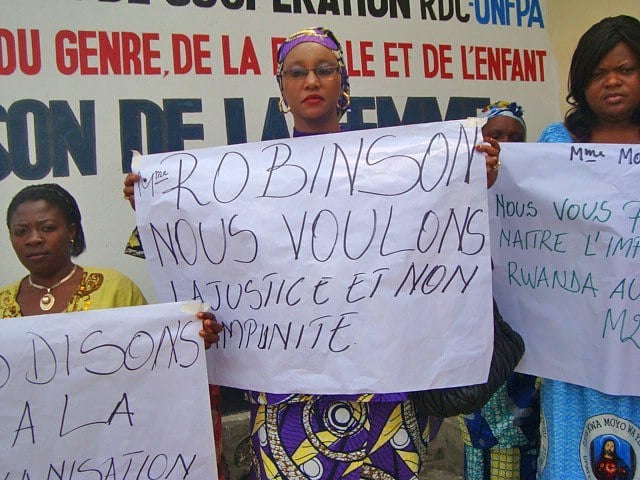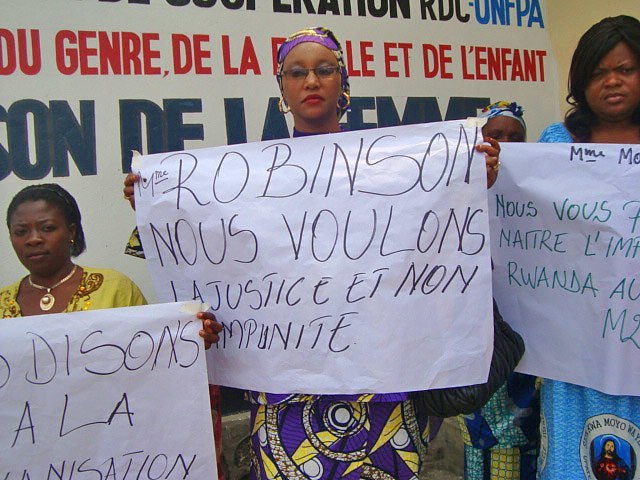 Living in the eastern DRC requires the acceptance of living through horrible things.
We are going through a very difficult time, and the shells fall on all sides. It is unclear whether those who fight are even human. Imagine it—once again, most of the victims are women and children, as if bombs choose their victims.
We are in trouble, and we write with tears in our eyes after bombs fell yesterday in a popular neighborhood of Majengo and in a very remote area, where people have few means for survival. Many people make their living from activities that are only possible with support from nonprofit organizations. Even water is not accessible in this neighborhood, and neither is electricity. Now bombs fall, killing children and damaging homes that were already poorly constructed. Two other bombs fell this morning in a very popular area called Mapendo. The numbers of victims are not yet known.
What a pain for our people, victims of an unjust war. Women continue to suffer from rape and other forms of sexual violence from these armed groups.
I have been living here for 22 years.  I arrived in this province at the age of 13 with my parents, who came for work reasons. But the thing is, a year after our arrival, the war started—and it's been happening ever since. I have six children here, and yesterday one told me: "Mom, why are you going to work when bombs haven't stopped, and why are we going back to school on Monday?" Violence and destruction has become so common here that we cannot wait for it to end. We have to go on despite the risks.
What grief, what a horrific time for the people of my country. The war in Rwanda lasted only nine months because the world eventually came together to end the situation. We saw the U.S. intervene in Mali, as well. But here, we still have to wait, and for what reason?
We hope that Americans can understand the pain that we are suffering. Governance has failed here. Nothing is working. We continue to be killed by M23 rebels, who are supported by Rwanda. The United Nations has recognized this, but still forces us to negotiate with these rebels—still fails to sanction Rwanda for its role in this conflict.
People have the will to live, despite the current situation. We pray that, as our partner, you will support our advocacy for people to live peacefully in this country. If it is our mineral resources that are the source of what is happening to us, we encourage other countries to mine legally. If we can just be at peace and women can tend to their fields without threat, we can find a political solution that works for all sides.
________________
Nelly Godelive Mbangu is an attorney and director general of Aide et Action Pour la Paix, an AJWS grantee. AAP was established in 2002 to promote the land rights of rural communities and internally displaced people in the Democratic Republic of the Congo. AAP mediates conflict over land, lobbies policy makers and educates rural communities about the connections between land rights, peace and community development.
Eastern DRC has been engulfed by conflict since 1994, when Hutu militias fled across the border from Rwanda—where they had just slaughtered Tutsis and moderate Hutus in one of the most organized genocides of the 20th century.
This post reflects the opinions of its author; it does not necessarily represent the policies or perspectives of American Jewish World Service. This post was translated from French to English by Amy Bisno, program associate for AJWS.