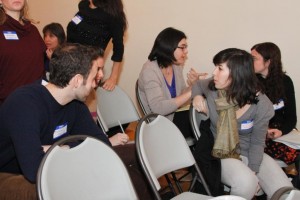 Originally published on Pursue: Action for a Just World.
If you are of a certain age (let's say born between 1970 and 1985), I suspect there's a better than average chance that your introduction to the American lawmaking process came courtesy of an animated and singing piece of legislation. This plucky bill overcame his fear of Death by Committee and his long, long trip to Capitol City to get signed into law, while in the process demystifying the legislative process for a generation of young viewers.
If you've been following recent discussion over the 2012 Farm Bill, you might notice a few things that differ from the Schoolhouse Rock account. Our paper protagonist never contended with sinister lobbyists or smoky back room deals–not to mention concerned citizens who want bills to reflect their faith and values. Fortunately, no such omissions were made at last Monday's Chewing on Food Justice: The Farm Bill and You event, where the Pursue team assembled an impressive coterie of experts on the Farm Bill to educate and inspire the assembled crowd.
The Farm Bill is a massive piece of legislation, and the Pursue team wisely chose to look at several key parts rather than attempt to cover the entire bill in two hours. This approach reflects the fact that the organizations cosponsoring the Jewish Petition for a Just Farm Bill themselves have a variety of concerns: for example, the Jewish Council for Public Affairs is concerned with the protection of SNAP benefits, while the Coalition on the Environment and Jewish Life seeks changes related to sustainable development and renewable energy.
But back to Monday night. After a lovely invocation by Jonah Adels of the Jewish Farm School and his timely reminder that nothing connects us so much to the earth as the food we eat, we heard from Timi Gerson, American Jewish World Service's Director of Advocacy, and Eric Weltman, a Senior Organizer with Food and Water Watch. Both spoke eloquently about their areas of special concern. For Eric, it was the outsize influence of large conglomerates and agri-businesses and his hope that the 2012 Farm Bill will provide for more equitable treatment of smaller farmers. Timi spoke about the inefficiencies in the American food aid distribution process, the negative effects this has on the overseas recipients of our aid (like undercutting food purchases from local farmers), and opportunities to change this system.
The highlight of the evening (narrowly beating out the roasted vegetable sandwiches from Tav-certified Cafe Terri) was the small breakout groups that followed Timi and Eric. My breakout group discussed the finer details of arranging meetings with our legislators to discuss our concerns about the Farm Bill. My fellow New Yorkers are fortunate that Senator Gillibrand sits on the Senate Committee on Agriculture, and although she's only held one town hall meeting related to the Farm Bill in the New York City area, several of us left the session ready to press her to hold another. Other groups discussed topics like how to move sympathetic acquaintances to effective advocacy (piece of advice: don't ply your friends with alcohol until AFTER they've made calls to their legislators).
Perhaps the Schoolhouse Rock team and their animated bill never imagined legislation so sprawling it could encompass (among other things) food aid to the needy, the financial interests of global shipping companies, and domestic use of biofuels. Luckily, the Pursue team and co-sponsors of the Jewish Petition for a Just Farm Bill not only can imagine such legislation but are actively working to ensure that Jewish values are present in the bill and that those of us concerned about this legislation have a clear and viable path to becoming effective advocates for a fairer food system.
Katy Schwalbe wears her "foodie" label with pride. She is an active member of her CSA  and worked to bring the Jewish Petition for a Just Farm Bill to this year's Limmud NY conference. Her favorite Schoolhouse Rock segment was Conjunction Junction (what's your function?). You can learn what spices she's low on at her Twitter feed, http://twitter.com/piecuresall.