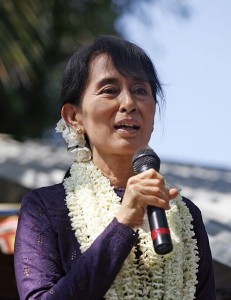 There's a lot of hyperbole in the Capitol, especially in an election year. But there's something about Daw Aung San Suu Kyi that makes even the most effusive praise seem inadequate.
On Wednesday, September 19th at the Capitol, where Aung San Suu Kyi, Burma's democracy leader, received the U.S. Congressional Gold Medal, I was struck by the impressive line-up of our country's leaders who waxed poetic. Yet the emotion on their faces showed that even their most flowery praises couldn't capture the awe and electricity felt in the presence of the honoree.
Throughout the speeches, which ran the gamut of political persuasions including Secretary of State Hillary Clinton, former First Lady Laura Bush, Republican Senator John McCain and Republican Senate Leader Mitch McConnell, Suu Kyi was described as: "a luminous soul" … "a seeker" … "a soul pilgrim" … "this most unlikely of revolutionaries" … "an icon"… "a strange collection of bright victories" (This last one is actually a literal translation of her name.)
Republican Senator Mitch McConnell told a story of how she declined to wear a bulletproof vest during a landmark speech before millions protesting in Rangoon's streets in 1988. 'Why?' she answered. 'If I were afraid of being killed, I would never speak out against the government.'
Aung San Suu Kyi, who spent almost 15 of the past 21 years under house arrest for her opposition to Burma's longstanding military dictatorship, is someone who has taught Senator John McCain "a thing or two about courage."
The Lady lives up to the hype.
I've traveled to Burma half a dozen times since 1999 but never dared to attempt a visit with Aung San Suu Kyi. This was a surefire way to end up under surveillance.
She was always present, though. A taxi driver would gesture down a tree-lined street saying that's where she lived. A boy selling contraband Bangkok Posts on the sidewalks would slyly show me an article on her latest release from house arrest.
On my last trip, it was as if the years of whispered support could no longer be contained. Pictures of Suu Kyi were everywhere—stacked like postcards on wire racks of book stands, hanging on sidewalk stalls selling T-shirts emblazoned with her party's logo.
Being present for the presentation of her Congressional Gold Medal was surreal. The diversity of Burma was on display in the audience, from the orange and maroon robes of monks who came to the U.S. in the aftermath of the Saffron Revolution to the embroidered cotton tunics representing the Karen, Kachin and Shan ethnic nationalities who fled decades of armed conflict. A number of women wore flowers tucked into their hair just like Suu Kyi.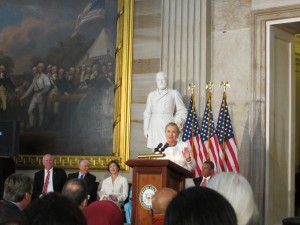 Secretary of State Hillary Clinton captured some of this amazement when she turned to Suu Kyi and remarked, "It is almost too delicious to believe, my friend, that you are here in the Rotunda of our great Capitol, the centerpiece of our democracy, as an elected member of your parliament."
Clinton went on to note that "[o]vercoming the past, healing a wounded country, building a democracy, would require moving from icon to politician."
"People," she continued, "fight and die for the right to exercise politics."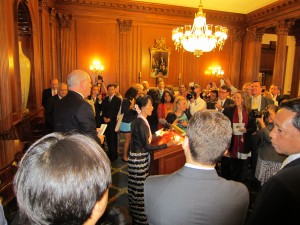 In her remarks, Suu Kyi called the day one of the most moving of her life and urged that the audience "remember those everywhere for whom freedom is yet a dream."
Afterwards, at a private reception, long-time activists and policymakers who have supported the cause awaited The Lady's arrival. When Suu Kyi finally walked through the room, the crowd rushed up to meet her.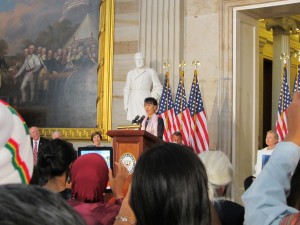 Democratic Congressman Joseph Crowley remarked, with some wonder, "People just want to touch you" as Suu Kyi stepped to the podium and greeted the crowd. There were only a few minutes before she was heading off to meet with President Obama. Still, softly and unhurried, Suu Kyi said to us, "Does anyone have any questions?" The room was stunned into silence. Rock stars don't take questions.
Don't get me wrong. There are and will be many questions ahead as Suu Kyi moves, in Clinton's words, from an icon to a politician. For those of us who have spent years documenting the horrors of war and repression, hoping to see a dictatorship fall, this transition ushers in a whole new array of challenges and complexities.
But for the moment, she is a rock star.
To learn more about Aung San Suu Kyi and the many activists from Burma who are advancing human rights and democracy, check out AJWS's publication, The Story of Our Impact: Supporting the Movement for Free and Democratic Burma.