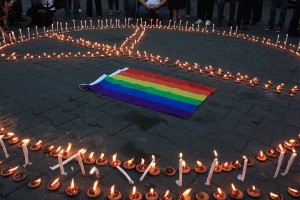 Today is International Day Against Homophobia and Transphobia (IDAHO).
In general, I'm pretty skeptical of the "International Day of [fill in the blank]" model. It will take a lot more than a single day of rallies and media coverage to bring about lasting change. Ultimately, though, IDAHO offers the chance to inspire and applaud collective action. And in the region of Southeast Asia there is a lot worth highlighting.
Take the Association of Southeast Asian Nations (ASEAN), for example. It's an intergovernmental body that, historically, has done very little to effect change. In fact, Human Rights Watch recently called ASEAN "the laughingstock of intergovernmental forums." So imagine my surprise when I saw the news that the lesbian, gay, bisexual, transgender, intersex and queer (LGBTIQ) community showed up in force at the latest ASEAN People's Forum held in Jakarta, Indonesia from May 3-5, 2011. The People's Forum runs parallel to the twice-yearly held ASEAN Summits, and offers the opportunity for civil society representatives to come together and present a unified set of recommendations.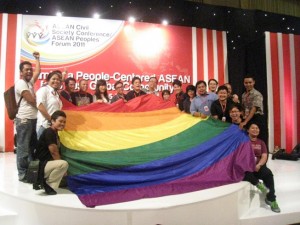 This year, over 40 lesbian, gay, bisexual, transgender, intersex and queer (LGBTIQ) activists representing eight out of the ten Southeast Asian countries* braved significant social prejudice to come together to tell their governments that the recognition, promotion, and protection of LGBTIQ rights is long overdue. In the words of the LGBTIQ caucus: "We are part of the people of ASEAN, and yet across the region we are treated as criminals and as second-class citizens."
Four AJWS grantees—Foundation for Human Rights on Sexual Orientation and Gender Identity (Thailand), Human Rights Education Institute of Burma (Burma), Rainbow Community of Kampuchea (Cambodia) and Asia Pacific Network of Sex Workers (APNSW)—participated in the caucus, which called for their governments to repeal laws that criminalize LGBTIQ people, to improve access to health and social services, and to make sure that there are national mechanisms to promote and protect the rights of all people regardless of their sexual orientation or gender identity. Thanks to the broad support of the civil society groups in attendance, all three of these recommendations were included in the final statement of the People's Forum.
ASEAN is imperfect, and the likelihood of its member states truly taking these recommendations to heart is slim. This does, however, show the international community that there is a vocal contingent of advocates who will no longer allow the rights of LGBTIQ people to be an afterthought in the struggle for justice and human rights in the region. As Aung Myo Min, director of Human Rights Education Institute of Burma, notes, "[Our governments] must never forget that LGBT [people] are part of the society. We are not the problem of society."
Commemorate IDAHO by watching and promoting Courage Unfolds, a new documentary film produced by the International Gay and Lesbian Human Rights Commission.
* Burma, Cambodia, Indonesia, Malaysia, the Philippines, Singapore, Thailand and Vietnam