By Rabbi Elyse Winick
Last month, 10 rabbis from across the U.S. spent a week in the Dominican Republic as part of a Global Justice Fellowship trip with AJWS. Focusing heavily on the Dominican government's policies related to the citizenship status of Dominicans of Haitian descent, the delegation met with grantees working to address some of the most pressing human rights issues in the region. Rabbi Elyse Winick, the Jewish chaplain at Brandeis University in Waltham, Massachusetts, wrote this reflection at the end of the trip.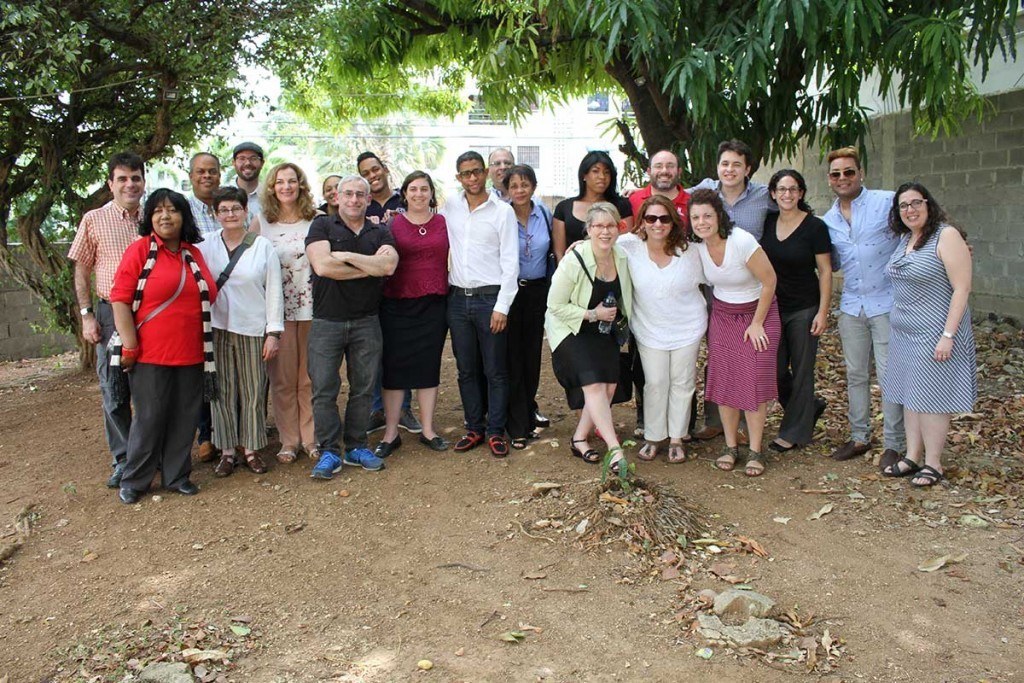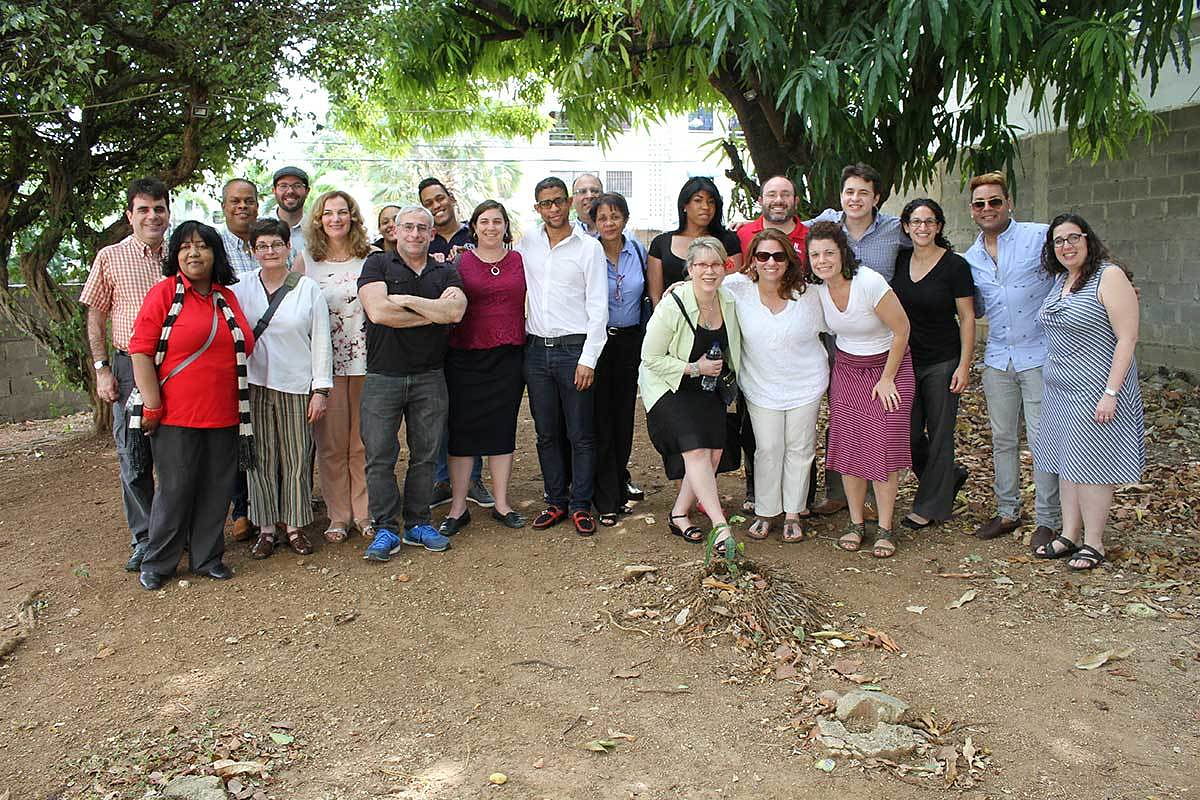 We start the last leg of our journey early on Friday. We approach the town of Haina, often referred to as the Dominican Chernobyl—one of the most polluted areas in the world thanks to the free trade zone along its perimeter. This is challenging to internalize as we pass the bluest of oceans glistening in the sun.
We arrive in Haina, its insidious pollution hidden from the naked eye. It's the lead in the water. It's the carbon in the air from the tire factory, which operates 24 hours a day, seven days a week. The contamination from the factories causes a myriad of health problems, like cancers, asthma and other respiratory ailments. Medicine is expensive and medical equipment is scarce. We pull up at AJWS grantee Junta de las Mujeres Mamá Tingo. An AJWS logo is painted on the exterior wall—a sign of a partnership that began in 2013. We are swept into warm embraces, kisses are exchanged, and young girls dressed in the colors of the Dominican flag welcome us with dance. We are overflowing.
So many women from different communities welcome us. They tell us about Mamá Tingo, killed in 1974 for her defense of land rights. I think of the daughters of Tzlophhad demanding the right to inherit land. God says, Keyn bnot Tzlophhad dovrot: Their claim to land is right and true. Only 2 percent of women in the Dominican Republic are property owners.
This group represents 33 organizations in 21 communities and uses 11 work teams with the ultimate goal of eliminating political, social and economic violence against women. The statistics indicate that a woman is killed every other day in the Dominican Republic. The press says 11 women have been killed since the start of this year, but the number is probably higher. But in Haina, the efforts of this group have helped reduce violence against women—another glimmer of hope. Still, there are 1.5 million single mothers, and 1 million elderly women live in extreme poverty. And a shadow falls across smiling faces when they describe a husband cutting off his wife's hands in a southwest province last December, and a man killing his wife for wanting to continue her literacy studies last summer. They tell us the majority of women killed in 2013 and 2014 had previously reported violence by their husbands to the police. Mamá Tingo fights against a resistant system and cultural norms in which machismo trumps women's rights and dignity.
The group's agenda is remarkable. Mamá Tingo is all about swimming upstream, working with men on responsible masculinity, helping couples overcome challenges, staging a public campaign promoting nonviolence and women's constitutional rights from November 1st, the anniversary of Mamá Tingo's murder, through November 25th, the International Day for the Elimination of Violence against Women and the anniversary of the murders of the Mirabal sisters.
We get to the individual stories, of being unable to find work past the age of 35, of grueling hours of domestic labor on top of the same responsibilities in their own households, of increased levels of alcoholism and addiction among men, of delinquent children because mothers are not at home, of elders abandoned by families who don't have the resources to take care of them. Fabian tells us that at 58, she is finally finishing high school. Tomasina is afraid to leave her house, day or night, because of crime in the community. Cristiana says, "I have survived because of Mamá Tingo."
These women are suffering and determined. This is what it looks like to take responsibility for your community. And then they sing. What is it about protest that lends itself to song? They begin with their anthem, whose lyrics translate to, "This has to change." On the last song, Lilach—AJWS's Director of International Education and Jewish Engagement—leads us in the chorus: "We will bring a new day, a new sky, new land, new sea. Today the oppressed, in a single voice, proclaim freedom." We are humbled by their power and energy.
And then they ask us to sing for them. We have no protest songs; we have songs of peace and praise. And I wonder, are these the songs of privilege? We sing "Od Yavo Shalom Aleinu" and Psalm 150. The women join in on "Hallelujah." It has become a song of us. There is more dancing and then, after we offer our thanks and present them with a plaque, they turn it around and present AJWS with a gift: the island of Hispaniola (the Dominican Republic and Haiti) carved from wood and inscribed with words of gratitude. We are stunned.
At lunch, they insist we serve ourselves first before they approach the buffet. We feel ill at ease, but we must honor their act of hospitality, as Jewish tradition requires that even the poorest among us should give something.
Before we know it, the goodbyes begin. Our interpreters, who have become part of our Global Justice Fellowship family, must take their leave. Yaneris, whose face appears in the Feminist Agenda publication at our table. Nani, whose journalist's insights keep us informed. And Arcy, whose mother, we will later discover, was the victim of femicide. Each of them has played a critical role in revealing this country to us.
We board the bus to pay a visit to the bust of Mamá Tingo; there, we bid farewell to Luis Mena, AJWS's in-country consultant, who has gained the trust of our partners and encouraged us to trust and treat one another as friends. He tells us not to believe that everyone in the Dominican Republic is bad, that the DR is more than that. I suddenly feel a little more space to breathe, that all is not lost.
We'll spend the next two-and-a-half hours on the road, emerging from the complex emotions of the week, admiring the landscape, beginning the process of remembering. I look out the window and see a military police car waiting to make a turn. I shudder as I remember Glinor, a young Dominican man of Haitian descent we met at AJWS grantee Reconoci.do, describing being thrown into a van to be deported.
Our bus continues its slow ascent into the mountains. Outside, the air is rich with greenery and the temperature has cooled. We arrive in Jarabacoa and, slightly stunned, as we step into the beauty of Hotel Gran Jimenoa. Shabbat descends and we daven Kabbalat Shabbat with the river roaring beneath us. We sing louder. It is lush and green and slightly disorienting. I close my eyes and picture the batey (Dominican shantytown). I open my eyes again. How can both sights exist in the same universe?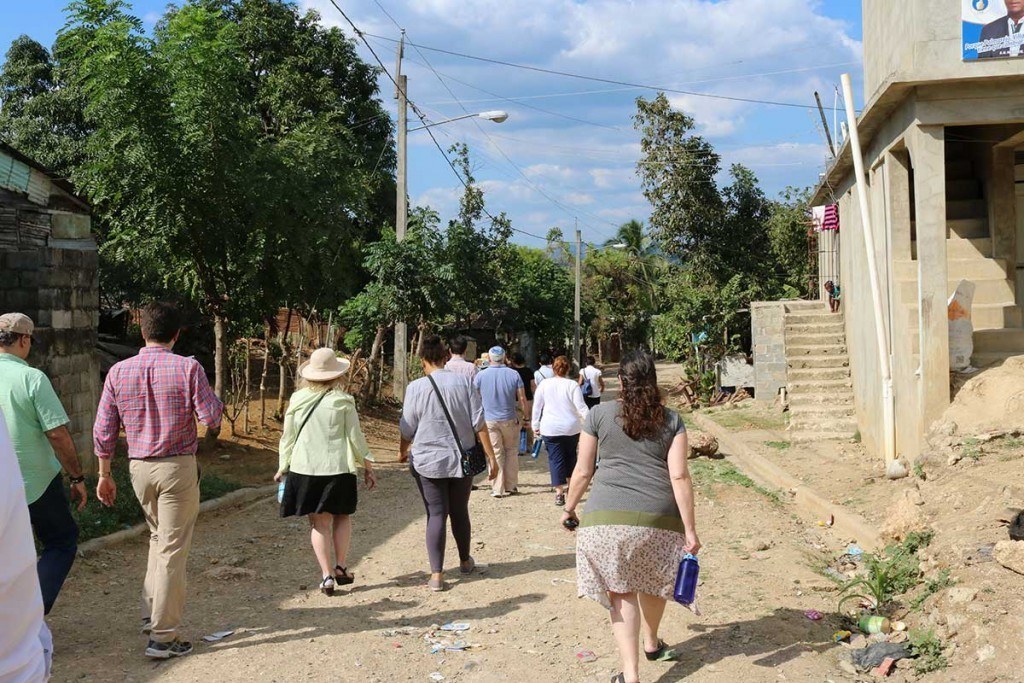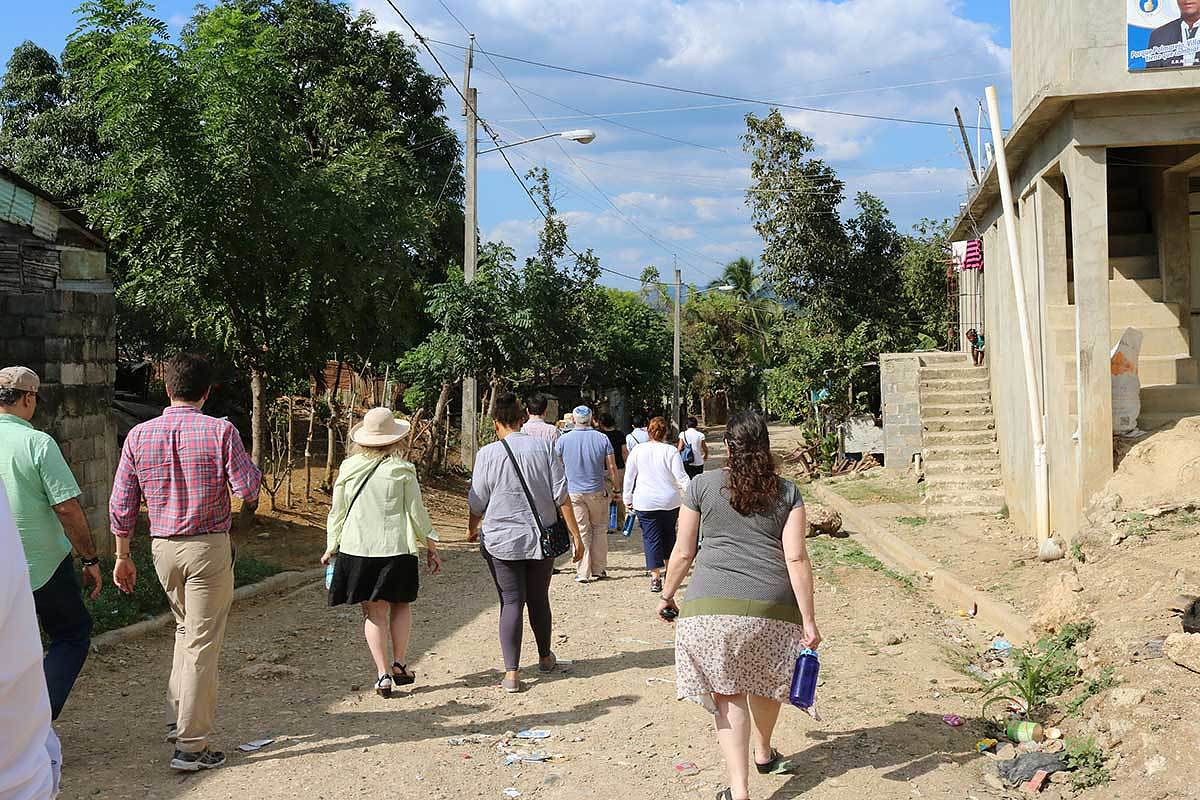 In the morning, Psukei Dzimra is breath-filled and contemplative. We stir our souls with song. We ask, "What does it take for change to happen? How do we get to the other side of the sea?" With Shabbat rest, our heart rates finally begin to slow. When we cross the bridge in silence, it feels like Lekh Lekha, the Torah portion in which Abraham sets forth from Haran, but whose name implies "go to yourself."
With one sentence, we check in: We're feeling overwhelmed, grateful, motivated. AJWS's President, Ruth Messinger, who is with us, warns us not to be ensnared by the luxury of "overwhelmed." It is a state of being, but not someplace we can dwell. There is work to be done.
Our marching orders include letters to write and divrei Torah to give. Tasks will be specific to the ways our impact will be most significant. Lilach hands us the tools of our trade, the Torah we will use to tell this story. The sun dips lower in the sky. We begin to craft our answers to the inevitable question: So, how was your trip?
We push and encourage each other to fine-tune the telling. It is our story, one we all share and yet tell with many voices. It will be one of the first ways we set change into motion. We will shift the discourse from the description of a trip to the sharing of a journey. We will give our listener a glimpse of how our souls have been transformed. We will bring them with us to a place of passionate caring and commitment. And we will invite them to share the oh-so-sacred responsibility with which we have been charged.
It was evening and it was morning, the last day. The shape and contours of this week came not from serendipity; they were consciously created with today in mind. From Ruth came fiery words and vision and willingness to cross an ocean just to be with us for one more day. From Lilach, a keen understanding of the intersection between social change and the soul. From Ronnate Asirwatham, AJWS Senior Policy Advisor, insight into the legal and legislative power we hold in our hands. From Larissa Siegel, AJWS Senior Development Officer, the ability to translate this experience into messaging. From Charley Kargman, AJWS Executive Assistant, attention to detail and unflappable calm under pressure. And from each and every one of us, the selves we brought with us and the selves we take home. It is over and it has just begun. The time is now.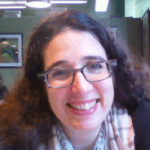 Rabbi Elyse Winick is the Jewish Chaplain at Brandeis University, where her work focuses on mentoring, teaching and spiritual guidance. Read more about the 2015-2016 group of AJWS Global Justice Rabbinic Fellows.