When mines strip communities of their rights, Mexican activists fight back.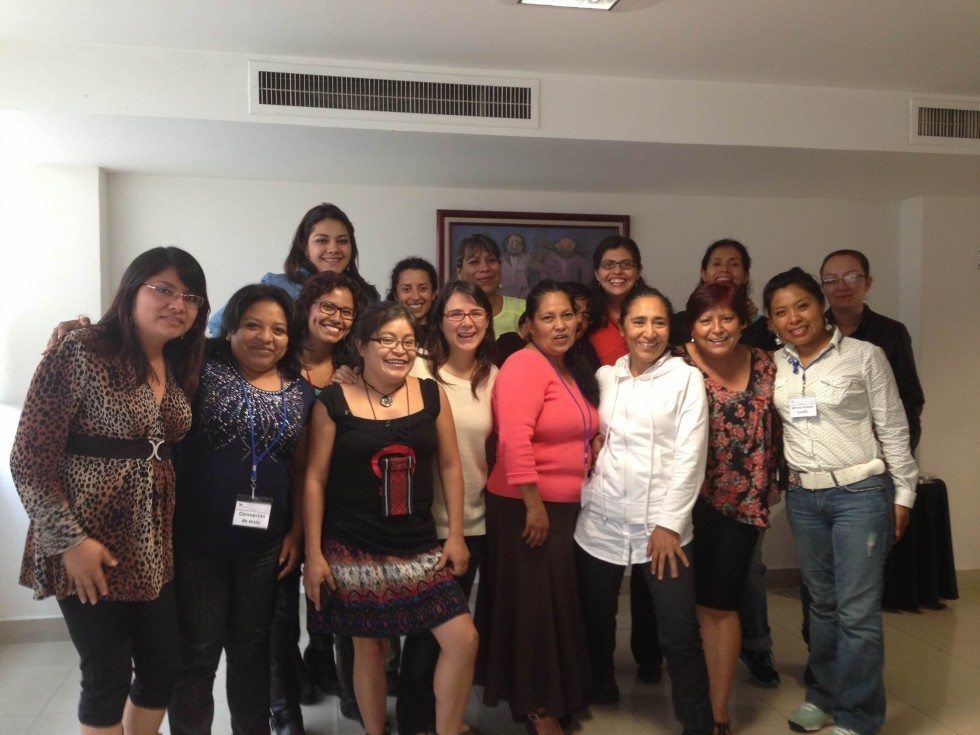 The rapid growth of mineral mining across Mexico has ravaged local communities. Poverty and disease have soared for workers and people who live near mines and other development projects. The digging has stripped local land—ruining it for farming—and polluted sources of drinking water, multiplying health problems and miscarriages. Many miners face extreme danger on the job, lack basic safety precautions and receive unfair wages. While corporations and local governments extract high profits from mining, they rarely ask local residents for permission to launch a new project.
Migrants, workers and indigenous communities who stand up to transnational mining and energy companies to defend their land and labor rights have faced threats and violence. In 2013, for instance, public security officials arbitrarily detained six Ejido people of La Sierrita de Galeana community in the northern state of Durango days before their agrarian court case hearing against a Canadian mining company. Many local people say Mexican authorities look the other way and allow abuse to continue.
Using the law to help indigenous communities defend themselves from destructive development
Alejandra Ancheita is founder and executive director of Proyecto de Derechos Economicos, Sociales y Culturales (ProDESC)—an organization that helps communities understand their rights, exert political influence and negotiate with corporations and the government to protect their families and their land.
Alejandra and her organization sprang fearlessly to action when a recent mining operation began wreaking havoc on La Sierrita de Galeana, a communally-owned land entity. The Ejido say the company, Excellon Resources, explored land outside their contract and built a water treatment plant without permission. As a result, the work created large and dangerous pits, stripped the mountainside of critical forests, and contaminated the soil and local water source. Residents couldn't produce the crops, like maguey cacti, needed for their survival and struggled to pay the new fee they were being charged for clean water—all compounding the poverty they already faced because of meagre local job opportunities.
The community says Excellon intimidated workers and undermined their attempts to join a local mining union. So, in 2010, ProDESC helped workers organize their own—and mobilized the local community to campaign against the company. Thanks to ProDESC's work, the community negotiated a groundbreaking agreement that has ended the displacement of the residents and provided the community with important concessions. The agreement mandated that the company provide the people with social services and community development projects to counteract the devastating effects of the mine, offer preferential hiring to local workers and give scholarships to workers' children. ProDESC continues to monitor the situation; when the company failed to honor some of the contract terms recently, the organization filed a lawsuit; it plans to report the company to the International Labor Organization if local efforts to secure justice fail. ProDESC does similar work in several Mexican states, litigating collective cases on behalf of indigenous communities and organizing communities to advocate for themselves.
Supporting at-risk activists to stop threats in their tracks
The organization and its founder have been threatened repeatedly for their work, including email and phone threats, stalkers, a break-in, character assassinations and other forms of intimidation.
When Alejandra visited AJWS in 2014, she described the threats she receives: Pointing out a slur in the media, she said, "This article is saying that I am the lawyer of the devil. The biggest problem right now is how the defamation campaign against me and other activists is creating public permission for violence. My father was a lawyer. He was receiving death threats because of work that he was doing. My father died the day of my 8th birthday. The official version was that he died in a car accident."
Alejandra was the 2014 laureate of the international Martin Ennals Award, considered the Nobel Prize for human rights defenders. Judges said she showed deep commitment and faced great personal risk during her 15 years fighting for land and labor rights of migrants, workers and indigenous communities and pioneering a movement to insist that transnational companies be made accountable for the impact their projects have on the land and people of Mexico.
Alejandra's work is helping create a safer environment for community activists and human rights defenders. She says ProDESC is just part of the "collective struggle" of human rights organizations. "We have to work in service and collaboration with the people—not leading the people," she said.
AJWS, she added, "has been a key ally in achieving our vision and mission. Their uninterrupted solidarity, energy and encouragement have been vital in enabling us to carry out our work, despite the violence and threats we face."