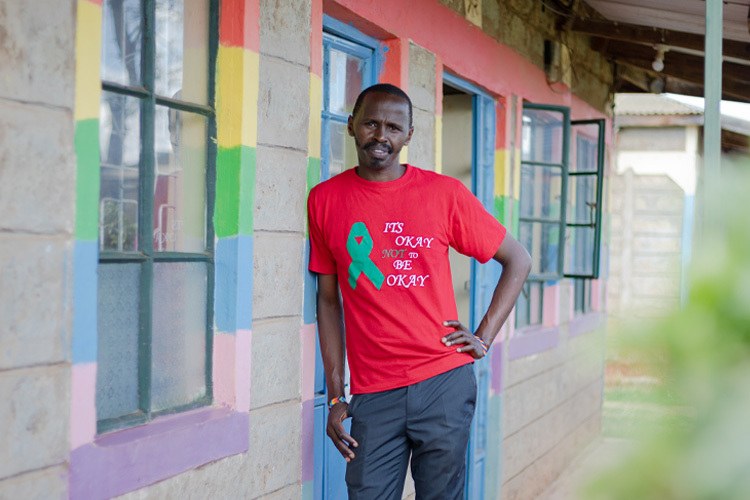 Nelson Mutugi Silas was born into a Christian family in Meru, Kenya — and from an early age, they say, "there was a conflict in me. I was attracted to boys and I didn't know why. But I did know it was a sin." Terrified, they buried these feelings while studying at an all-boys school and on to university.
"I trusted God that this feeling would go away. I prayed, I fasted. But my feelings were very strong," says Nelson.
In university, they became close friends with a woman — and believed, guided by clergy, that marrying her could be the end of their problems. After they wed, Nelson tried to explain their attraction to their new wife but, within months, the couple was estranged and living in separate cities. When Nelson's wife filed divorce papers, Nelson sunk into depression and considered suicide; their faith was so strong that they couldn't fathom living life as a queer man. But they knew they needed to find answers.
Nelson turned to Facebook, searching for men with profile pictures they felt "had characteristics I associated with queerness." They began interacting online with queer men in Nairobi, and one introduced them to AJWS grantee Gay and Lesbian Coalition of Kenya.
With immense bravery as well as fear, Nelson reached out to GALCK to help navigate his still-pending divorce. There, Nelson met future NGLHRC head Njeri Gateru.
"She told me it was fun being queer — and I saw that she was so comfortable with who she was. I finally began to accept myself, and to understand myself," Nelson says.
A lightbulb went off in Nelson's head: there must be other religious Christian Kenyans struggling just like they were. In 2016, with the guidance and support of NGLHRC, Nelson launched Empowering Marginalized Communities (EMAC) as a support group for queer churchgoers to accept themselves. Nelson traveled around Eastern Kenya, visiting both churches and queer bars, to grow this community. Within a year, they'd networked with over 500 queer people.
Today, EMAC is an AJWS grantee itself, supporting 25 small groups of queer people in 9 counties across the country in building grassroots movement for sexual Minorities.
"If not for NGLHRC and their community, I may have committed suicide. But instead, they built me into an activist," says Nelson. "NGLHRC taught me that you don't die when you come out of the closet. Instead, you learn to really live."