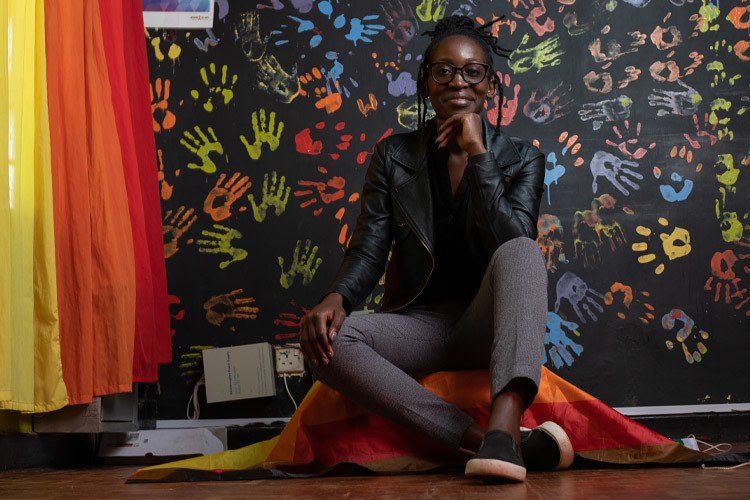 These days, Masafu Okwara's sense of pride is as vibrant as the rainbow walls of NGLHRC's Nairobi offices. But her journey here was long and painful.
As one of the of NGLHRC's program officers, Masafu provides free legal counsel, guidance and often representation to LGBTQI+ people who are unjustly arrested, persecuted or have their rights violated due to their gender or sexual orientation. She also offers legal education to the LGBTQI+ community. Her passion for this work comes from her own trauma — and a vow she made to herself to never let others experience what she did.
In 2015, Masafu was a law student in the conservative city of Eldoret. An altercation with an abusive partner led to police arbitrarily holding her, threatening to charge her under Article 162 of the penal code — "to justify their disgust for me as a lesbian woman," she says. Masafu knew her case couldn't be proven — which only angered the police more. They terrorized her, humiliated her and extorted her for nearly all of her tuition.
"I walked out of the police station knowing I had to do something — this cannot pass," she says. But the trauma pushed her back into the closet. "I went into a cocoon until I finished law school," she remembers.
Upon graduating, she began attending LGBTQI+ community events in Eldoret with trepidation, and eventually learned about "this group of badass queer lawyers who were doing big things at a national level, and weren't afraid of anyone," she says, beaming. "I knew I needed to be a part of it."
Masafu began working at NGLHRC as, in her words, "a very shy lawyer, always behind the scenes. But here, I found my voice. I found my purpose."
Slowly, she began to transform into the bold, confident woman and activist she is today.
"I see myself in the people I help," she says. "My work here has provided me with a lot of healing and fulfillment. Following up in a case of a queer who's been murdered, knowing it could've been me. Every time I can change someone's mindset. Every time I can stand up for a queer person in a police station. Or keep a queer person from being expelled. That's what allows me to go to bed a happy queer."
Masafu pauses to look around the office; her mouth stretches back into a smile. Her team silently encourages her to continue — the love and support in the room is palpable.
"It's a honor to work at NGLHRC every day," she says. "This team does work with all their hearts. They go out of their way to make sure other queer people are ok. Even if it's on coffee and two hours of sleep."