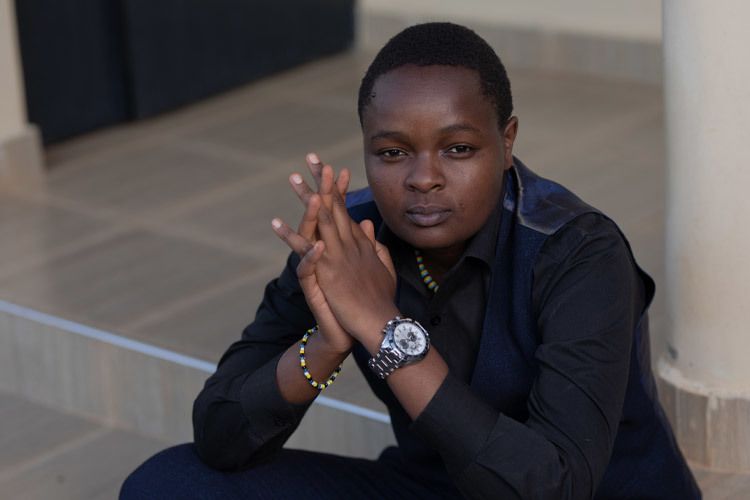 Alpha lost their parents as a child and began living on the streets of Machakos county, Kenya. Thankfully, they were informally adopted by a teacher who noticed they'd stopped attending school — an opportunity that changed their lives. But challenges persisted.
In high school, Alpha was subjected to conversion therapy after a friend outed them — even though, at the time, Alpha didn't understand their own sexuality. The therapy traumatized and damaged Alpha's mental health. And as an androgenous person who presents as masculine, they've long been targeted by people on the street. But Alpha knew they were meant for something more.
On a whim, they held a fashion show for androgenous models in a park. Dozens of people showed up, then hundreds. Alpha set up a social media account for this growing community, and as it grew, they created Nadharia — a community-based organization for queer models, athletes and artists, which NGLHRC helped to legally register. But as Alpha's community grew, members' families caught on — resulting in multiple young people being thrown out of their homes.
Alpha quickly set up a safe house for these in-crisis young people. They turned to NGLHRC, which paid rent for the safe house as Alpha got it off the ground. Today, this safe house operates quietly in the hills outside Nairobi. At capacity, the house provides shelter, food and safety for 16 young people who would otherwise be living in the street.
"NGLHRC are like our mothers. I feel so inspired when I look at them — they know everything about the system we are trying to beat. Even if I call at midnight, they always pick up. They say 'Alpha, what do you need right now?' They always respond — that is so important. They always respond," says Alpha.
Today, under NGLHRC's mentorship, Nadharia's community is thousands strong — and Alpha is a bold, proud leader.
"What keeps me inspired? I once slept in the street. I've been attacked. I understand what queer people are going through. I feel it. And I don't want any other queer person to ever go through the same thing," says Alpha.