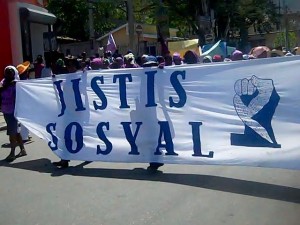 As Women's History Month draws to a close, AJWS's country consultant for Haiti, Amber Lynn Munger-Pierre, reflects on Women's Day in Haiti.
If there were an observable theme that I could surmise from the Women's Day activities in Haiti on March 8th, I would say that it was unity. The Women's Day march brought together many diverse groups from Haitian Civil Society—women and men, adults and youth. There were so many groups present that it is hard to name them all. Some of AJWS's partner organizations that were present include: AJWS's partners FAVILEK (Fanm Viktim Level Kanpe/Women Victims Get Up Stand Up), GARR (Groupe d'Appui aux Rapatries et aux Refugies/Assitance for Repatriates and Refugees); PAPDA (Plateforme Haïtienne de Plaidoyer pour un Développement Alternatif/Haitian Platform for Advocacy and Alternative Development); and FRAKKA (Fos Refleksyon ak Aksyon sou Koze Kay/Force for Reflection and Action for Appropriate Housing).
The most popular chant of the day was "Justice and reparations for victims of violence and cholera!" This chant was the dominant chant of the march, which gathered about 500 people active participants.
The march was actually several well-orchestrated, independent marches that enabled individual groups to bring their particular demands to specific institutions and then meet up with other demonstrators to march together for a universal theme. It is widely accepted that the United Nations Military Force's (MINUSTAH) peacekeeping troops brought cholera to Haiti and have been involved in several instances of alleged sexual violence of women as well as youth. As such, some groups started out at the MINUSTAH base. Afterwards, all of the groups participating in the march coalesced together at the Ministry of Women where they each shared their declarations of what they expect from the government in developing and protecting women's rights in Haitian society. From there they marched through Champ Mars (the now famous park in front of the destroyed national palace which has become a tent city for the many families left homeless by Haiti's earthquake two years ago) to the legislative palace and parliament.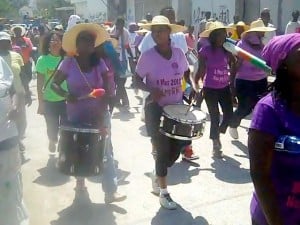 The demonstrators marched to drums and handmade horns, singing, dancing and chanting their demands for justice and their hopes for a new role for women in Haitian society.
The march was a great example of how Haitian women see themselves as "the center pillar of society" ("fanm se poto mitan sosyete a")—a slogan that is widely accepted in Haitian culture. During the march, Haitian women used their moment to bring attention to the bigger vision of justice—not just amplifying the issues that affect them as women, but the issues that affect them as members of a community in which their suffering may be the most severe. Change for women will bring change for so many others.