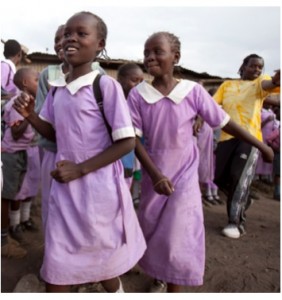 With World Population Day, the London Summit on Family Planning, and initiatives like the Girl Effect, it seems like women and girls have moved to the top of the international development community's agenda. Since only two cents of out of every international aid dollar is directed to girls, this new focus couldn't be more welcomed or exciting.
The statistics about the benefits of investing in girls are well-known and staggering. Improving women and girls' quality of life will provide more opportunities for their families and, by extension, their entire communities. Investing in girls can reap major benefits for a nation's economy, too. Family planning will help the environment and sustainable development by decreasing global population growth.
But we should not focus on women and girls only because it is an intelligent policy strategy. It is morally imperative and just. Moreover, advancing the status of women and girls should be integrated with a broader human rights agenda.
If we do not also emphasize human rights, we risk neglecting those who should be at the center of our work. As Alicia Yamin writes in The Guardian, "Amid the new enthusiasm for family planning as a cost-effective tool to promote sustainable economic development, it is critical that we don't lose sight of human rights concerns."
Similarly, Rajat Khosla, explains, "To meet the unmet sexual and reproductive health needs of millions of women and girls around the world, sexual and reproductive health services must be provided with attention to quality of care and with full recognition of human rights."
Efforts to increase contraception use and decrease population rates will prove fruitless if women do not also have increased control over their own bodies. If women are not enabled to make informed decisions without being coerced, alienated or oppressed, it doesn't matter that contraception and sexual health resources are readily available. Female sexual health, HIV and AIDS prevention, and family planning are issues with both practical (lack of access) and cultural (social stigma and education) implications. A comprehensive solution will address both issues through a rights-based approach rooted in the needs, norms and values of local communities.
AJWS grantees around the globe are not just investing in girls. They're also empowering them to take control over their own futures.
In Nairobi, Kenya, Fortress of Hope Africa created safe spaces for programs designed by and for Kenyan girls. These safe spaces and carefully planned activities provide girls with a chance to learn from one another and discuss sexual health and rights, including HIV and AIDS prevention, in a welcoming environment without fear.
In Mumbai, India, AWAAZ-E-NISWANN (featured in a recent report published by Nike's Grassroots Girls Initiative), provides shelters, scholarships and vocational training for Muslim adolescent girls. Its workshops, on topics including health, art and literacy, help girls gain confidence and break free from cycles of poverty, violence and oppression.
Both of these grassroots organizations are effectively responding to community needs with deep reverence for the dignity and rights of the populations they serve.  They prove that the global community can best invest in girls by sustainably empowering them to invest in themselves.
As we move from the London Family Summit toward the International AIDS conference, we hope that women and girls will stay in the front of everyone's minds and be perceived as more than just an investment.
As made clear by AJWS's recent policy brief Girls at the Center, empowering women and providing access to sexual healthcare and information is not only fundamental to family planning, but also to combating HIV and AIDS. Above all else, this approach is essential to helping women and girls as they work to realize their most basic rights and achieve a better quality of life.
Erica Shaps is an AJWS intern in the communications department. A student at Brandeis University, she is pursuing a Bachelor of Arts in Islamic & Middle Eastern Studies and International & Global Studies with a minor in Peace, Conflict & Coexistence Studies.