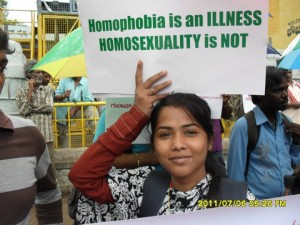 Addressing a convention on HIV/AIDS in India this past Monday, India's Union Health Minister Ghulam Nabi Azad was quoted saying, "The disease of 'Men having Sex with Men' (MSM), which was found more in the developed world, has now unfortunately come to our country and there is a substantial number of such people in India." Azad went on to call homosexuality "completely unnatural," saying it "should not happen, but does."
Outraged, India's LGBTI community immediately challenged Azad by organizing protests, demanding a public apology and calling for his resignation. The Karnataka Sexual Minorities Forum (KSMF) organized a protest in front of Bangalore's town hall, garnering support from over 20,000 members of India's LGBTI community, including AJWS grantees Salaam Initiative and Samatha. Activist Shubha Chacko from Salaam Initiative responded to local media saying, "The existence of this community has been stigmatized for so long and now when our efforts are being mainstreamed, such a comment has left us shocked. It is a huge setback and Azad should have done his homework before making such a blanket statement."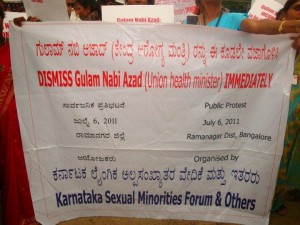 In conversation with AJWS, Chacko went on to note that international health organizations, such as WHO and APA, clearly state that homosexuality is not a disorder and that Azad's statement as a health minister in such an important forum would "lead to spreading stigma against sexual minorities who are already marginalized" and would further "fuel their social exclusion and make them vulnerable to violence and abuse."
Azad's heinous comments follow in the wake of a recent milestone for international human rights: On June 17, the U.N. Human Rights Council passed a resolution on human rights, sexual orientation and gender identity, calling for an end to discrimination worldwide. Perhaps even more ironically, Azad's statement falls almost exactly two years after the Delhi High Court overturned Section 377 of the Indian Penal Code, the British-era legislation that criminalized sex between people of the same gender and doled out decade-long sentences for committing such a "crime." As noted in an AP article, criminal prosecutions were rare, but the law was used to intimidate and harass India's LGBTI population for generations.
Azad's statement highlights another painful reality about India. While the overturning of Section 377 has created a space for people with diverse gender and sexual identities to live more openly, problems still persist. Hegemonic ideas of gender identity and sexuality, especially at the governmental level, still have a profound influence on the country's policies and public attitudes.
Such remarks by a high-level policymaker also undermine progressive efforts underway at the national-level to develop more sensitive and responsive HIV/AIDS intervention programs. Take India's National AIDS Control Program (NACP), for example. Now in its fourth planning phase for HIV/AIDS reduction in the country, the program is—for the first time—allocating funds specifically for intervention and prevention in transgender (TG) communities as separate from the overall MSM community. Many AJWS partners have been selected by the government to participate in "working groups" leading up to the inauguration of NACP-IV in April 2012 to ensure that the national plans are mindful of local realities. In fact, shortly after Azad's statement, UNAIDS issued a press release commending India's National Aids policy for its inclusivity of differing sexualities and sexual preferences.
Having just returned from Bangalore myself on a visit to Samatha and Salaam Initiative, I am personally appalled and saddened by the insensitivity of the Health Minister's remarks. After several years of dedicated struggle, gains by the LGBT community in India are finally starting to be achieved. Pride marches held in major cities across India have been gaining acceptance and visibility, gay bars are springing up in urban areas, films highlighting the LGBT community are being screened nationally, and news magazines carrying issues relevant to sexually diverse communities are increasing in circulation. The communities in Bangalore are gaining voice and are expressing themselves in a way that I had not observed even three years earlier on a similar trip. Perhaps even more striking is that some state governments have included transgendered populations within the umbrella of marginalized classes in India, allowing them to benefit from social services, including education, and to participate in local government.
However, despite these strong gains, there is much work to be done to change the entrenched misperceptions such as those expressed by Mr. Azad. The secretary of Santi Seva, an AJWS grantee based in rural Orissa and composed entirely of TG individuals, observed "the Health Minister should be careful before throwing such comments next time since this can create lot of confusion and misunderstanding among common people." For groups like Santi Seva, who fight every day for the right of TG and other sexually diverse populations to live a life of dignity and respect, these comments are most certainly a step in the wrong direction.