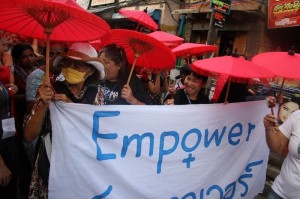 Why would someone who works for the American Jewish World Service attend an international meeting of sex workers? At AJWS, we support people who chose to work as sex workers by making grants to their organizations and sending volunteers to work with them. As an organization committed to realizing human rights—including access to health care, economic autonomy, and control over one's body and sexuality—we support sex workers who are organizing themselves to advance their own rights. That's why, while many AJWS grantees participated in the International AIDS Conference in Washington, DC in late July, I was with more than 1,000 sex workers from 42 countries around the world who traveled to Kolkata (aka Calcutta), India for a Sex Workers' Freedom Festival. The timing was no coincidence. Unfortunately, sex workers were not allowed by the US government to enter the United States for the AIDS conference, excluding people who must be part of the solution.
At the meeting, a trusted colleague, Andrew Hunter, of the Asia Pacific Network of Sex Workers (APNSW), explained that the festival aims to celebrate freedoms to which sex workers are entitled but are too often denied:
Freedom of movement to migrate
Freedom to access quality health services
Freedom to work and choose occupation
Freedom to associate and unionize
Freedom to be protected by the law
Freedom from abuse and violence
Freedom from stigma and discrimination
I was so inspired to see that EMPOWER, an AJWS partner in Thailand, took on leadership throughout the week. A 27-year-old organization, EMPOWER helps sex workers access basic human rights. So that I could learn more about how the sex workers of EMPOWER think and share what I learn with you, I sat down with some of the women from EMPOWER the day after the rally to listen to them talk about their experiences:
Wi spoke about the energy of the Indian sex workers and how she liked the way that they had come together from all over the country to discuss and plan their next steps. Wi went on to say that "… we would like to be able to do something like our Indian friends by bringing together sex workers from different providences (within Thailand) together… I think that when I leave India, I want to go home and do that."
Maleerat was one of the panelists for a discussion related to sex work and migration. She was pleasantly surprised to realize how many people at the festival had read Hit and Run, EMPOWER's book on trafficking. (For context, read Jordan Namerow's recent blog post "Sex Work Is Not Sex Trafficking," which describes the distinction between sex work and sex-trafficking.)
Whan reflected that she was happy to see so many people calling for sex work as work. She commented, "If we had been shy when we rallied for sex workers' rights, we would not have been as powerful. When I go back (to Thailand), I will tell my friends that if we want to do something, we can't be shy about it. We want to be very strong."
I look forward to further engaging with EMPOWER to organize sex workers in Thailand.  In the meantime, I want to share things you can do to learn and get involved:
Read EMPOWER's book Hit and Run about anti-trafficking and the difference between sex work and trafficking;
Watch EMPOWER's great video called "The Last Rescue in Siam" about sex worker raids;
Read the Sex Workers' Freedom Festival Platform for Action, which is a demand that sex work be recognized as work.
On my last night at the festival, the women of EMPOWER gave me a red umbrella, the symbol of sex workers as a parting gift. This umbrella now sits on display in my living room and gives me the opportunity to proudly spread the word about the work of EMPOWER and the rights of sex workers worldwide.
Lily Goldschmidt is an AJWS Field Officer in India.