Two years ago on June 29, 2009, in the middle of the night, Honduras's democratically elected President Manuel Zelaya was kidnapped at gunpoint in a military coup d'état and sent to neighboring Costa Rica. Before his ousting, Zelaya planned to follow through on a public referendum to reform the Constitution by extending the maximum term for presidents, even though the Supreme Court had ruled it illegal. Even though many critics questioned Zelaya's push forward with the referendum, most agree that a coup was a disproportionate response and likely related to the branding of Zelaya's government as left-leaning.
The Organization for the American States (OAS), the oldest organization in the Americas region whose goal is to maintain political, juridical and social order among member states, refused to recognize Honduras as a member following the coup. As part of the international criticism of the coup, several embassies pulled their ambassadors, and many countries such as Brazil, Argentina and Ecuador supported Zelaya's return to Honduras, and the return to democratic processes.
Five months following the coup, elections in Honduras led to the establishment of the Porfirio Lobo administration, which remains largely unrecognized by civil society. Human rights violations have sharply increased under this administration and civil society groups consider its leadership invalid, illegitimate and unconstitutional. Honduras has become one of the most dangerous countries on the planet for journalists and is increasingly repressive for human rights defenders, including AJWS grantees. Several grantee organizations have blamed this administration for kidnappings, tortures, destruction of property, detentions, and threats and intimidations to their members. These practices and the repressive context have become routine since 2009. A member of the Asociación LGTB Arcoiris de Honduras describes high levels of violence against the LGBT community as a "massacre, despite being killed two by two."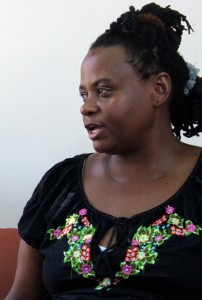 Other groups have also experienced human rights violations under the Porfirio administration. Miriam Miranda, coordinator of The Organización Fraternal Negra Hondureña "The Fraternal Black Honduran Organization" (OFRANEH), was shot in the stomach by a tear-gas gun during a peaceful protest in March 2011, and then singled out for arrest by the military. Miranda was dragged along the asphalt, beaten and subjected to racial slurs before being taken to a police station in Tela, where she was detained and charged with sedition without any evidence or investigation. The tear gas canister caused internal bleeding and respiratory problems, yet Miranda was refused treatment by the military for four hours. A nurse later treated her for burns to her abdomen, lung spasms and contusions resulting from blows to her body during the violent arrest.  Miranda was released after ten and a half hours, in large part because of pressure put on the Honduran authorities by international NGOs and civil society organizations. On April 7, 2011, unidentified perpetrators burned the homes of two members of OFRANEH's community radio station Radio Faluma Bimetu. The station had been operating for only three months after its facilities had been burned to the ground in 2010 by arson.
As organizations continue to demand the return of democratic and constitutional order, and continue to denounce human rights violations, the economic and political crisis worsens. The criminalization of protest has reached extremes; for example, there is harsh suppression of dissent against the privatization of public services.
After two years of exile, and a couple of prior attempts to come back to Honduras, Zelaya returned on May 28, 2011, hailed as a victory for democracy by many, including Secretary of State Hillary Clinton.  This return was paralleled by the OAS readmitting Honduras as a member organization. Despite Zelaya's return, however, the National Front of Popular Resistance in Honduras, an umbrella group of civil society sectors working towards the reconstitution of a democratic Honduras, says that the coup's legacy of impunity and ensuing human rights violations remain. In demonstration of this, several Honduran human rights activists and defenders arrived in El Salvador's capital city in June, protesting the re-admittance of Honduras to the OAS. To highlight the continuation of impunity and systematic human rights violations under the current administration, 87 members of the U.S. During the first week of June, Congress signed a letter to Secretary of State Hillary Clinton, calling for the suspension of US aid to the Honduran military and police.
This repressive context only increases the historical marginalization of LGBT, Indigenous, and Afro-descendant populations.  In response, AJWS's grantees continue to work to realize their natural resource, civic and political rights, as well as their right to live free from violence. Indigenous and Afro-descendant people continue to conduct national and international advocacy in defense of their collective natural resource rights and Honduras's LGBTI population persistently advocates against high levels of violence based on gender identity and sexual orientation since the coup. As the Honduran state gains international legitimacy, aid agencies continue to close their programs there, and international corporate investment increases, it is imperative that we continue and strengthen support of grassroots human rights agendas. Sustaining international attention to ongoing human rights violations and highlighting the perspective of grassroots actors is central to challenging the false notion that the current administration has conducted appropriate measures to rectify ongoing repression. Two years after the coup, the international community still has an obligation to support the efforts of local activists and to challenge the current administration's practices.