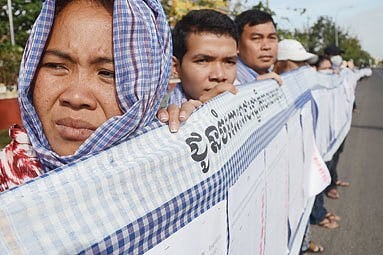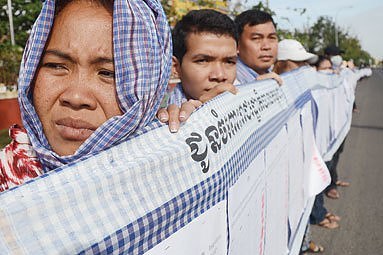 A few weeks ago, Chea Dara, a 33-year-old mother of two jumped off the Chruoy Changva bridge in Phnom Penh, Cambodia. Desperate, Chea took her life after she learned of her family's pending eviction from their Boeung Kak lake home after years of struggling with the government over the land dispute. Chea's eviction battle with the Cambodian government is not new. Amnesty International recently released a report on women on the frontlines of evictions. Chea's death caused waves in Cambodia and was a reminder of the scarcity of alternatives available to vulnerable people in Cambodia.
In a fragile democracy where popular labor leaders are gunned down in broad daylight, Cambodians are careful with their words and look to NGOs to voice their concerns about private corporations and the government. Yet civil society organizations in Cambodia are finding it harder to be independent and voice their concerns as more and more restrictions are layered on them by new legislation and government pressure. Journalist and author Elizabeth Becker published a piece in The New York Times pointing out the great disparity between the hopes of the 1991 Paris peace accords that ended years of conflict after the Khmer Rouge period and the current state of Cambodia.
As a Cambodian American working at an international human rights development organization with close ties to family and friends in Cambodia, I find the current trend in Cambodia disturbing. Since 2008, several laws have been proposed or enacted which undermine the work of civil society and limit freedom of expression in Cambodia.
Freedom of expression and the ability to congregate may seem trivial when compared to Cambodia's myriad needs. But the silencing of critical voices in Cambodia is systemic and directly connects to issues Cambodians face daily including poverty, land grabbing, political impunity and corruption, and access to healthcare and education. How can Cambodians hold their government and private institutions accountable when they are not allowed to congregate, to form associations, to call out and challenge the guilty parties? Should Cambodians instead accept the abuses of their government and accept their fate like Chea Dara?
A main focus of AJWS's work in Cambodia is to support NGOs working to expand the tenuous spaces for civil and political expression. Right now, those spaces are at risk. The Royal Government of Cambodia released its fourth version of the Law on Associations and Non-Governmental Organizations, a restriction that will curb the operations of NGOs. Commonly referred to as the "NGO Law," it is billed as a way to regulate the bustling NGO community and prevent fraud. But in reality, it will threaten the productivity and survival of organizations doing critical work.
This is a watershed moment for Cambodia. Protests from the Cambodia-based NGO community and international pressure have stalled the bill up to this point, but the government is intent on signing it into law. The international community including donors, human rights NGOs, and government entities need to maintain pressure on the Cambodian government. They should continue to demand that any attempts to regulate this field require proper input from Cambodian civil society and need to include a full consideration of their objections.