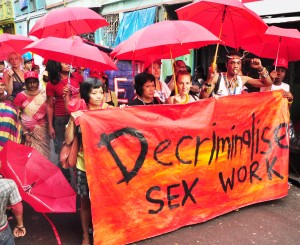 Last week, the Supreme Court ruled on the side of human rights. In a six to two ruling, the Court struck down a federal provision that required organizations receiving government funding to pledge that they had adopted a policy "opposing prostitution."
Commonly known as the "anti-prostitution pledge," this provision contravened best practices in public health, including evidence-based research showing that supporting sex workers to lead their own community health interventions is an effective way to fight the HIV and AIDS pandemic. The policy also created a chilling effect for sex worker rights organizations, as non-governmental organizations feared they would lose their funding if they engaged with sex workers.
Sex workers can't be excluded from public health and human rights initiatives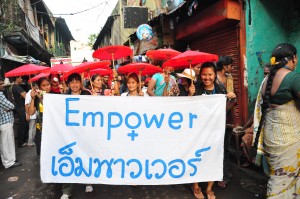 In the countries where AJWS works, sex workers face extreme stigma, violence and discrimination—with severe consequences for their health and human rights. They face multiple barriers to accessing health services and information, including denial of treatment by health care providers. Because sex work is criminalized in most places, sex workers also face coercion, harassment, violence other human rights violations at the hands of police and clients. One report in Cambodia documented that 72 percent of brothel-based sex workers have been beaten by police and 57 percent have been raped by police. In Kenya, 58 percent of sex workers have experienced sexual violence.
It is essential that sex workers are supported to protect themselves, their clients and their partners from HIV and STIs. The barriers they face in accessing health care are compounded by the fact that condoms are often used by police as evidence for the crime of prostitution, an issue that many NGOs have been hesitant to address due to the "anti-prostitution pledge."
There is already widespread resistance from health workers, police and government officials to support the human rights and health of sex workers—so the U.S. government's anti-prostitution pledge further exacerbated the problem.
International support for the Supreme Court's decision
AJWS provides grants to several sex worker rights organizations in Africa, Asia and the Americas, and many of our partners join us in celebrating this victory:
"I cannot tell you how relieved we are," said Meena Seshu, general secretary of SANGRAM in Sangli, India. "The anti-prostitution pledge did not make any sense to us as a group that works on sex worker rights and on HIV/AIDS intervention. You cannot work for the rights of people or hope to end this epidemic without supporting sex workers.  It's just not possible. It's not going happen."
"We are indeed overjoyed that there has been this development in the US lifting the ban on prostitution," said a representative of Women's Organization Network for Human Rights Advocacy in Uganda. "We believe injustice can never trump the public good and health. We are overjoyed to learn that funding for HIV and health services will reach at-risk populations that have been struck off the list for a long time. The time is now."
"In Uganda, research shows that the HIV prevalence among sex workers stands at about six times of that of the general population, but the government's HIV and AIDS policy makes a negligible funding commitment to this group," said Julie Katongole of Crested Crane Lighters. We hope that the ruling of the US Supreme Court to strike down the anti-prostitution pledge will send a message to the Ugandan government to commit more resources to programs supporting sex workers."
While we celebrate this win, we know that it is one milestone in a long struggle to realize the human rights of sex workers around the world. One of the key demands of the sex worker rights movement is to decriminalize sex work. A policy recommendation of UNAIDS and the UN Development Programme, decriminalization would empower sex workers to make decisions about their bodies and their choice of work.
Moreover, there is too little funding available for sex workers to organize and advocate for their rights. This is one reason why AJWS is proud to participate in the Red Umbrella Fund, the first ever global grantmaking fund by and for sex workers. Over the years, AJWS has witnessed our grantees' successes as they have organized sex workers into labor unions and educated them about their health and human rights; provided skills training including financial literacy and income-generating support; lobbied health service providers, police and government; and built alliances with global human rights movements.
Our sex worker rights partners often face tremendous resistance and setbacks as they work to realize their rights. It's wonderful to have a victory to celebrate along the way.
Sarah Gunther is the Director of Africa Programs at American Jewish World Service.